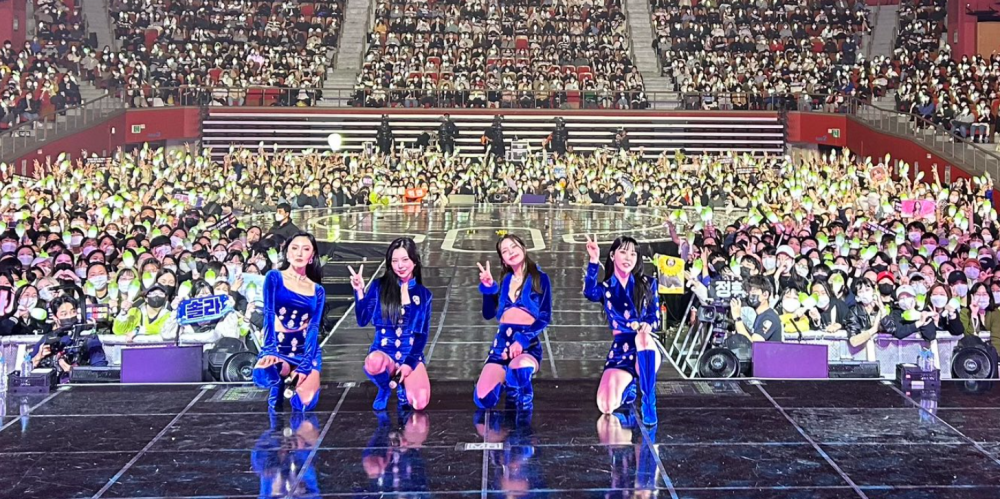 On November 18, the girl group MAMAMOO reminded everyone why they were given the title "BelisMamamoo" once again on the first night of their world tour "MAMAMOO MY:CON" at Seoul's Olympic Park Olympic Hall. The vocal group was given the title by the Korean general public for their live vocals and strong, colorful performances that brought fire to the stage. Once again, proving that BelisMamamoo ("Believe and Listen to Mamamoo") never disappoints.
The girl group performed for a total of 3 hours with 35 songs, including both group performances, covers of members' solo releases, and medley performances of multiple songs. Going the extra mile and giving the audience 5 encore songs. Everything from the girl's styling to their vocals to the emotions and interactions with fans was on another level. The group even performed with a live band, making it a truly memorable experience for fans after such a long wait. Here are samples of the performances:
MAMAMOO performing "ILLELLA"
MAMAMOO performing the intro to "HIP"
MAMAMOO performing "Egotistic"
MAMAMOO performing "Decalcomanie"
MAMAMOO performing "Mr. Ambigious"


MAMAMOO performing "GogoBebe" (rock version).



Wheein cover of Solar's "Honey"




Solar cover of Wheein's "Water color"
HwaSa cover of Moonbyul's "Eclipse"






MAMAMOO group cover of Solar's "Spit it Out"
MAMAMOO group cover of HwaSa "Maria"





MAMAMOO group cover of MoonByul's "Lunatic"


MAMAMOO performance of "Starry Night"
Also, they made sure to give something extra for their moomoos, because while they hate to see them go. But love to see them leave.
Needless to say, the girls rocked their first day of a full live concert since the global pandemic began. MAMAMOO girls left everything on the stage for their fans which brought tears to fans and left many shaking with anticipation for further dates and ticket sales for already announced cities for the girl's "MY:CON" world tour in 2023 to drop. After the concert ended, the group also took to their official social media to express their gratitude to fans, hoping that they delivered a good performance to them and that fans had a great time at the concert.



The second and third days of the concert will be held on the 19th and at the same venue in Seoul, and fans of the group can't wait.
And international fans won't have to wait too long as MAMAMOO "MY:CON" world tour is coming to a city near you soon!