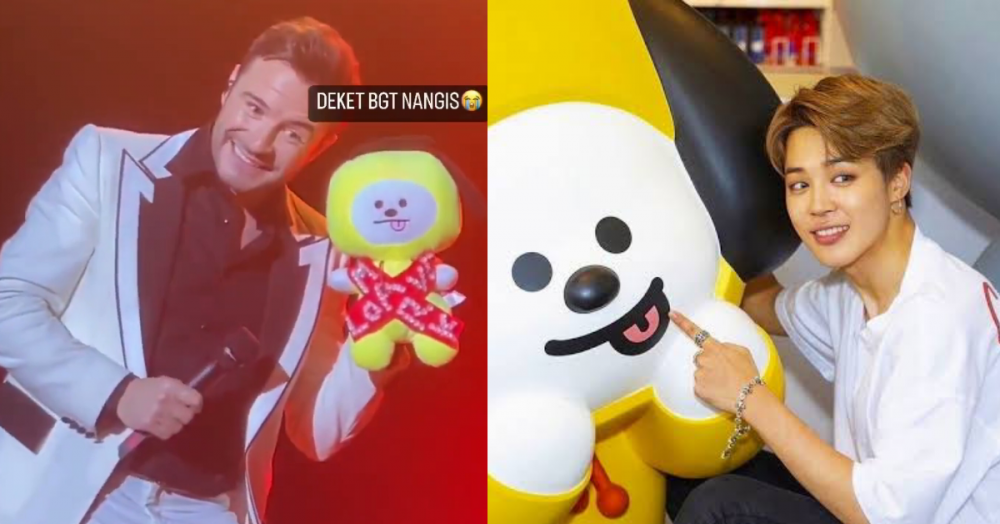 Westlife is a popular and award-winning Irish pop vocal group with years of successful impact; this has been felt worldwide by fans who loved and continue to listen to their music.
On the 24th of September, the UK's biggest selling group, while on their 2022 THE WILDEST DREAMS TOUR, performed at the Sentul International Convention Centre in Indonesia.
While performing on stage and interacting with fans, Westlife's lead singer Shane Filan was spotted holding a CHIMMY plush, having caught it from a fan who was in the audience. The singer did not hesitate to hold on to it, serenading and even hugging it all through.
The unique moment was instantly captured by eager fans at the concert, who shared their reactions on Social Media for all to see. The tweets and articles related to how CHIMMY is just as popular as his dad and creator, Park Jimin. Fans hoped that Jimin would also find out about this cute interaction since he loves some of Westlife's songs.
On the 22nd, CHIMMY was used as the tour guide for the 'Jimin tour' launched by the Busan Tourism Organization on their Instagram and Facebook accounts. This tour focused on the popular spots that are associated with Jimin, including; Dadaepo beach, Oryukdo dock, Geumgang park, Hoedong reservoir and Gamcheon Culture Village, where many tourists have visited.
The cute and popular CHIMMY plush has been seen with English actor Tom Holland while he was at the airport, American drummer and musician Luke Holland, French columnist Gerard Collard, Professional golfer LPGA Park Inbee, Celebrity broadcaster Jimmy Fallon, Singer-songwriter Halsey, Filipino actress Arci Muñoz, former French national champion Jibril Cisse, Actor No Minwoo, Ateez Woo-young, American actress Aubrey Miller and more.
The plush is obviously a huge favorite among young adults and children who find it adorable and cuddly; during BTS' latest concert in the United States, Jimin was happy to spot a little girl wearing a CHIMMY hat and cheerily waved back at her. In Indonesia, it was used by Tokopedia on an educational toy promotion advert, making it a bright and positive energy-boosting character for children.
American Actress, activist, and writer Gabrielle Union Wade's daughter really adores CHIMMY, and she takes him everywhere with her, as previously explained by her mother. Parents have also shared on Social Media networks videos of their children with Chimmy plushies and Jimin toys that they love to take care of and carry everywhere they go.