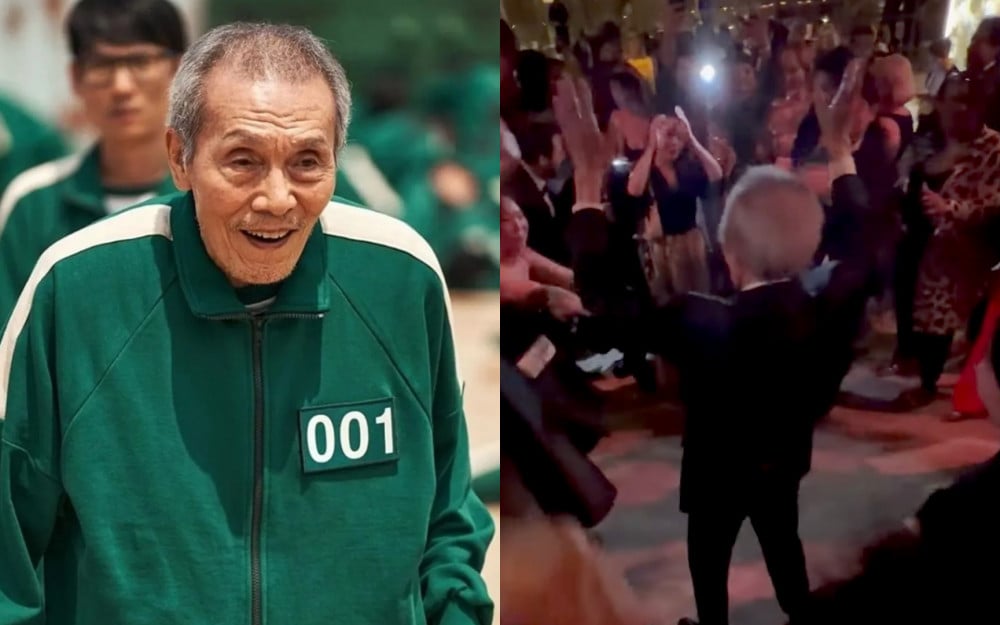 While 'Squid Game' won the Best Director and Best Actor awards at the Emmy Awards, a video of actor Oh Yeong Su (age 78) dancing happily at the Emmys afterparty is going viral.

After the 74th Emmy Awards ceremony that was held at the Microsoft Theater in Los Angeles, California, on September 12, the ceremony attendees all gathered together for the afterparty. At this event, it was none other than the 'Gganbu grandpa' Oh Yeong Su who grabbed everyone's attention with his killer moves on the dance floor.
Writer Meena Harris shared a video of the 'Squid Game' star with the caption, "O Yeong-su cutting it UP" through her official Twitter, and the video quickly became viral.
In the video, the actor was seen at the center of the dance crowd and dancing to the song "Leave the Door Open." Oh Yeong Su is rocking the dance floor while moving perfectly to the slow and fast melody of the song while the crowd around him cheers for him.
The short 30-second video quickly gained more than 400,000 views in less than half a day and garnered much attention. Fans commented, "actor Oh Yeong Su ripped the Emmy Award show," "He is the star of the afterparty," and "he's a true hipster."
Meanwhile, Oh Yeong Su was nominated for Best Supporting Actor on this day but was unable to take home the award. Nevertheless, 'Squid Game' is the first non-English drama to be nominated in major categories, including Best Picture, at one of the most prestigious award ceremonies. At this year's Emmy Award ceremony, director Hwang Dong Hyuk took home the Best Director award, and Lee Jung Jae took home the Best Actor award.