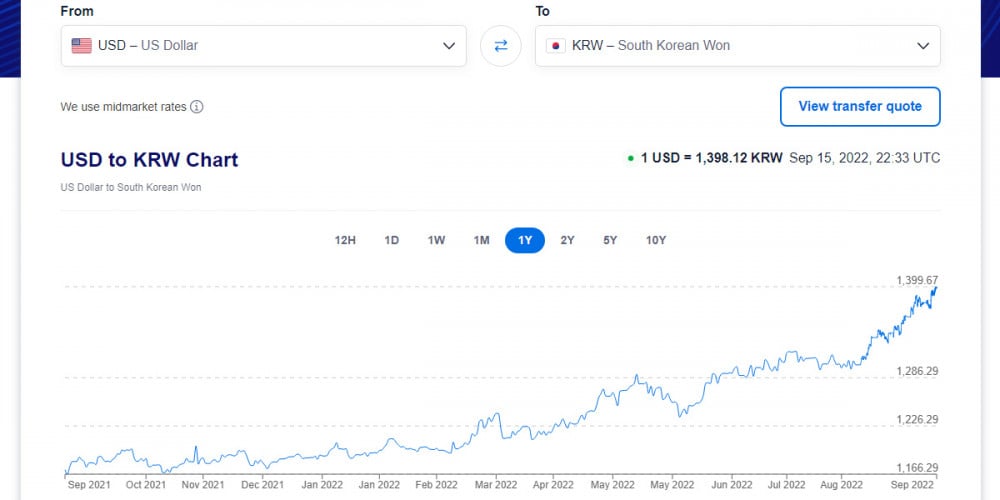 The value of South Korea's currency, Won or KRW, is continuing to hit new lows in value against the U.S. dollar. Back in September of 2021, one US dollar was worth 1,166.29 won (KRW), but the value has steadily declined over the past year. In June 2022, the South Korean KRW had fallen to its lowest point in almost 13 years, coming in at 1,299 KRW against the U.S. dollar.
However, the value of the KRW continues to fall as it hit 1,401 KRW against the dollar on September 15. Many Koreans expected the value of the KRW to increase; however, the Korean currency took another drop this month. This is due to U.S. inflation and the rapid increase of interest rates that is boosting the dollar.
Now, many Koreans are in fear that the value of the KRW is falling much more drastically compared to other currencies and will fall even further. To put things in perspective, the sales price of G-Dragon's penthouse at 16.4 billion KRW would've been the equivalent of 14,061,683 USD at the exchange rates back in September 2021. At current exchange rates, that 16.4 billion KRW is worth the equivalent of 11,705,924 USD, a difference of nearly 2.4 million USD or around 20%.
Korean netizens commented, "This is so crazy, I'm really scared," "This is because of the U.S. dollar inflation," "Dang, it might hit 1,500 KRW against the dollar," "We're ruined, what do we do?" "This is so crazy," "Korea should also raise interest rates, but they are not raising them... Guess this will continue for a while," "Wow, maybe I need to buy some gold," "This is too much," "Looks like I'm not gonna vacation in the US any time soon," "Wow, what do we do?" "During the IMF crisis back in 1994, it was 1,400 KRW against the dollar too...lol," "There's going to be people going out of business," and "We are screwed."