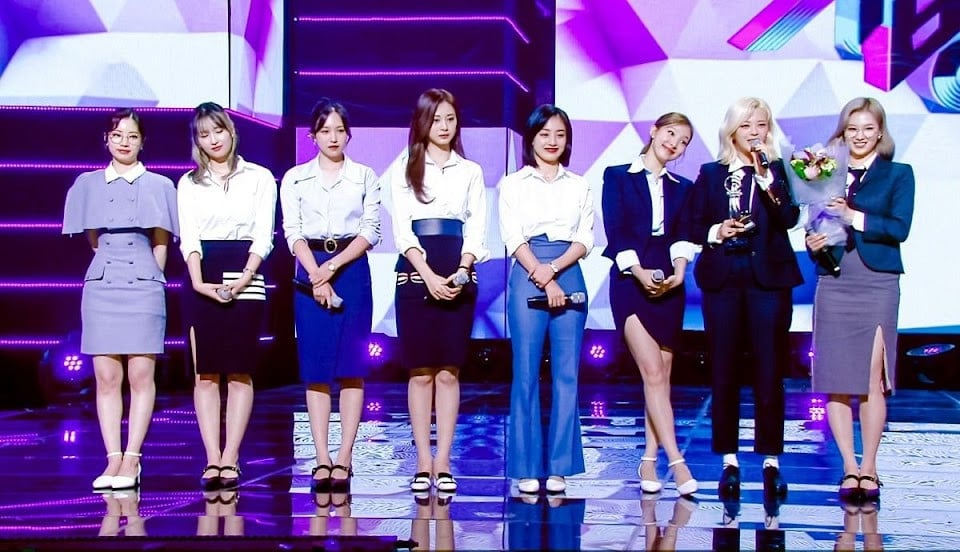 Concepts are a huge deal when it comes to K-pop, and fashion plays a huge role in that as well. Many K-pop groups attempt to look uniform, and a big girl crush concept has been girl groups pulling off suit-fit looks in their performances and concepts.

The suit fits not only look fire, but they also illustrate a girl-crush concept, and they honestly all look so sleek with the concept as well. Some girl groups can completely manifest this concept, and today - we'll be taking a look at some girl group concepts that have been absolutely killing it with their suit-fit looks. So whether that be through performance or through a music video, let's take a look below!
TWICE - Scientist
While promoting "Scientist," the ladies of TWICE completely killed the suit-fit look and showed a more mature side of themselves. They would be GREAT as corporate folks!
ITZY - LOCO
ITZY showcased a performance of "LOCO" through a suit fit, that showed that they were fire and pretty at the same time, and fans definitely wanted to see more suit fits from ITZY.
WSJN The Black - Easy
Compared to the full group, the sub-unit of WJSN, "WJSN The Black," promoted their song "Easy" with a fierce suit look that absolutely stunned fans, and fans just wanted more!
Oh My Girl - Dun Dun Dance
In contrast to the actual song, Oh My Girl performed "Dun Dun Dance" (and yes -- it's a bright song) with a suit fit, and they absolutely killed it! Fans were so delighted to see the mature look that somehow made it work with the cheerful song.
STAYC - So Bad
STAYC performed "So Bad" on only their second day of debut with their debut song "So Bad," and it has remained as one of their most legendary performances of the song!
Moonbyul - Eclipse
Moonbyul showcased this song not only in a suit fit, portraying a more mature side of her. The styling for this song was absolutely perfect!
Chungha - Gotta Go
Chungha was already receiving a lot of attention with the song itself, but she made it an extra cherry on top when she began performing the song with her various suit fits that absolutely captivated the audience, leaving them wanting more.
A PINK - Dum Duh Rum
Veterans A PINK performed their hit song "Dumdurum," displaying their charisma and maturity in suit looks, showing their true veteran side!
IVE- Eleven
IVE illustrated a suit-fit look in not only their music video for this song but also performed it in suit fits in multiple music show performances. Of course, these girls are narcissistic!

What are your thoughts on this list? Do you think these girls completely killed the stage with these looks? K-pop has become more and more visual and performance-oriented, and it sure is pleasing to see these mature concepts more and more, especially when you're used to more of a cute and cheerful concept.
Which girl group suit-fit did you appreciate the most? Was there any suit-fit ultimate bias that didn't make this list? Make sure to let us know in the comments below!