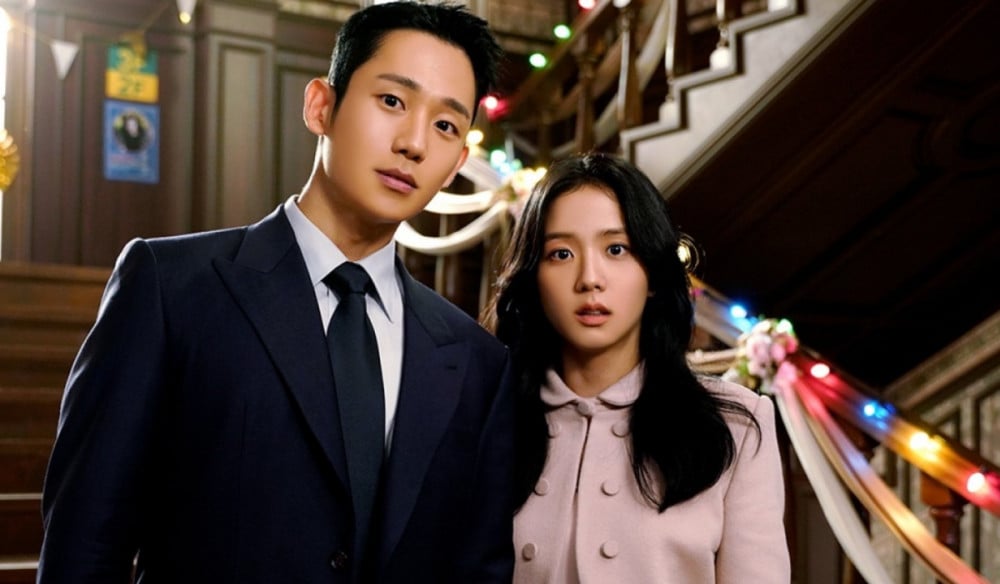 Korean dramas are continuing to gain popularity all around the world, leading to a boost in conversation about them on social media.
On August 29 KST, Twitter Korea released new information about how Twitter users engage with Korean content on their platform through a series of interesting infographics.

According to the platform, the amount of tweets relating to Korean dramas, films, and webtoon has experienced a 546% increase within the last 10 years, proving the growing popularity of K-contents in general. The number was found by collecting global tweets published between the period of July 2011 - June 2022 that contained keywords relating to Korean dramas, movies, and actors.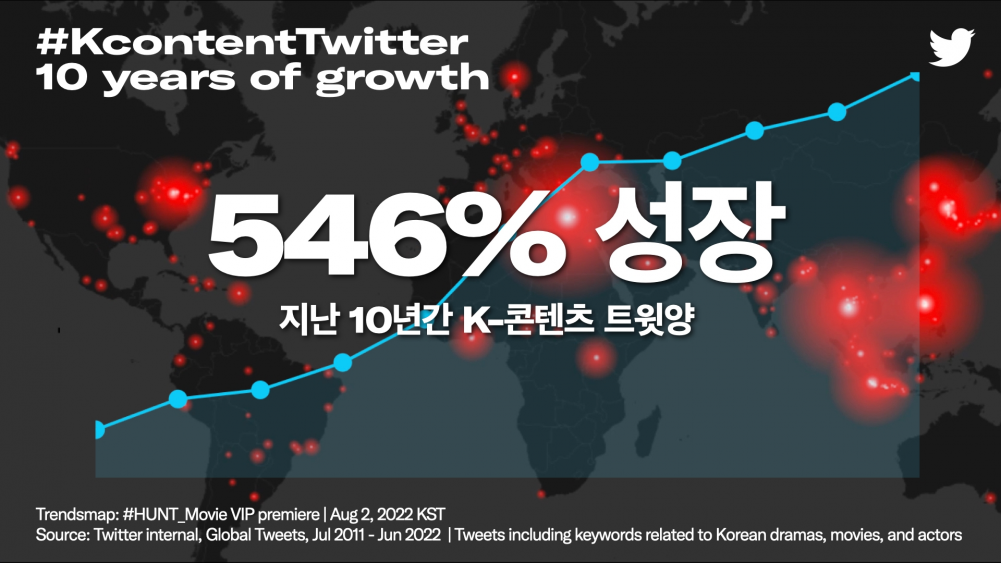 As for the countries tweeting the most about K-content in 2022, the leading country is South Korea. However, the top 20 ranking continues as follows: #2 Thailand, #3 United States, #4 Philippines, #5 Indonesia, #6 India, #7 Malaysia, #8 Brazil, #9 Japan, #10 England, #11 Mexico, #12 Canada, #13 France, #14 Vietnam, #15 Spain, #16 Singapore, #17 Italy, #18 Turkey, #19 Germany, and #20 Peru.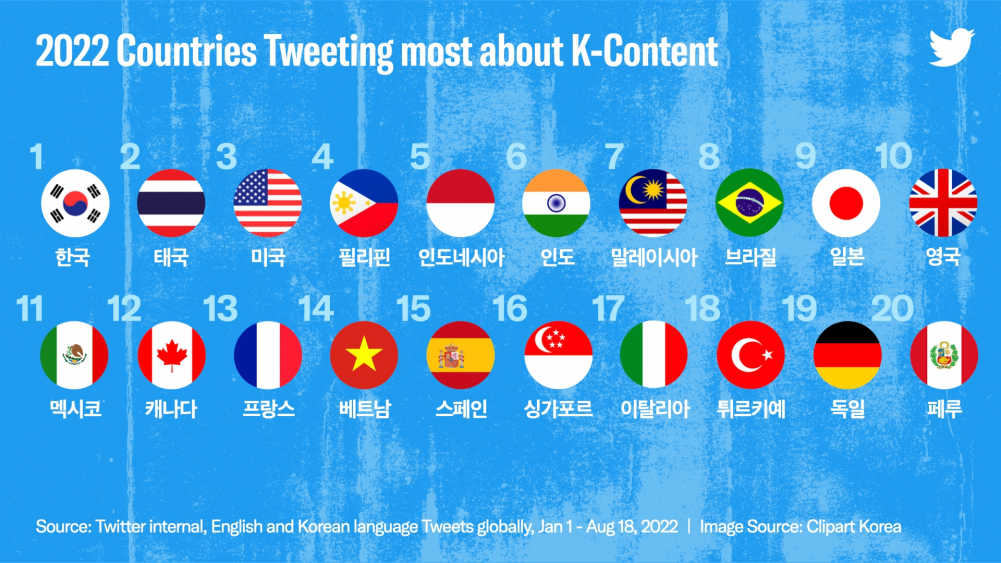 JTBC's 'Snowdrop' starring Jung Hae In and BLACKPINK's Jisoo topped the list of the most-tweeted dramas in 2022 thus far. The rest of the top 10 included: #2 'Twenty Five Twenty One,' #3 'Business Proposal,' #4 'All of Us are Dead,' #5 'Our Beloved Summer,' #6 'Semantic Error,' #7 'Extraordinary Attorney Woo,' #8 'The Red Sleeve,' #9 'Our Blues,' and #10 'Squid Game.'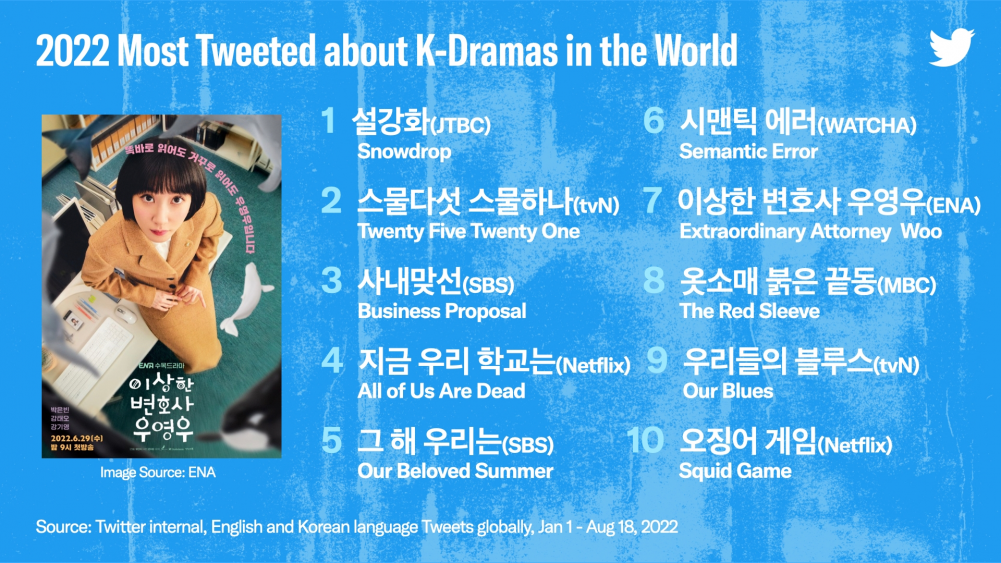 Lastly, the top 10 most-tweeted films in 2022 so far were also analyzed. Topping the list is 'Broker' starring Song Kang Ho, IU, Kang Dong Won, and Bae Doo Na. The rest of the list included: #2 'Hunt,' #3 'The Witch Part 2: The Other One,' #4 'The Roundup,' #5 'Emergency Declaration,' #6 'Alienoid,' #7 'Decision to Leave,' #8 'Hansan: Rising Dragon,' #9 'Parasite,' and #10 'On the Line.'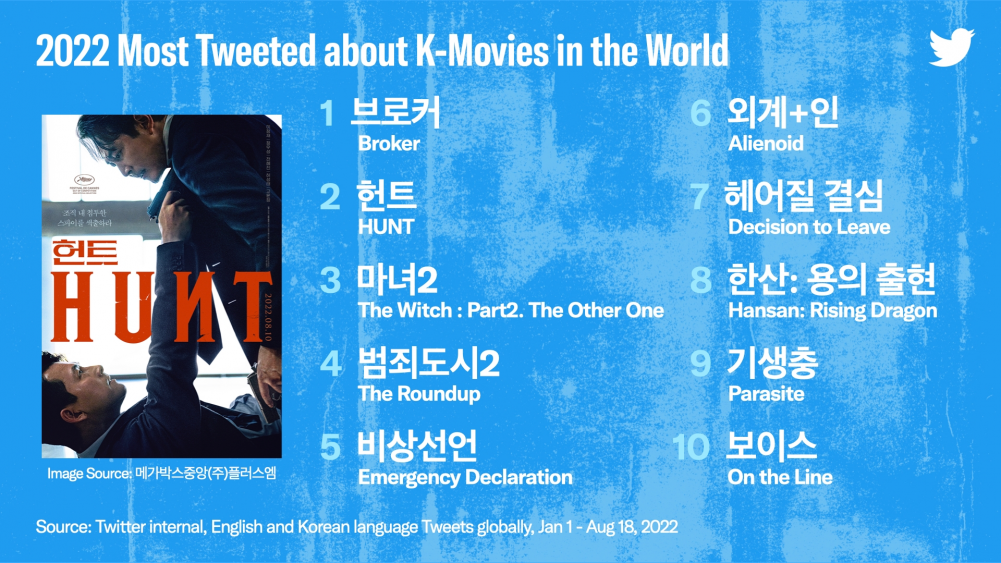 Meanwhile, the full Twitter Korea analysis article can be viewed here.