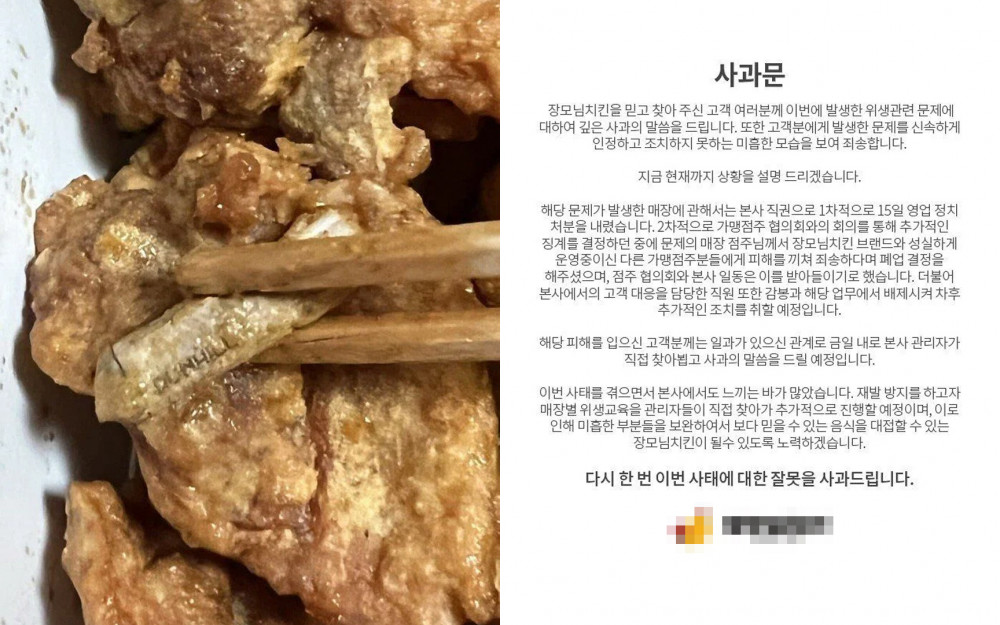 On August 9, attention was focused on an online community post that shared the story of a customer who received a cigarette butt in their boneless fried chicken. On this day, a netizen created a post titled "I ordered fried chicken and got a fried cigarette butt" in the popular online community, Nate Pann.

Getting a cigarette butt in the fried chicken was bad enough, but the customer had to face various rude responses from the branch restaurant and the franchise headquarters. When the customer first reached out to the restaurant, the owners denied that they had included a cigarette butt and claimed none of them smoked.
When the angered customer reached out to the franchise headquarters, they received the same response as the person in charge also said that the owners of that branch restaurant smoke. Filled with agitation, the customer decided to take this issue online and publicize this. The customer also decided to report to the Ministry of Food and Drug Safety.
After the issue became heightened, it was reported that the franchise decided to take action and issued a statement of apology.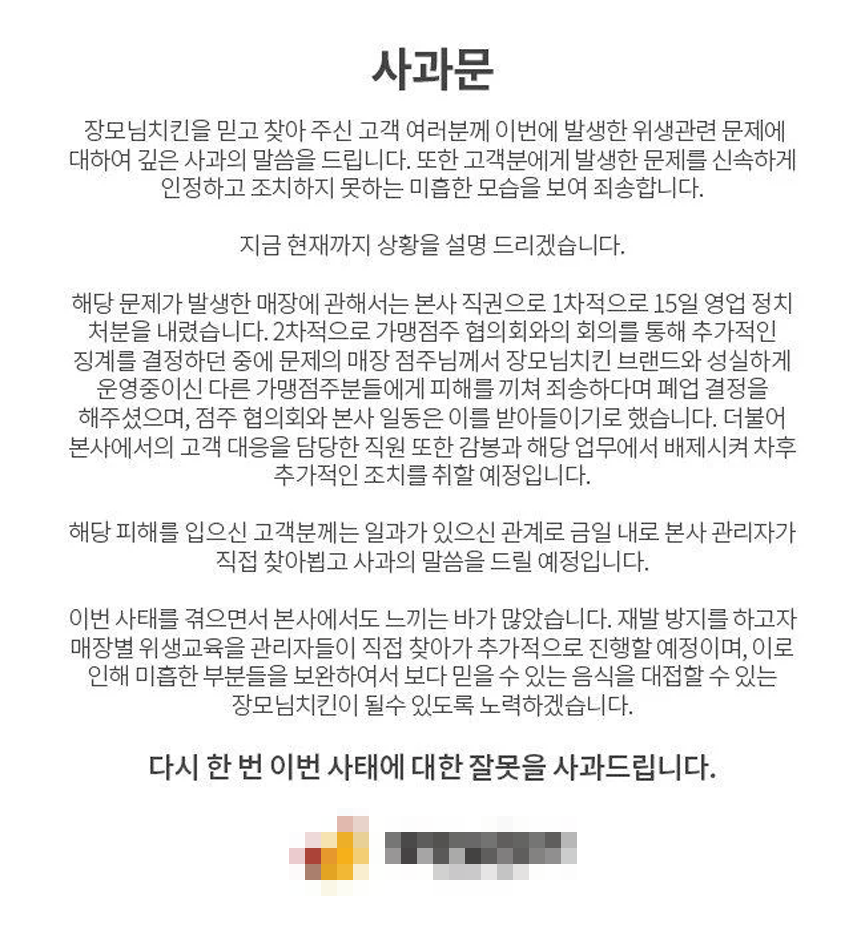 According to the statement, the head office decided to suspend the restaurant in question and also take disciplinary action against the head office employee who was in charge of this issue. During this process, the restaurant in question decided to close its doors permanently.
The franchise headquarters wrote,
"We would like to express our deepest apologies for the hygiene-related problems that have occurred this time to customers who have trusted and visited Jangmonim's Chicken. In addition, we apologize for not being able to promptly acknowledge and take action on problems that have occurred to our customers.

We would like to explain the situation so far.

With regard to the store where the problem occurred, the restaurant was given a 15-day suspension of business from headquarters as a primary measure. While further disciplinary action was being decided through a meeting with the franchisee's association, the store owner in question decided to close the business down saying he was sorry for causing damage to the Jangmonim's chicken brand and other franchisees who were operating faithfully. All of the association members decided to accept the decision. In addition, we plan to take additional measures in the future by excluding the employee who was in charge of customer response at the head office from their duties.

Going through this situation, the head office also felt a lot of things. In order to prevent a recurrence, managers will personally visit each store to provide additional hygiene education, and we will make an effort to become the Jangmonim's chicken that can provide more reliable food by supplementing the deficiencies.

Once again, we apologize for the mistake we made in this situation."