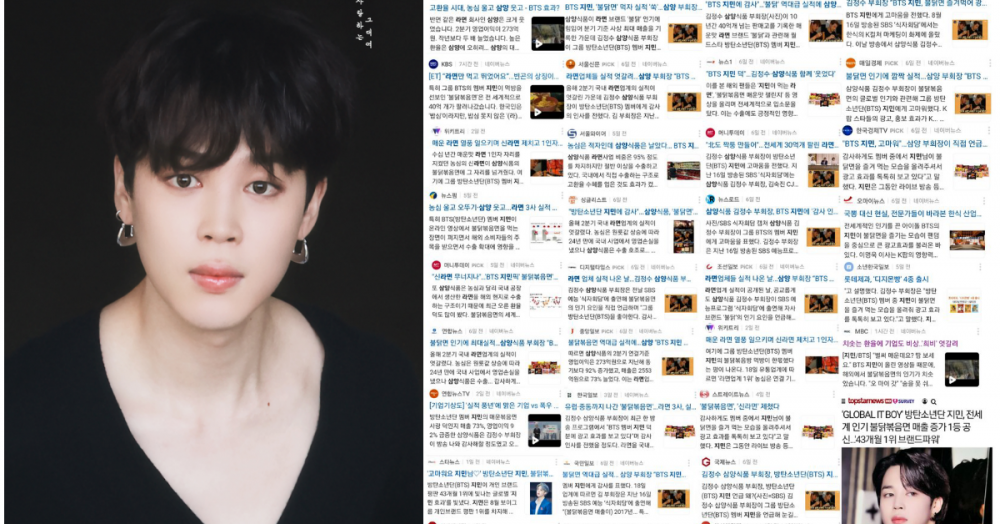 BTS's Jimin is continuing to flex his Brand King muscles in South Korea by influencing the sales and profits of Samyang Foods.
Jimin is fondly called Korea's national treasure and It Boy because his participation in the country's culture and activities always reap benefits. Whether it be clothing (Hanbok), food (Ramen, Kimchi, Tteokbokki), Arts & Literature(Hong Gildong, Buchaechum dance), for which he received a plaque of appreciation. He is always bringing pride to his country.
On the 23rd of August, it was discovered that over the past week, more than 32 articles had been published by Korean media outlets, highlighting the strong influence on the sales and upwards profits of Samyang Foods as a result of Jimin's mukbang of him eating spicy chicken ramen or Buldak. The outlets include television coverage by popular stations like Yonhap News, KBS News, MNC News, and Chosun Ilbo, among others.
In the discourse, the media made a note of the fact that Jimin was leading the Korean hallyu by increasing the awareness of Korean noodles. Videos of Americans and other foreigners eating the noodles have previously been shared to illustrate this fact. KBS News added that 4 billion Buldak stir-fried noodles packs that Jimin was seen eating have since been sold, and 'Filter' was even used as BGM when reporting on the news.
On the 17th of August, the Vice chairman for Samyang Food, Kim Jung Soo, appeared on SBS News 'Food Talk'she attested to Jimin's great commercial impact because videos of him eating their Buldak ramen had spread like wildfire and thanked him, Yonhap News further reinforced this by saying that because of him sales had increased by 73% with an operating profit of 92%.
Indeed it was because of the Jimin effect that Samyang Foods became the main sponsor for the Permission to dance on stage in the Las Vegas concert. Outside the concert venue, two staff members revealed this while promoting Buldak on SBS Hanbam x Morning News. This serves as a reminder to fans that Jimin was also the decisive factor for BTS' Louis Vuitton Global ambassadorship in 2020.
Jimin has often been on the national and international news not for spicy chicken ramen noodles; last year, a report by the South Korean Ministry of Agriculture revealed Jimin's contribution to the high exports of Tteokbokki and Red bean paste. Bloomberg, along with other outlets, reported on the rise in overseas sales of dumplings following the dumpling incident mentioned in 'Friends,' a song produced by Jimin. There is also a Jimin cappuccino menu that was introduced to a cafe in Rome, Italy, in 2020, yet another incident that showcases his global popularity.