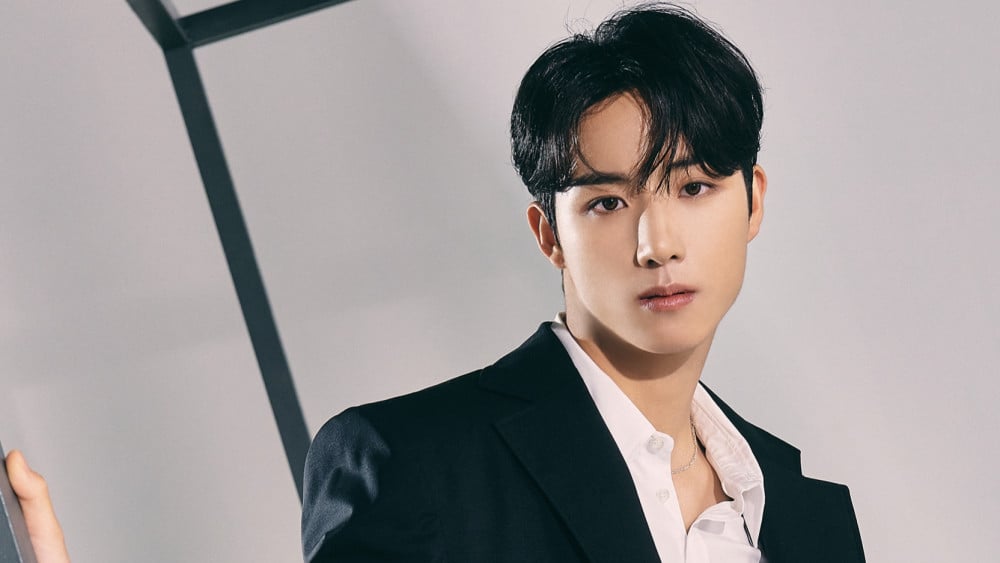 ATBO member Jung Seunghwan has tested positive for COVID-19.
On August 9, ATBO's agency, IST Entertainment, released an official statement revealing that Seunghwan has COVID-19. Following the announcement that one of the members had tested positive, IST Entertainment issued a statement regarding ATBO's upcoming activities.
The agency's statements are as follows: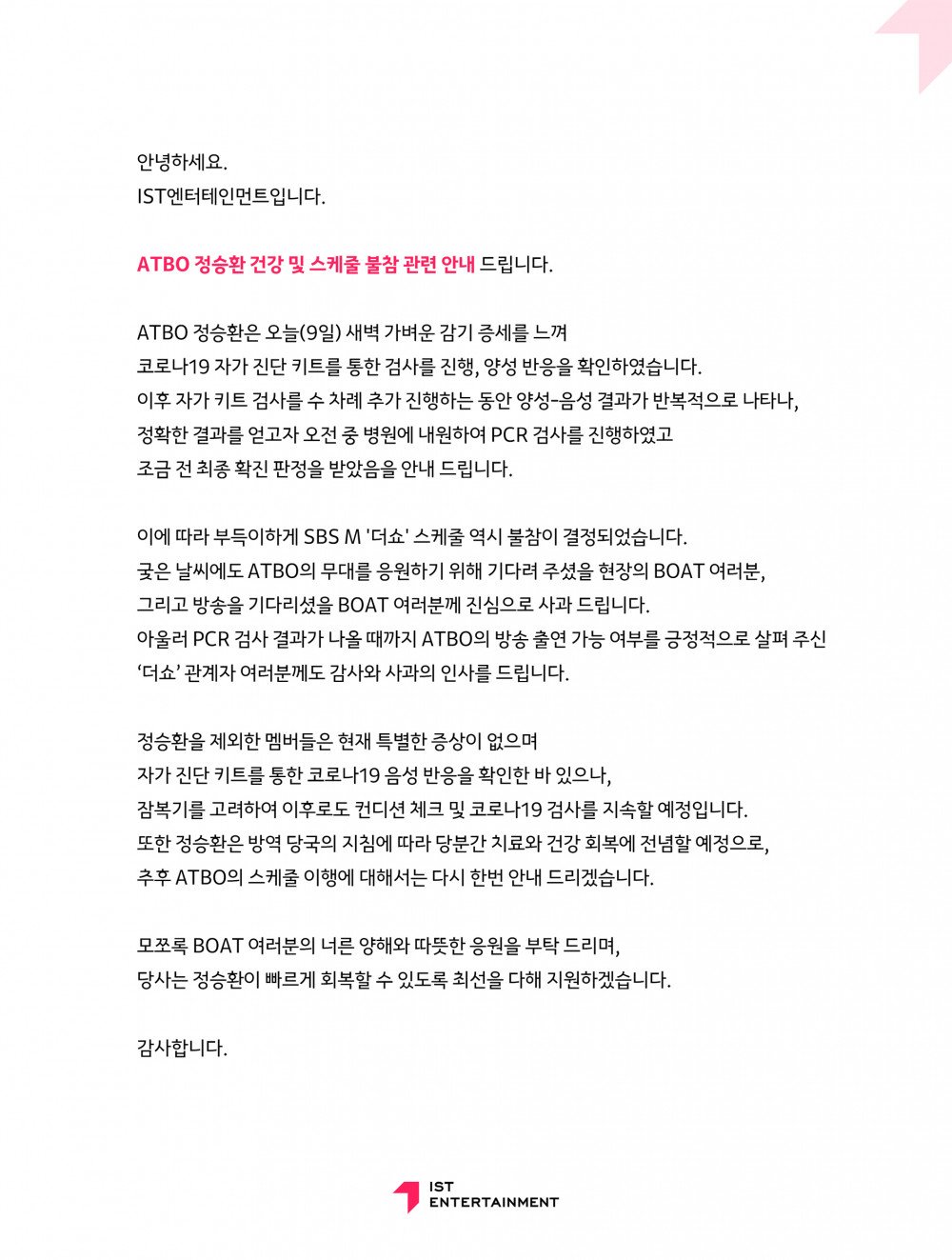 "Hello.
This is IST Entertainment.

This is a guide to ATBO Jung Seunghwan's health and absence from the schedule.

ATBO Jung Seunghwan felt mild cold symptoms early in the morning today (9th) and conducted a test through a COVID-19 self-diagnosis kit to confirm a positive reaction. Since then, positive-negative results have repeatedly appeared during several additional self-kit tests, and to obtain accurate results, we visited the hospital in the morning to conduct PCR tests and informed you that he was finally confirmed a while ago.

As a result, SBS MTV's 'The Show' schedule was inevitably decided not to attend. I sincerely apologize to BOAT who waited to cheer for ATBO's performance despite the bad weather, and BOAT who waited for the broadcast. In addition, I would like to express my gratitude and apology to the officials of 'The Show' who positively checked ATBO's availability until the PCR test results are released.

Except for Jung Seunghwan, the members currently have no special symptoms and have confirmed a negative response to COVID-19 through a self-diagnosis kit, but considering the incubation period, they will continue to check their condition and take COVID-19 tests. In addition, Jung Seunghwan will concentrate on treatment and health recovery for the time being according to the guidelines of the quarantine authorities, and we will inform you again about the implementation of ATBO's schedule in the future.

We ask for your generous understanding and warm support, and we will do our best to help Jung Seunghwan recover quickly.

Thank you."
IST Entertainment on the group's future schedule: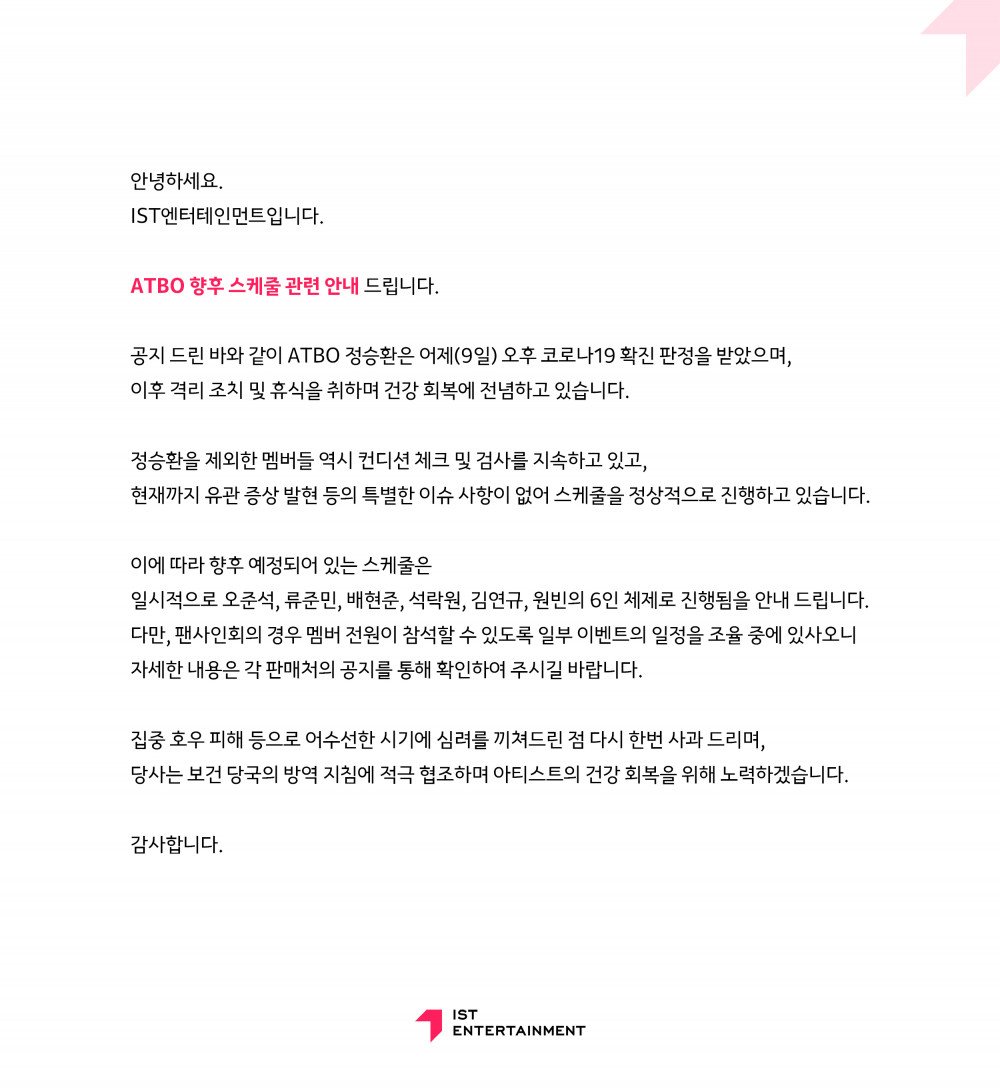 "Hello.
This is IST Entertainment

We're informing you about ATBO's future schedule.

As announced, ATBO Jung Seunghwan was confirmed to be infected with COVID-19 in the afternoon of yesterday (9th) and has since been taking quarantine measures and resting to concentrate on recovering his health.

Except for Jung Seunghwan, the members are also checking and testing their conditions, and so far, there are no special issues such as the expression of related symptoms, so the schedule is proceeding normally.

Accordingly, we inform you that the schedule in the future will be temporarily carried out with a six-member system of Oh Joonseok, Ryu Junmin, Bae Hyunjoon, Seok Rockwon, Kim Yeonkyu, and Won Bin. However, in the case of the fan signing event, we are adjusting the schedule of some events so that all members can attend, so please check the details through the notice of each seller.

Once again, we apologize for causing concern during the chaotic times due to heavy rain damage, and we will actively cooperate with the health authorities quarantine guidelines and make efforts to restore the health of the artists.

Thank you."


Wishing Jung Seunghwan a speedy recovery!