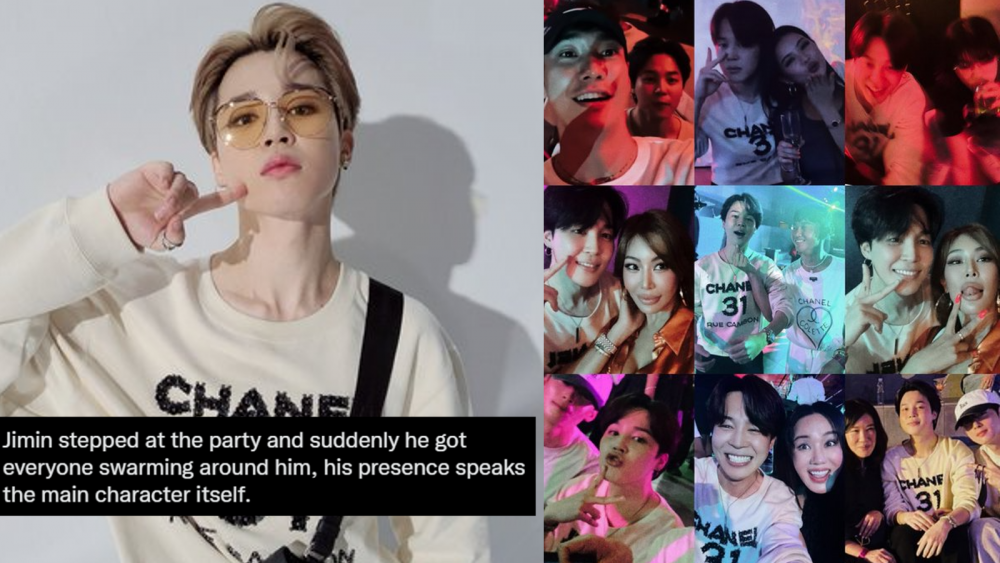 On the night of July 14th, j-hope hosted a listening party for his solo debut album #JackInTheBox, which would then be followed by the release of his second lead single the next day. A significant number of celebrities had been invited and were in attendance, including his fellow BTS members, who came to support their bandmate. Jimin especially stood out during this party, stealing everyone's hearts in the room with his ever-so-warm and charming personality.
Many celebrities in attendance were seen taking and posting photos and videos with Jimin on their social media. Jimin himself did not post any photos from the party, but the number of photos, videos, and Instagram stories posted by other celebrities sent fans into a frenzy. It appeared as though everyone at the party was just waiting to take a photo with him, showing how much he is loved by everyone. Some of the celebrities who were seen to interact with Jimin include Jessi, Cha Eunwoo, Kim Young Kwan, Irene Kim, Moon Sujin, Hwang Soyoon, Lee Hyejoo, and Uhm Jung-Hwa, among others.
Fans were especially loving how each of the celebrities who posted about Jimin mentioned how sweet and lovely he is. His endearing personality was witnessed yet again through the different points of view of multiple people, proving that Jimin is indeed a human being with a very beautiful soul. It is impossible to abstain from falling in love with him when you meet him or when you get to know him. He was described as 'lovable,' 'the sweetest,' 'the nicest, ' and other heart-warming descriptions.
The numerous posts of Jimin by other celebrities became a hot topic on social media, with fans humorously saying how everyone seems to be focused on Jimin, wanting to take a photo with him. These are some of the tweets from fans upon their observation of the overwhelming attraction towards him.

With the excitement of so many sweet interactions between Jimin and other celebrities, numerous keywords entered Twitter trends. There were more than 11 keywords trending simultaneously, such as 'THE SWEETEST,' 'HIS CHEEKS,' 'OMG JIMIN,' 'JIMIN AND EUNWOO,' as well as 'JIMINIE,' which entered worldwide trends.
Jimin hardly posts on social media, and so the many photos of him on the same day sent fans over the moon with happiness and excitement, especially when they saw how much fun he was having. He seemed happy as he interacted with other celebrities who sought after him for photos as the most popular idol in South Korea based on brand reputation rankings that he has won for 41 months total and 35 consecutive months, something no other idol has ever achieved. His popularity in his home country is simply unbeatable. Such happiness and warm interactions are all his fans ever want for him!