Girl group XG just made a powerful comeback with their second single, "MASCARA." "MASCARA" stands as an anthem for the next generation, empowering youth and spreading confidence and compassion. Listening to "MASCARA" will make you feel fierce, independent, strong, and empowered.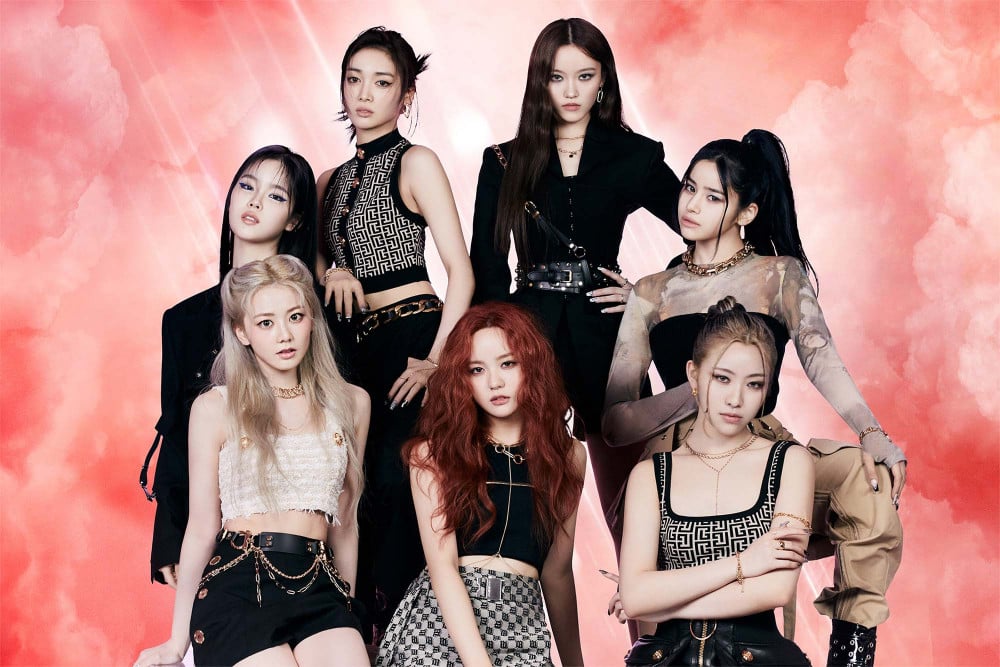 In celebration of their comeback, XG joined allkpop for an exclusive interview. Check it out below!
allkpop: Before we get started, congratulations on your latest comeback! What types of thoughts ran through your head as you prepared for this comeback?
HINATA: I definitely wanted to deliver my best to you all! We've rehearsed more than ever, not only vocals, dance, and other performances, but also the way we present ourselves. We hope to show a new version of XG that's at a higher level!
HARVEY: Thank you! MASCARA was written to express how confident and powerful we are and it gave a chance for every member to rethink their own strengths and skills. Knowing our strengths helped us to define our personalities. Because we understood each other's personalities, we were able to express ourselves with more confidence, and I think that our performance brought out the best in each of us, and at the same time, it really brought us together!
allkpop: How would you describe this comeback in one word or phrase?
COCONA: I think "one and only"! There is only one of me in the world, and there will never be another! That's the message I want to convey in MASCARA.

HINATA: "This is the start of a new chapter for XG!" Tippy Toes was just the beginning. This time MASCARA will showcase more of XG's style.
allkpop: Tell us more about your single 'MASCARA.' What was the inspiration behind the song?
JURIN: MASCARA is all about "friendship" and "unity," it is a song with a message that is very much ours: "Support each other, but be yourself and live with a progressive attitude." The chorus and hook of the song include the lyrics "Don't mess with my MASCARA" and "This my party, I can cry when I want to," and we hope you will listen to it as a song to encourage people around the world to live strong and stand tall.
CHISA: Ever since we were trainees, we have been supporting each other and our friendship in order to make our dreams come true. I believe that the bond we have built over the years has had the greatest influence on MASCARA!

allkpop: What type of message do you want to share with listeners through the single? Is there anything you want listeners to feel while listening to the song?
JURIN: The lyrics of MASCARA say, "This my party, I can cry when I want to," which gives the message that "we only have one life!" That's why we should be who we are and always have a positive attitude! I hope this song will give you confidence and strength. And just like the "solidarity and bond" that XG depicts in MASCARA, I'd be really happy if you could feel that you are part of XG and we are all one.
CHISA: I would like to spread the message, "There is nothing you can't do if you keep moving forward with the confidence that you are irreplaceable! I would like to spread this message! I also hope that the bond and unity of our XG can be reflected in our performance!

allkpop: What would you say is your favorite lyric from the song and why?
HINATA: "Don't mess with my MASCARA" is my favorite! I like how it expresses the strong message, "I won't let anyone make me cry!" "I will be just the way I am," and I want this message to be heard!
JURIA: "This is my party I can cry when I want to"! This phrase conveys a strong feeling that we shouldn't be influenced by anyone. It's a phrase that gives me a lot of courage.
JURIN: "I'll never let another boy ruin my MASCARA." This is the part that I actually sang, and it is a very strong and powerful lyric! I always feel a sense of confidence and strength when I sing it.

allkpop: What makes this song different from your previous releases? What do you want to show fans this time around?
HARVEY: In our debut single, "Tippy Toes," we gave off a charismatic and cool XG style with an enigmatic vibe. The new song MASCARA is a new XG, powerful and full of passion! MASCARA has a strong meaning of "respecting one's individuality and opinions, and moving forward with an open mind." We hope to deliver this message to our fans through our powerful MASCARA performance!
HINATA: Tippy Toes was darker and generally more subtle, but MASCARA is powerful, fun, and full of energy! We hope you can feel our energy overflowing through the song and performance!
JURIN: Our debut song, "Tippy Toes," was a song that expressed our worldview and declared our enthusiasm. So we made it stylish, but this time MASCARA is bold and powerful, expressing our strength. It would be great if you could feel our energy and feel that, like the lyrics of MASCARA "This my party," which means "This is my life."

allkpop: In addition to preparing for your comeback, how have you been spending time over the past few weeks?
JURIN: I wanted to present a more evolved version of XG for our 2nd single, so I was communicating with the members a lot more! We would gather in our rooms at night for chats, and we would have serious discussions about what each member wanted to convey through MASCARA. On weekends we also spent time at the studio playing loud music, singing, dancing, and just enjoying the music!
HARVEY: I'm learning pilates right now! I've done a lot of body design and yoga, but I'm excited to start a new workout routine. As I prepare for my new comeback, I'm also trying new things to feel refreshed every day.
COCONA: Since I changed my hairstyle for my comeback, I made time to try on new styles, buy new clothes and enjoy coordinating them. This allowed me to discover a new style that suits me! I hope to discover more of my new self in the future.

allkpop: If there's one thing you want to be remembered for, say in 30 years or so, what would it be?
CHISA: My voice! No one in the world has exactly the same voice, so I would be happy if someone remembers my voice 30 years from now!
HINATA: I want people to think that I am an artist with a mysterious vibe that is different from my usual appearance when I'm performing! I'll keep reflecting on my own personality and strength so that people will remember me for who I am!
COCONA: It would be nice if 30 years from now, there will be people who think that COCONA from XG is unique and one-of-a-kind. I will do my best to become an artist that people will find appealing and that holds people's attention.

allkpop: Lastly, can you leave a special message for allkpop readers?
HINATA: Some of you may have never heard of XG before, so I hope you will be interested in our music and performance! MASCARA is a very powerful and energetic song, so please listen to it a lot!
COCONA: Thank you very much for reading our interview till the end! We will continue to be fresh and energetic to show various sides of XG, so we hope you will continue to support us!
JURIA: Thank you for reading till the end! Through our 2nd single, MASCARA, we hope to bring courage to everyone worldwide! Please listen to it when you feel upset, when you are going through a hard time, when you feel like falling apart, or when you are sad! Love yourself because you're one of a kind, and let's get through it together!