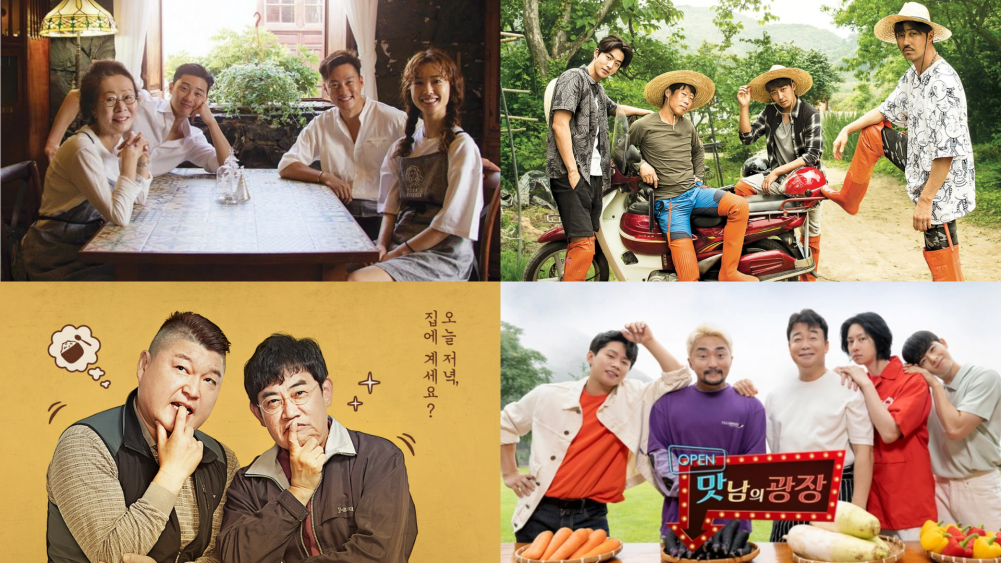 The influence and reach of South Korean mukbangs, or online eating shows while interacting with the viewers, cemented the Korean Wave further, gaining audiences among online streaming platforms. These shows are not exactly new to the South Korean entertainment industry, with various variety shows focused on food themes- from cooking and eating shows.
There is a food-themed variety show that can fit right into the bill, whether you want to learn new recipes, see celebrities and people eat, or probably simply enjoy vicariously through the cast members and guests. Here are 15 food-themed variety shows that you should definitely give a try and watch if you are a huge foodie!
1. Youn's Kitchen
Cast: Youn Yeo Jung, Shin Goo, Lee Seo Jin, Jung Yoo Mi, Park Seo Joon
'Youn's Kitchen' has two seasons, focused on the concept where the cast on their journey to a foreign destination where they open a pop-up restaurant for a few days. For the first season, their main ingredient was bulgogi, which was available in three dishes: Bulgogi Rice, Bulgogi Noodles, and Bulgogi Burger. The second season had the main dish of bibimbap, with initially three varieties: bulgogi bibimbap, spicy pork bibimbap, and vegetable bibimbap. The menus also change from time to time, based on the demand and the availability of their ingredients.

2. Three Meals a Day
'Three Meals a Day' is a cooking show where the cast must prepare three meals daily using whatever food they can locate while spending three days a week in a local fishing or rural community. They connect with the people, experience village life, and welcome several famous celebrity guests for dinner. The show was successful and followed multiple seasons and even spin-offs, which featured different locations and casts, according to various themes.
[Three Meals a Day: Jeongseon Village]
Cast: Lee Seo Jin, Ok Taecyeon, Kim Kwang Kyu

[Three Meals a Day: Fishing Village]

Cast: Lee Seo Jin, Cha Seung Won, Yoo Hae Jin, Son Ho Jun, Eric Mun, Yoon Kyun Sang

[Three Meals a Day: Gochang Village]

Cast: Cha Seung Won, Yoo Hae Jin, Son Ho Jun, Nam Joo Hyuk

[Three Meals a Day: Mountain Village]

Cast: Yum Jung Ah, Yoon Se Ah, Park So Dam

[Three Meals a Day in Iceland]

Cast: Eun Ji Won, Lee Soo Geun

[Three Meals a Day for Four]

Cast: Eun Ji Won, Lee Jae Jin, Kim Jae Duck, Jang Su Won

[Three Meals a Day: Doctors]

Cast: Jo Jung Suk, Yoo Yeon Seok, Jung Kyung Ho, Kim Dae Myung, Jeon Mi Do

3. Let's Eat Dinner Together
Cast: Kang Ho Dong, Lee Kyung Kyu
The show was inspired by Kim Sat Gat, who wandered around Joseon and felt hungry, but some people were willing to share food together. The cast members and the guests go around the country to find dinner following various rules, ringing doorbells around houses that are willing to open their homes to the guests for dinner.
4. Delicious Rendezvous
Cast: Baek Jong Won, Yang Se Hyung, Choi Won Young, Kwak Dong Yeon, Choi Ye Bin, Kim Hee Chul, Yoo Byung Jae, Kim Dong Jun, Jay Park, Baek Jin Hee
'Delicious Rendezvous' is a show which aims to help farmers by creating fresh menus with low-demand regional delicacies. The original idea was to sell these menus at gathering places with huge floating populations, like rest areas, airports, and train stations, in order to make the dishes popular. However, this aspect of the show was eventually dropped when it was discovered that these locations simplified the recipes and served the public with subpar versions of the dishes, which drew criticism. They eventually added the segments Delicious Shopping Live and The King of Salesmen to further the sales of local products and specialties.
5. Kang's Kitchen
Cast: Kang Ho Dong, Eun Ji Won, Lee Soo Geun, Ahn Jae Hyun, Cho Kyu Hyun, Song Min Ho, P.O.
'Kang's Kitchen' is the promised spinoff show of 'New Journey to the West' after a bet from Na Young Seok PD and the members, which was their version of the 'Youn's Kitchen.' Ho Dong acts as the rookie main chef, and the rest of the members fulfilling of their responsibility, from making dishes, cleaning up, and entertaining their guests. You can have a balanced enjoyment of learning easy but yummy recipes, watching customers eat, and seeing the members work around while being entertaining.
6. Stars' Top Recipe at Fun-Staurant
Cast: Lee Young Ja, Lee Kyung Kyu, Lee Yeon Bok, Do Kyung Wan, Heo Kyung Hwan, Boom, Lee Won Il, Lee Seung Chul, Kim Jung Hoon
A celebrity cooking competition is held where celebrities will create and share their own original recipes based on a theme, in addition to cooking for themselves. Additionally, they will impart a variety of cooking tips and other important recommendations. A judge squad then evaluates the competing dishes, and the winning dish is subsequently made accessible in convenience store outlets in the form of a meal kit all around South Korea the next day after being named the winner. The program is notable for popularizing the Macanese coffee beverage later known as "Dalgona coffee."
7. Baek Jong Won's Alley Restaurants
Cast: Baek Jong Won, Kim Sung Joo, Kim Se Jeong, Jo Bo Ah, Jung In Sun, Keum Sae Rok
The famous chef, Baek Jong Won, visits a target alley and helps a select few restaurant owners to raise the caliber of the entrees on their menu to attract clients. There are times that Chef Baek can go head-on with several restaurant owners who are adamant about their ideas.
8. Please Take Care of My Refrigerator
Cast: Kim Sung Joo, Ahn Jung Hwan, Jung Hyung Don, Jeong Ga Eun, Hwayobi, Kim Ga Yeon, Bae Ji Hyun, Kim Ye Won
Two guests have their refrigerators brought to the filming location for each episode. As they go through each refrigerator, the hosts, chefs, and guests make comments about any strange or noteworthy delicacies. Sometimes the hosts may "assist" the visitors by throwing out ingredients that have expired. The guest's refrigerator contains the components for the cuisine that the two competing chefs must prepare in 15 minutes. The show has invited a lot of famous celebrities and even invited foreign chefs like Gordon Ramsay.
9. Four-Wheeled Restaurant
Cast: Hong Seok Cheon, Lee Min Woo, Yeo Jin Goo, Lee Yeon Bok, Kim Kang Woo, Seo Eun Soo, Heo Kyung Hwan, Eric Mun, John Park, Sam Kim, Ahn Jung Hwan, Yoon Doo Joon, Jeong Se Woon
The program features a variety of Korean chefs preparing food in the nation where their cuisine originated. The goal is to launch a food truck and determine whether their cuisine is favored in the country of origin, just like it would be in Korea. The show has multiple seasons,
10. Tasty Guys
Cast: Kim Jun Hyun, Yoo Min Sang, Kim Min Kyung, Moon Se Yoon
'Tasty Guys' is probably the show most similar to the format of a mukbang, with the cast members staying true to the definition of an eating show. The show consists of comedians who are not only popular for their humor but for their way of eating, which makes it hard not to be hungry while watching. Each episode revolves around a theme, and they visit restaurants with specialties and try it all. They also give you tips and ideas only locals know and on how to eat the food even more deliciously.
11. Food Diary
Cast: Seo Jang Hoon, Lee Soo Geun, BoA, Park Sung Kwang, YooA, Taeyong, Niklas Klabunde
The show chronicles the experiences of a group of "city farmers" who live on a farm that has been set up specifically for them so they can create a meal from scratch, starting with raising the animals and planting the seeds, until they can finally create the main dish, which was dakbokkeumtang or spicy braised chicken.
12. Bistro Shigor
Cast: Choi Ji Woo, Cha In Pyo, Lee Jang Woo, Lee Soo Hyuk, Jo Se Ho, Shim Chang Min
The program follows famous celebrities as they manage a temporary pop-up restaurant in a far-off rural community. The restaurant, which uses regional products to offer outstanding French cuisine, consults with the best chefs in the nation. You can also take pleasure in observing what famous people do when running a restaurant, including the preparation of the food, customer service, and general management. They also invited a guest, Beomgyu, in the middle of their 12-episode show, as their restaurant helper.

13. The Backpacker Chef
Cast: Baek Jong Won, DinDin, Ahn Bo Hyun, Oh Dae Hwan
The Backpacker Chef is a cooking show that tests cast members' abilities to improvise a unique meal in a short amount of time in a location they are unfamiliar with. Cast members are tasked to deliver on-the-spot food for new customers at the location of the day while using just one backpack that contains a variety of kitchen gear and materials.

14. Coffee Friends
Cast: Yoo Yeon Seok, Son Ho Jun, Choi Ji Woo, Yang Se Jong
Four actors run a cafe where they offer breakfast to customers on a tangerine plantation in Seogwipo, Jeju Island. A monthly charity initiative that Yoo Yeon Seok and Son Ho Jun organized in 2018 served as the basis for the variety show. The two friends offered free cups of coffee as part of the donation project in exchange for contributions and donations of any amount. There are no prices listed on the menu at this cafe, and instead, the customers are urged to make donations in lieu of paying for their food and beverages.
15. Ramyeonator
The show aims to showcase a single main ingredient- ramen. The show features anything and everything about ramen, from the ingredients that go well with them the best, to how to best enjoy ramen, either through cooking or through a specific situation. The seasons featured the cast members enjoying and cooking ramen from which you can learn recipes and tips.
[The Ramyeonator]

Cast: Kang Ho Dong

[The Idol Ramyeonators]
Cast: TREASURE's Choi Hyun Suk and Park Ji Hoon

Here are only some of the many stimulating, and appetizing food-themed variety shows that can best fit your needs and wants. Which among these variety shows is your favorite, and which shows that aren't on the list would you like to suggest to other people who would be interested in this genre?