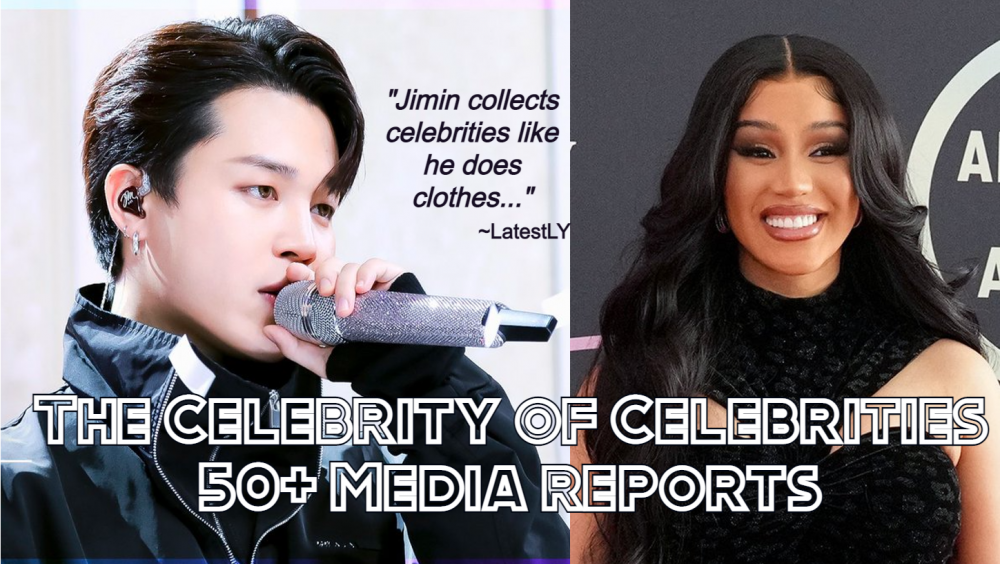 Jimin is popularly known as the 'celebrity of celebrities' because of the high number of top celebrities all around the world who have named him as their favorite member of BTS. Be it his 'IT Boy' aura, beautiful visuals, unique and unmatched performance skills both in vocals and dancing, or his charming, warm, and angelic personality, Jimin has it all, and it is no wonder that he catches the attention of most people including big names in the entertainment industry.
The American superstar rapper and songwriter Cardi B has recently joined the long list of such big names to have shown that Jimin has their attention. In a Q&A session on Twitter, Cardi B invited questions from her fans through the hashtag #AskCardi and one of the questions that came up was who her bias or favorite BTS member was, to which she replied with a photo of Jimin!

This revelation absolutely excited fans and elicited reactions even from verified Twitter accounts in different fields, who have long declared Jimin as their bias, further proving his star power.
As fans talked about this development, they praised Jimin for continuing to prove that no one can escape his charms because he is just that talented and stand out in the group.
Fans found older content showing that it had already been evident that Cardi's favorite is Jimin based on her past interactions with the group and her posts on her social media pages where she has mentioned Jimin severally. There are some of the reactions from them.
In addition, other fans compiled all the different instances when celebrities or influential figures from various fields of profession also showed their affection for Jimin as their #1 pick in the group by either naming him as their bias or doing some action to imply the same. Some names that came up include Lizzo, Ryan Reynolds, Liam Payne, Doja Cat, Simon Pegg, Marie Lu, Andy Le, Gizele Oliveira, Sue Ramirez, Jimmy Fallon, James Corden, Shawn Stockman, Khalid, and many other names. It is impressive the kind of pull he has on all these individuals, given that these are some of the top names in their respective fields, and it speaks volumes about Jimin's status in the industry.
Here are some more reactions to the news.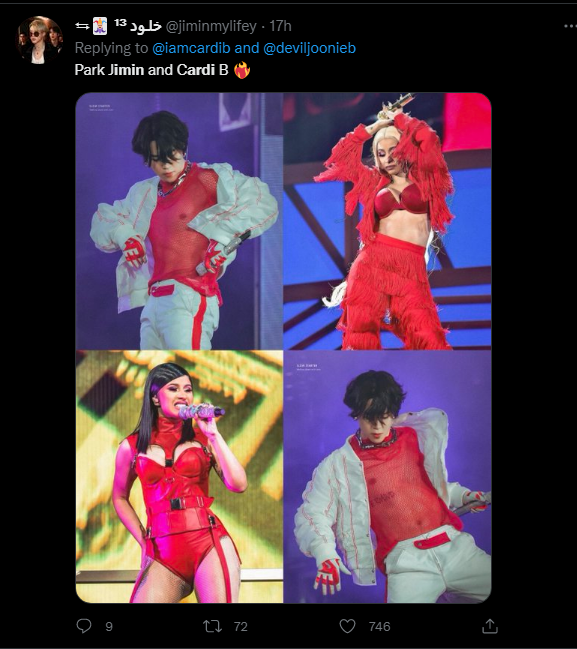 With all the buzz that this revelation created on Twitter, the topic became international news and numerous media outlets have published articles about it. As of now, more than 50 international media outlets from different countries have reported about it, with some notable ones being POPSUGAR, BILLBOARD NEWS, AFFINITY MAGAZINE, POPBASE, HT CITY, FASHION STYLE, LATESTLY, iHEART NEWS, NEWS18 and many others.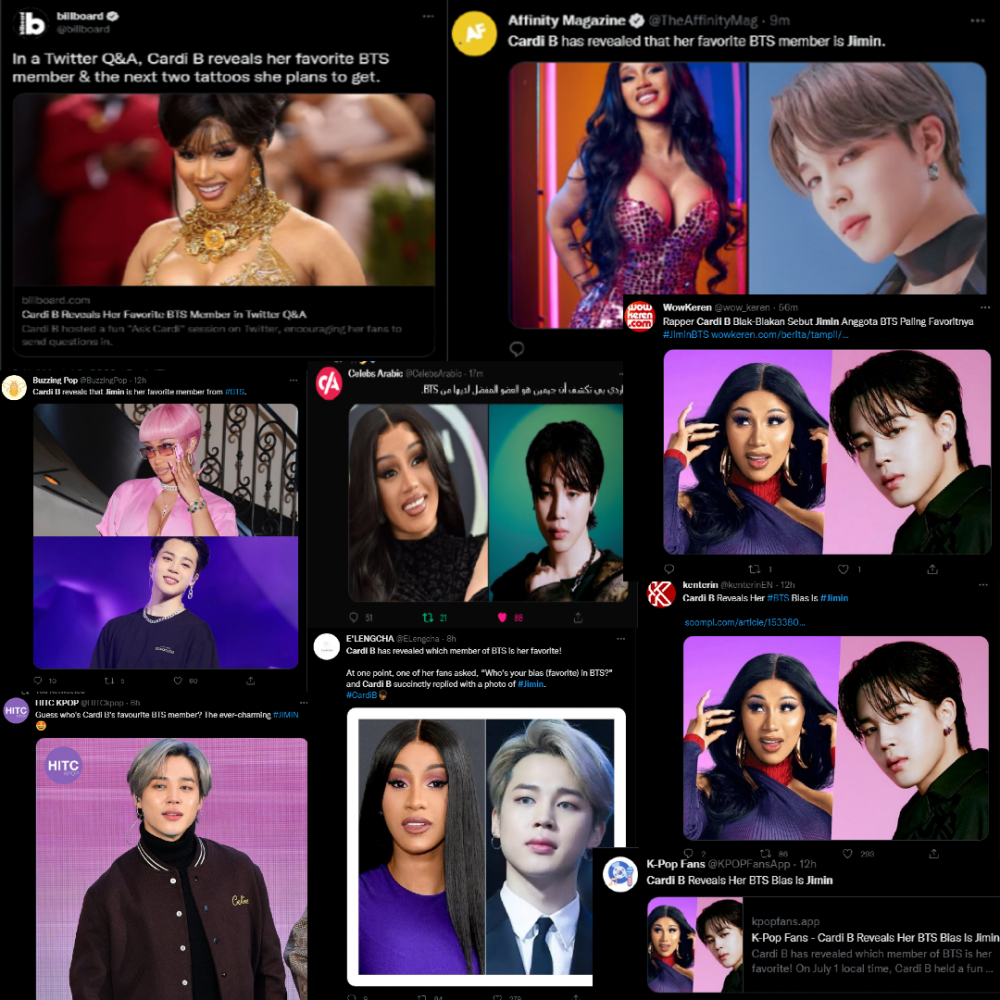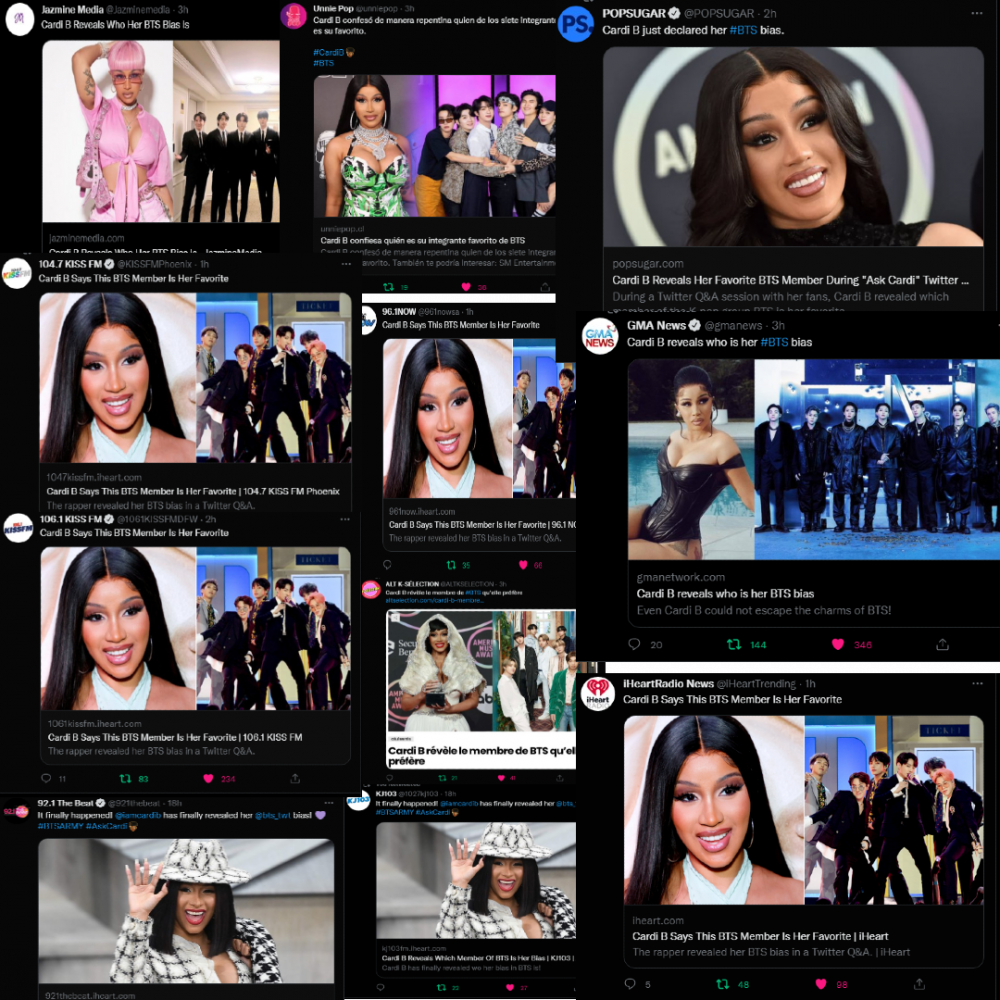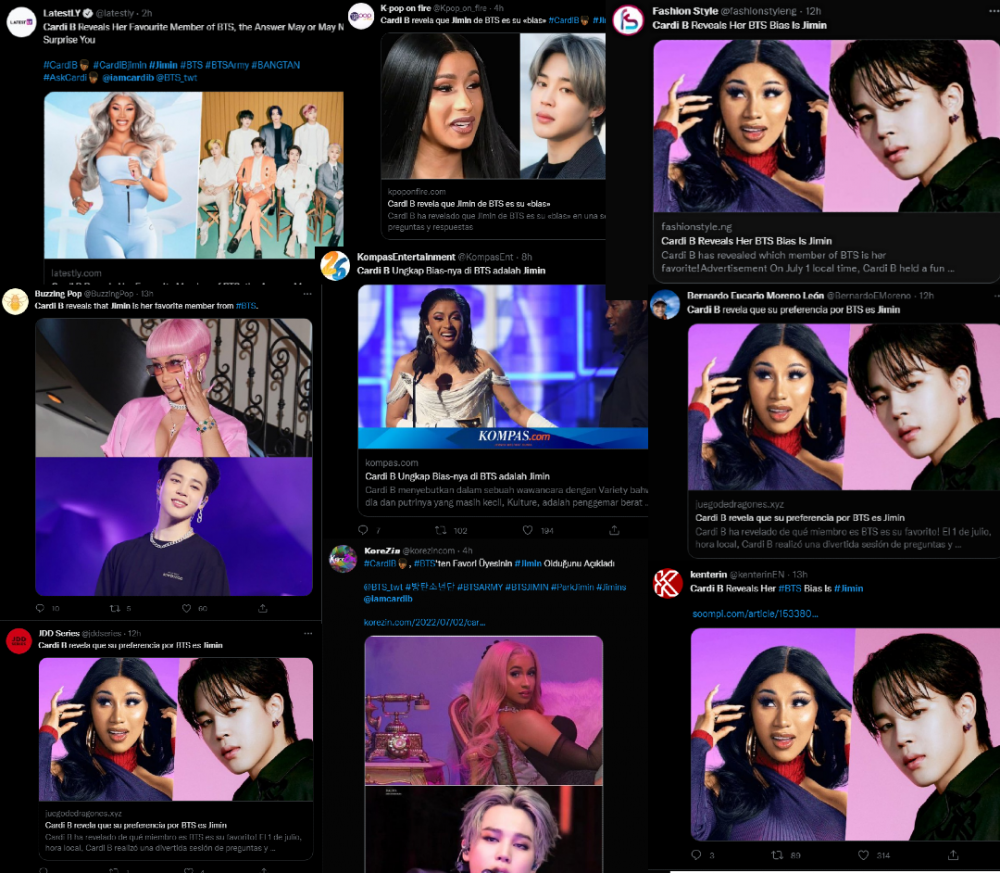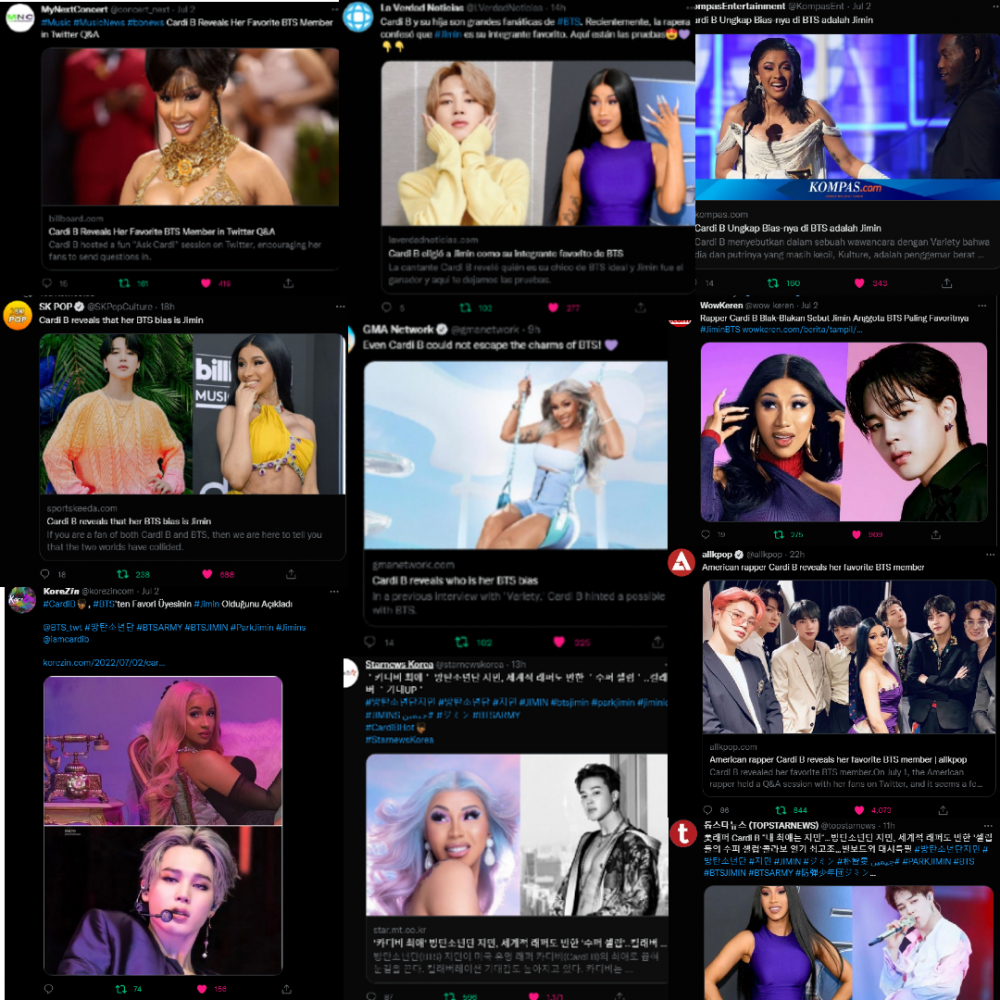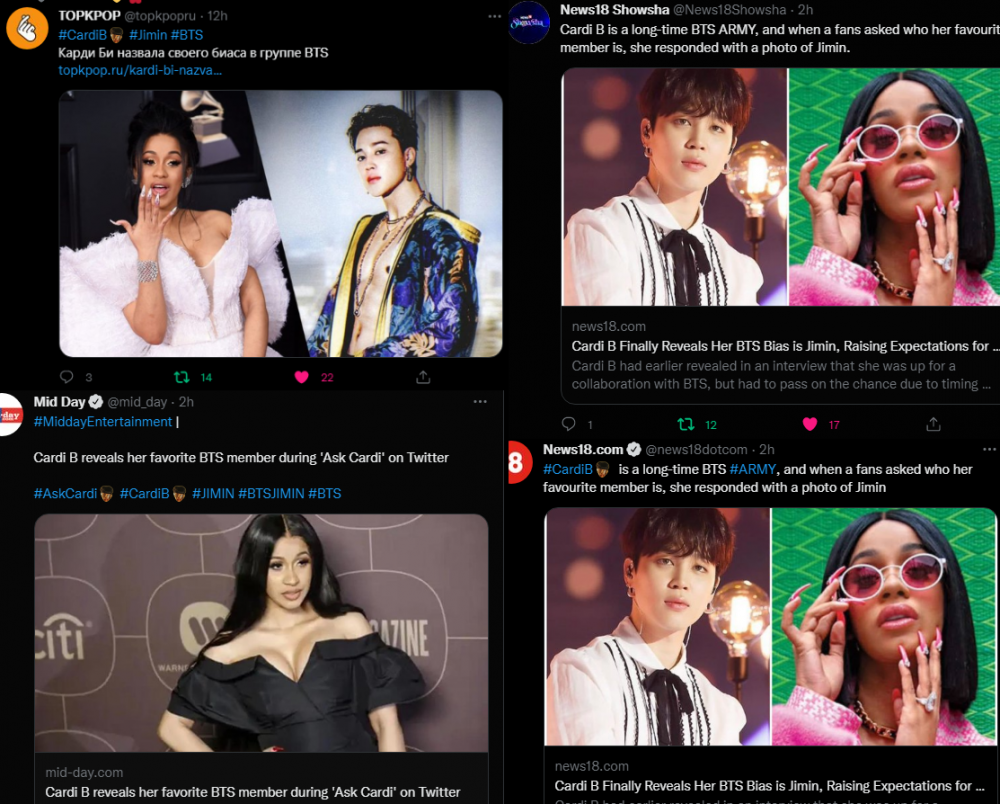 Jimin is the IT Boy that everyone knows and adores for his many admirable qualities.