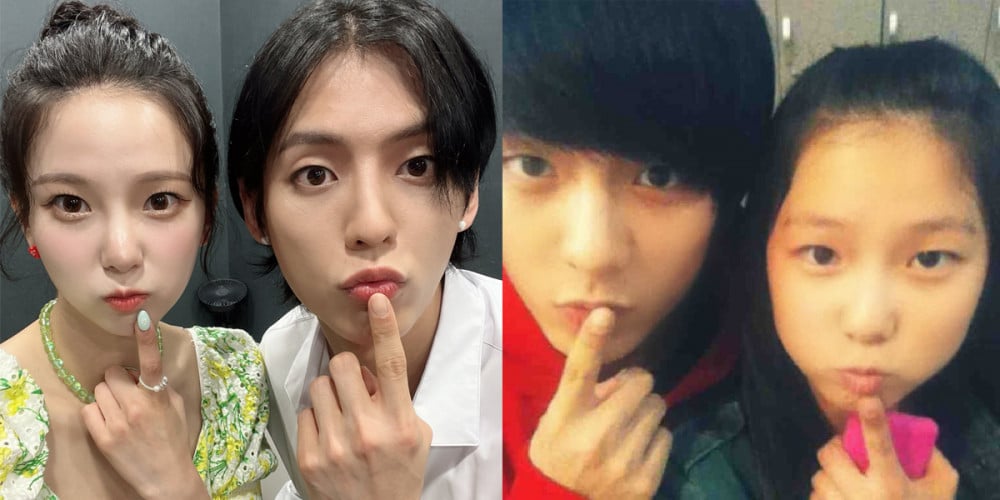 On the July 1 broadcast of KBS2's 'Music Bank', Kep1er took home the #1 trophy with their comeback title track, "UP!"!
Many fans and fellow artists congratulated Kep1er on their comeback win, but one person had a rather cute and creative way of showing his congratulations!
BTOB's Minhyuk, who recently returned as solo artist HUTA with the release of his 2nd full album 'BOOM', also held his comeback stage on the July 1 broadcast of 'Music Bank'. Thus, it looks like he had a chance to run into Kep1er's Yujin, his Cube Entertainment hoobae!
Some time after this week's broadcast of 'Music Bank', Minhyuk wrote on his Twitter, "Yujin, Congratulations!!!! It's good to see you smiling so often! I hope that you will continue to walk on a path filled with only flowers." Minhyuk also added a selca taken with Yujin backstage at 'Music Bank', mimicking a pose that the two stars had done for a selca 11-years ago!
Minhyuk then followed up with, "This is our 'rapid growth version' selca keke. It's from 2011. We were both such babies then."
Recently, during Kep1er's guest appearance on the radio program 'BTOB's Kiss the Radio' hosted by Minhyuk, the two Cube Entertainment labelmates revealed that they have known each other for over 11 years. Minhyuk commented, "I have known Yujin since she was a middle schooler. But even now, she still looks like a middle schooler!"