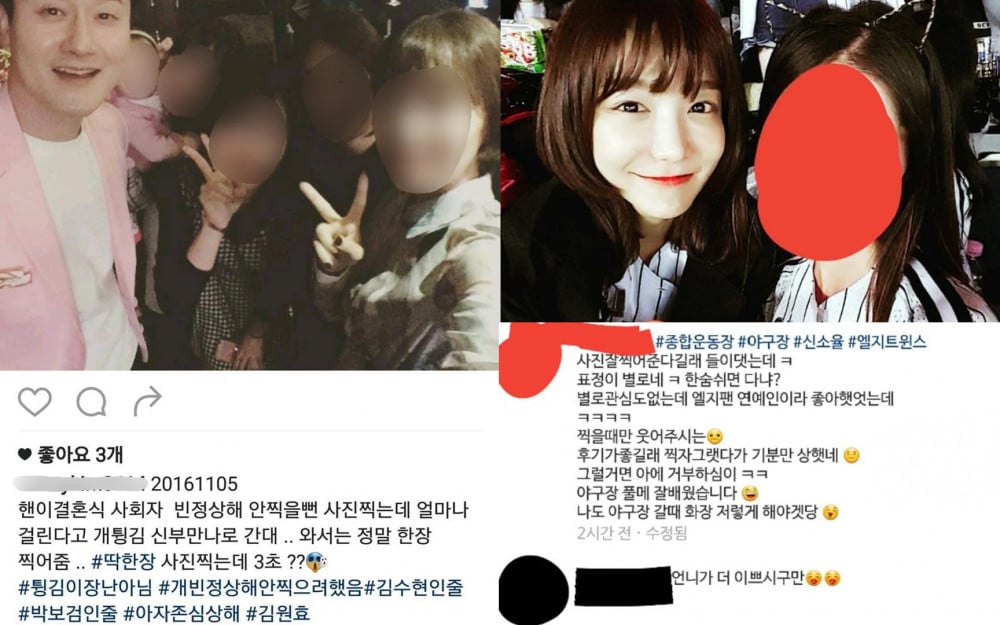 When people meet celebrities on the street coincidentally, it is natural to want to take photos with them.
In the small country of Korea, there are many times that Korean people come across celebrities on the street or at various places such as weddings or baseball games since celebrities are people too. Therefore, there are often times these celebrities are seen taking photos with the people they met on these occasions.
However, there are a few ungrateful individuals that are ruining things for other good-hearted people and causing fewer celebrities to take photos with people.
These individuals would post the photos they took with the celebrity, but rather than saying kind words thanking the celebrity for spending the time to take photos, they would complain and slander the celebrity.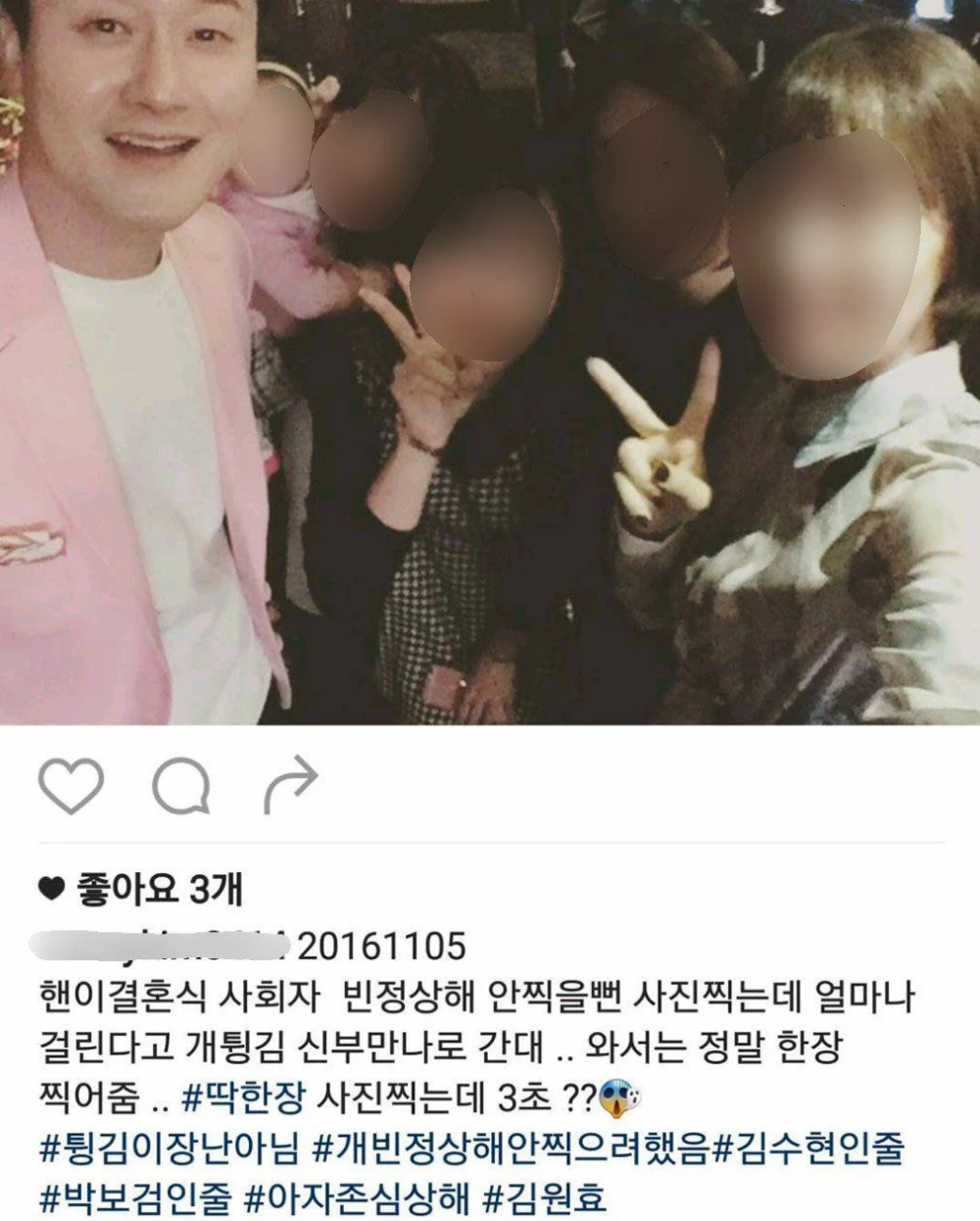 For comedian Kim Won Hyo, he was seen at a wedding event as he was invited by the bride and groom as their acquaintance. However, many of the wedding guests continued to request photos from the comedian, preventing him from greeting the bride and groom during the wedding.
One individual who took photos with comedian Kim Won Hyo posted the photo and criticized the comedian, saying how he was in a rush to take the photo. The individual wrote on their social media, "I was so pissed at the presider that I almost didn't take a photo with him. He said he had to go see the bride and groom instead of taking photos...he then came back and just took one photo. Doesn't it take 3 seconds to take a photo?" The individual continued to use the hashtags "Was so pissed I almost didn't take the photo," and "I thought he was some celeb like Kim Soo Hyun or Park Bo Gum," criticizing the celebrity.
However, Kim Won Hyo, who saw the post, explained, "These are the moments when I regret being a celebrity...I went to preside at a wedding and of course, I should go greet the bride and groom first...but I stayed taking photos for 20 minutes then went to meet the bride and groom...I am still slandered even after taking photos with them."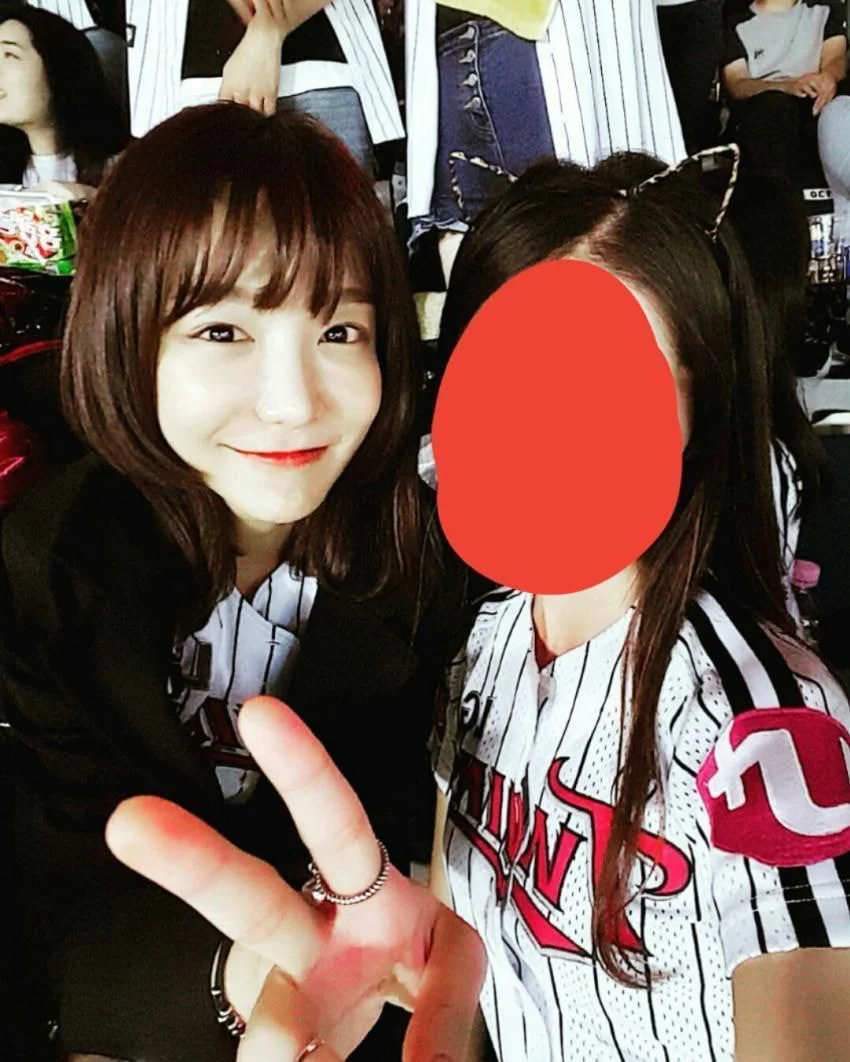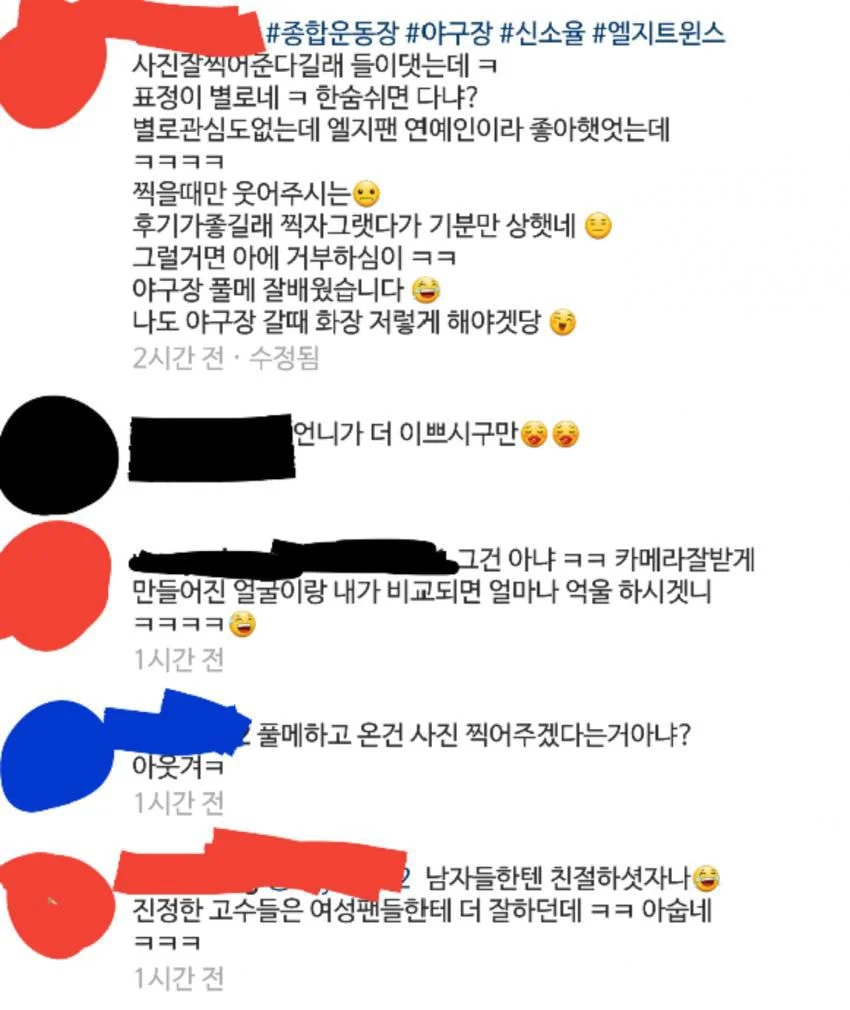 Another individual posted a photo taken with actress Shin So Yul at a baseball game and wrote in the caption, "I kept asking her to take photos but her facial expression is wack. I was never interested in her but I liked that she was an LG fan. She only smiled when taking the photo. I heard good things about her but I'm just pissed after asking her to take photos. She should have just refused then. Also, thanks for the lesson on putting full makeup on for a baseball game. Next time, I will put on full makeup for a baseball game too." An acquaintance of that individual wrote in the comments saying that the individual was prettier than Shin So Yul. This individual replied saying that Shin So Yul's face was unnatural due to plastic surgery.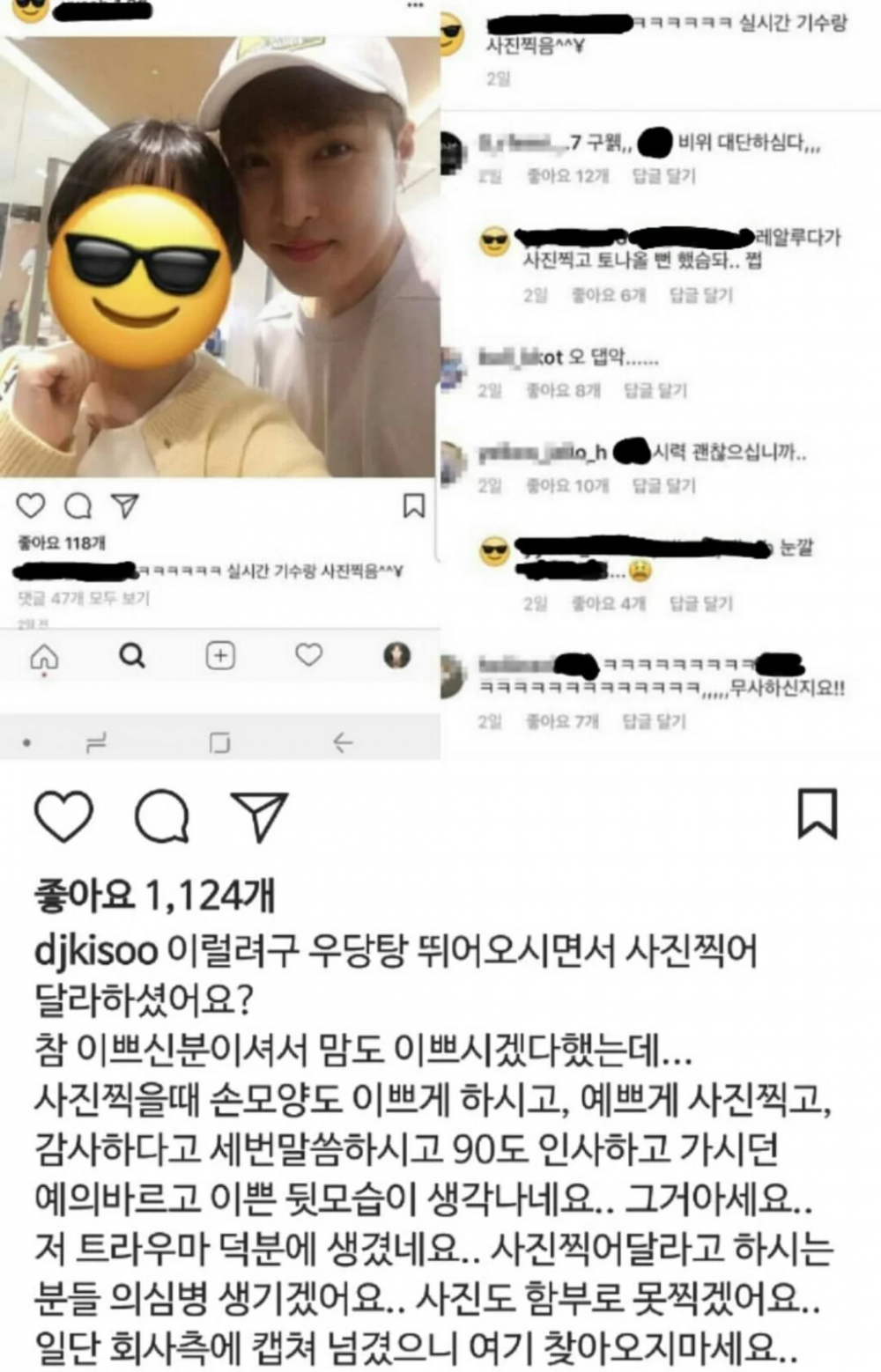 In another instance, comedian Kim Ki Su's photo with a female was posted with a simple caption saying, "I took a photo with Ki Su." The caption was not the issue but the individual who took the photo with the comedian and posted it on her social media wrote in the comments, "I almost threw up after taking photos with him...tsk," in reply to another person saying, "You have a good stomach." In addition, she also replied to someone complaining about her eyes after seeing the comedian.
The comedian replied to the individual through his social media, saying, "Is this the reason you ran over to me to take a photo with you? I thought you would have a pretty heart since you had a pretty face... I remember you saying thank you to me three times and bowing to me...do you know...I formed a trauma...I am now going to be wary of people asking me to take photos... I can't take photos anymore...I sent these captures to my agency so don't come here again..."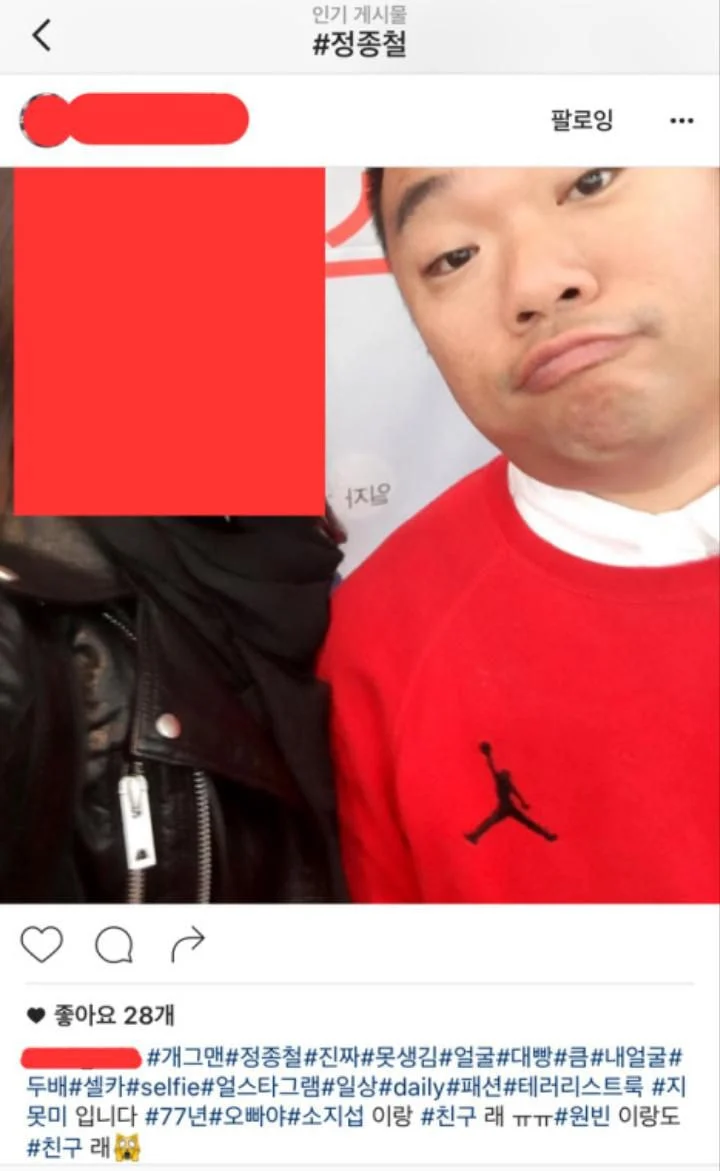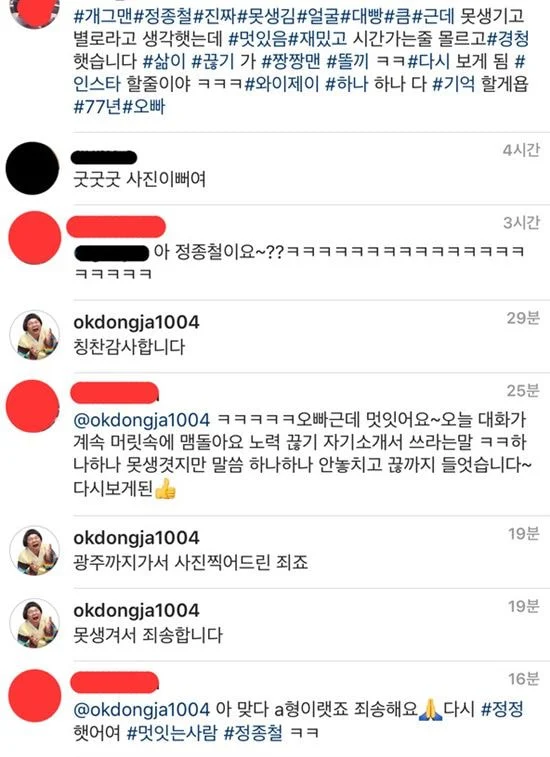 Another comedian Jung Jong Chul was shamed on social media as one person posted the photo they took with him and used the hashtags, "He's really ugly," "His face is massive," and "His face is twice the size of my face." The person who took the photo with Jung Jong Chul shamed the comedian by making fun of his face. The comedian wrote in the comment on that photo saying, "It's my fault I went all the way to Gwangju to take photos with people," and "I'm sorry that I am ugly."
Likewise, there are a few individuals who would post these insensitive comments and captions on social media, failing to realize that the celebrities have taken the time to kindly take photos with people they do not know.
Netizens commented, "What's wrong with these people," "What is the reason they have to shame the celebrities like that using hashtags," "They're so ungrateful," "There are so many mean people," "that Kim Ki Su one is so messed up," "Why to ask to take photos if they're going to complain like that," "They are human trash," "Why do you they say things like that when they're posting with their faces out in the open," "They're so rude," "They're really ruining things for other nice people," and "These people have such bad personalities."