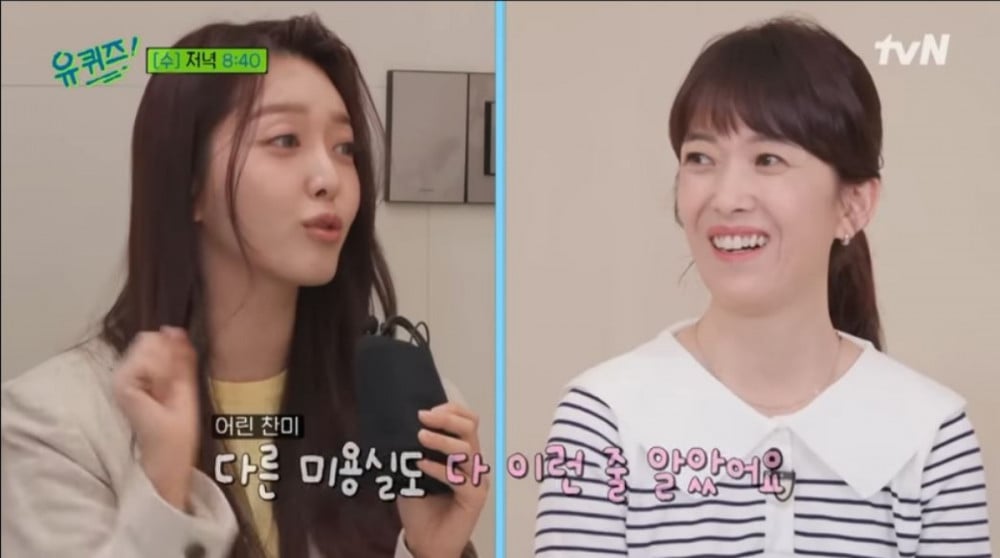 AOA's Chanmi teared up as she opened up about her difficult past.
On the June 15 KST broadcast of tvN's 'Yoo Quiz On The Block', AOA's Chanmi and her mother Lim Chun Sook made a guest appearance together. Chanmi's mother Lim Chun Sook, a hair salon director, has appeared on broadcasts in the past for her good heart as she took in many rebellious, wandering teenagers into her care by providing them with warm meals and a place to stay. When asked about her reasons for her generous acts, Lim Chun Sook replied, "If you run away, you don't have any money. If you feed them and provide them with [a place to] sleep, they become comfortable psychologically and won't do bad things. So I would find out their parents' phone numbers while comforting them. After contacting their parents and telling them to 'be at ease', I brought the children with me and returned them [to their parents]." Chanmi commented, "I feel proud [of my mom]. When I was young, I thought all hair salons were just like this. My mom started youth volunteer services when I was in my twenties and when thinking about my age now, I think it's so amazing of her."
Chanmi then opened up about her feelings regarding AOA's bullying scandal, following former AOA member Mina's accusations against Jimin. Chanmi stated, "A year ago, I was so confused so I once told my mom 'should I just quit?' When I said that, my mom replied 'then just quit. If Chanmi is not happy and wants to quit, then she should stop doing it.' So I told her 'mom, I lived only doing this [job] up until now. If I quit, I don't know what to do for a living.' But my mom told me I can work together with her at the hair salon." Chanmi added, "Since I [realized that I] can quit whenever I want to quit, I began to think I should keep going a little further. So that's what I'm really thankful to my mom for. Everyone just tells me to endure. I was thankful that she told me that I don't have to endure."