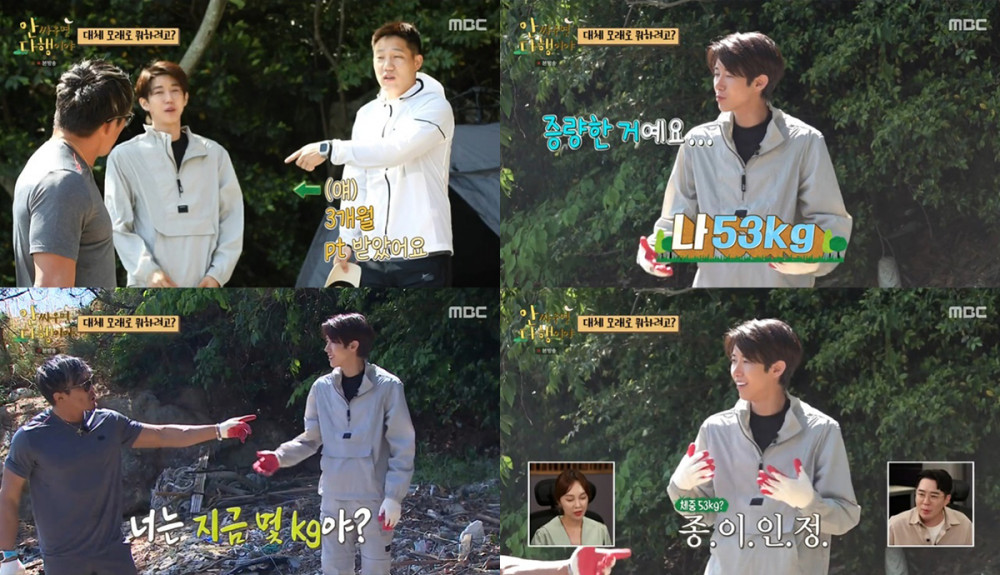 Former ZE:A member/TV personality Kwanghee revealed that he is now 53 kg (~117 lb) after gaining some muscle.
On June 20, Kwanghee appeared as a guest on the MBC variety program 'Into The Wild With My Buddy' with MMA fighter Choo Sung Hoon, retired South Korean speed skater Mo Tae Bum, and current South Korean speed skater Kim Bo Reum.
On this day, Choo Sung Hoon suggested that as "athletes", the crew should get some morning exercise. Then, as the athletes turned toward Kwanghee, Mo Tae Bum pointed out, "Kwanghee told me that he has been going to the gym with a personal trainer for 3 months now." Choo Sung Hoon nodded and remarked, "Then he's an athlete too."

Choo Sung Hoon then asked Kwanghee, "How much do you weigh?". Kwanghee replied, "I am 53 kg now. I gained some muscle."
Hearing this, Choo Sung Hoon suggested that speek skater Kim Bo Reum try to lift Kwanghee and do some squats. Kim Bo Reum nodded and commented, "53 kg? I can lift without batting an eyelash." The speed skater then proceeded to do squats with Kwanghee on her back, impressing viewers.