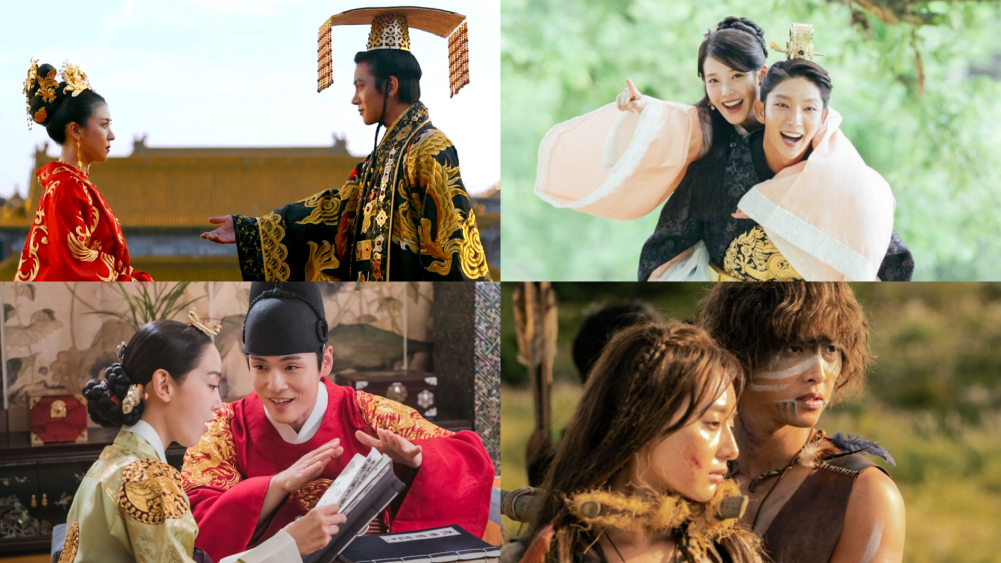 With varying K-Drama plots, there is surely each genre that stands out exceptionally among others. For history nerds and enjoyers, there is a very specific K-Drama genre for you, most famously known as sageuk. Sageuks are defined as historical K-Dramas that include elements from Korean folklore and mythology, famous or notorious princes, kings, national heroes, and famous women in history.
Originally, these dramas tended to retell the stories in history or mythologies, but after a few years, sageuks followed contemporary trends and saw the birth of its modernization and fusing it alongside many other genres. Here are some must-watch sageuk drama series for avid K-Drama viewers!
1. Hwang Jini
Synopsis: Hwang Jini is a 2006 sageuk series based on the tumultuous life of Hwang Jini, who lived in 16th-century Joseon and became the most famous gisaeng in Korean history.
Cast: Ha Ji Won, Kim Young Ae, Wang Bit Na, Kim Jae Won, Ryu Tae Joon, Jang Keun Suk
2. Dae Jang Geum: Jewel in the Palace
Synopsis: Dae Jang Geum is a 2003 hit sageuk based on the true story of Jang Geum, the first female royal physician of the Joseon Dynasty. The orphaned and young apprentice cook Jang Geum strived to learn the secrets of Korean cooking and medicine to cure the King of his various ailments.
Cast: Lee Young Ae, Ji Jin Hee, Hong Ri Na, Im Ho, Yang Mi Kyung, Kyeon Mi Ri
3. Jumong: Prince of Legend
Synopsis: Jumong retells the legendary story of the founder of the kingdom of Goguryeo, named Jumong. However, there are only a few details concerning the real story of Jumong, that's why most parts of the series are fictionalized and were replaced with scenes more grounded in reality.
Cast: Song Il Gook, Won Ki Joon, Han Hye Jin, Kim Seung Soo, Song Ji Hyo

4. Lee San, Wind of the Palace
Synopsis: The series dramatizes the life of Korea's King Jeongjo, the 22nd ruler of the Joseon Dynasty. Jeongjo is remembered in Korean history for his sympathy for the plight of the commoner, and how he fell in love with his childhood friend. The representation of court life during the Joseon Dynasty for this sageuk appears to be based on contemporary sources.
Cast: Lee Seo Jin, Han Ji Min
5. The Great Queen Seondeok
Synopsis: The series begins at the end of King Jinheung's reign and continues until the end of Queen Seondeok's reign. Queen Seondeok, formerly Princess Deokman, was known as the first female ruler in Korean history.

Cast: Lee Yo Won, Go Hyun Jung, Park Ye Jin, Uhm Tae Woong, Kim Nam Gil

6. Dong Yi: The Jewel in the Crown
Synopsis: Set during the reign of King Sukjong in the Joseon dynasty, the series is based on the real-life historical figure Choe Suk Bin. The series tells the story of how Dong Yi rises from the humble position of a servant to a court lady inspector through her shrewd investigative skills and relentless drive for justice.

Cast: Han Hyo Joo, Ji Jin Hee, Lee So Yeon, Bae Soo Bin
7. Iljimae

Synopsis: The series was loosely based on the comic strip Iljimae, published between 1975 and 1977, written by Ko Woo-young based on Chinese folklore from the Ming dynasty about a masked Robin Hood-esque character during the Joseon era. It tells the story of Lee Gyeom, a lazy gangster by day and a mysterious thief who protects the citizens in the dark.

Cast: Lee Joon Gi, Han Hyo Joo, Lee Young Ah, Park Si Hoo
8. Sungkyunkwan Scandal
Synopsis: This was set during an era when society did not allow females to be educated nor employed. However, Kim Yoon Hee needs to make ends meet and disguised herself as her brother. She eventually gets into the prestigious Sungkyunkwan University and meets other brilliant students that will change her life.

Cast: Park Min Young, Park Yoo Chun, Yoo Ah In, Song Joong Ki
9. Jeon Woo Chi
Synopsis: Based on the setting of the fictional utopian nation of Yuldo, Jeon Woo Chi is a Taoist wizard who gained his powers by swallowing a gumiho fox bead. Due to an unexpected situation, he travels to Joseon and becomes a reluctant hero to the masses.

Cast: Cha Tae Hyun, Uee, Lee Hee Joon, Baek Jin Hee, Kim Kap Soo
10. Moon Embracing the Sun

Synopsis: The historical-fantasy drama is adapted from the novel of the same name that tells a love story between Lee Hwon, a fictional king of the Joseon Dynasty, and Shaman Wol, a female shaman and formerly Lady Heo Yeon Woo who is the destined queen of Joseon. It includes the backstories, the conflicts, and the conspiracy of vying political powers.

Cast: Kim Soo Hyun, Han Ga In, Jung Il Woo, Kim Min Seo
11. Arang and the Magistrate

Synopsis: The series revolves around the story based on the folklore of Arang, a woman who lost all her memories when she became a ghost and is unable to rest in peace until she finds out how she died. She eventually finds a way through the nobleman Kim Eun Oh, who can see, hear, and touch spirits.

Cast: Lee Joon Gi, Shin Min Ah, Yeon Woo Jin
12. Gu Family Book

Synopsis: Gu Family Book is a fusion martial arts action historical drama about Choi Kang Chi, a half-man, half-gumiho who is searching for a centuries-old book that, according to gumiho legend, contains the secret to becoming human.

Cast: Lee Seung Gi, Bae Suzy, Sung Joon, Lee Yu Bi, Yoo Yeon Seok
13. Deep Rooted Tree

Synopsis: Taking the series' title from the poem Yongbieocheonga which says that trees with deep roots do not sway, the series tells the story of a royal guard who was investigating a case involving the serial murders of Jiphyeonjeon scholars in Gyeongbok Palace while King Sejong comes to create the Korean written language, Hangul.

Cast: Han Suk Kyu, Jang Hyuk, Shin Se Kyung
14. Painter of the Wind

Synopsis: The series is based on the bestselling historical fiction novel that took artistic license with the premise that perhaps the Joseon painter Shin Yun Bok had really been a woman. It centers on Yun Bok, a talented young painter who disguises herself as a boy to search for her father's murderer and meets Kim Hong Do, a master painter who will guide her.

Cast: Moon Geun Young, Park Shin Yang, Ryu Seung Ryong, Bae Soo Bin, Moon Chae Won
15. More than a Maid

Synopsis: The series focuses on Guk In Yeob, the only daughter of a nobleman and of the State Councilor, who becomes a slave overnight due to her father being branded as a traitor. She eventually befriends her fellow slaves and develops feelings for a head servant and an undercover warrior.

Cast: Jeong Yu Mi, Oh Ji Ho, Kim Dong Wook, Lee Si A, Jeon So Min, Lee Yi Kyung
16. Empress Ki
Synopsis: The series revolves around Ki Seungnyang, a Goryeo-born woman who ascends to power despite the restrictions of the era's class system and later marries Toghon Temür to become an empress of the Yuan dynasty, instead of her first love, Wang Yu. This was a fictional take by portraying Empress Ki as a brave warrior instead of the real-life Empress Ki, who was responsible for attacking her native land.

Cast: Ha Ji Won, Joo Jin Mo, Ji Chang Wook, Baek Jin Hee
17. Love in the Moonlight

Synopsis: Based on the novel, Moonlight Drawn by Clouds, focuses on the story of Crown Prince Lee Yeong's growth from a boy into a revered monarch and his unlikely relationship with eunuch Hong Ra On, a woman disguising herself to make a living.

Cast: Park Bo Gum, Kim Yoo Jung, Jung Jin Young, Chae Soo Bin, Kwak Dong Yeon
18. Hwarang: The Poet Warrior Youth

Synopsis: The series is based on the historical elite warrior group of Silla called Hwarang, referenced as the Flower Knights. In the series, Kim Jid Wi joins the Hwarang in order to disguise himself and prevent being suspected as the king of Silla due to many assassination attempts. However, another Hwarang, Kim Sun Woo, is revealed to also have the rights over the throne.

Cast: Park Seo Joon, Go Ara, Park Hyung Sik, Choi Min Ho, Do Ji Han, Kim Tae Hyung, Jo Yoon Woo, Sung Dong Il
19. Queen for Seven Days

Synopsis: Said to be set five years later of Love in the Moonlight, this is a historical drama that draws attention to Queen Dan Gyeong, who was dethroned from her position after merely just seven days during the Joseon dynasty.

Cast: Park Min Young, Yeon Woo Jin, Lee Dong Gun
20. Jang Yeong Sil

Synopsis: This is a historical series based on the story of Jang Yeong Sil, born a slave but became a scientist and astronomer during the Joseon Era. He had a lot of contributions to science and technology during the Joseon Era, such as the water clock, the sundial, the astronomical instruments, the rain gauge, and also much research on weaponry.

Cast: Song Il Gook, Kim Yeong Cheol, Kim Sang Kyung, Park Sun Young
21. The Tale of Nokdu

Synopsis: Set in the Joseon Dynasty, Jeon Nok Du is forced to dress as a woman in the guise of the widowed Lady Kim Nok Soon to learn the truth about his birth and meets Dong Dong Joo, who is a gisaeng trainee who wants to take revenge.

Cast: Jang Dong Yoon, Kim So Hyun, Kang Tae Oh, Jung Joon Ho
22. River Where the Moon Rises
Synopsis: Taken from a classic Goguryeo folktale, the series retells the love story between Princess Pyeonggang, who was born a princess but raised an assassin who aims to win back her country and rightful throne, and On Dal, who is a peace-loving, pure man who goes against his principles in order to protect Princess Pyeonggang.

Cast: Kim So Hyun, Na In Woo, Lee Ji Hoon, Choi Yu Hwa
23. The Emperor: Owner of the Mask
Synopsis: Set during the Joseon Dynasty, Crown Prince Yi Sun has been masked in order to protect him from the Pyunsoo Group. Along the way, as he witnessed the people's suffering, the Crown Prince decides to devote himself to fighting the Pyunsoo Group and reclaiming his throne.

Cast: Yoo Seung Ho, Kim So Hyun, Kim Myung Soo, Yoon So Hee, Heo Joon Ho, Park Chul Min
24. Rookie Historian Goo Hae Ryung

Synopsis: The story revolves around the time of the Joseon Dynasty, where Goo Hae Ryung works as a historian and has been looked down upon because of her gender and meets Yi Rim, a romance novelist who, in reality, is heir to the throne.

Cast: Shin Se Kyung, Cha Eun Woo
25. The Red Sleeve
Synopsis: The series is based on a novel of the same name. It tells the record of a royal court romance between Yi San, future King of Joseon, who believes his duty is to his country first above love, and court lady Seong Deok Im who wants to protect the life she has chosen.

Cast: Lee Jun Ho, Lee Se Young, Kang Hoon
26. Six Flying Dragons
Synopsis: The story tells about the foundation of the Joseon Dynasty in Korea and the ambitions, success, and conflicts of several real and fictional people, with a focus on the young prince Yi Bang-won, the future King Taejong.

Cast: Yoo Ah In, Kim Myung Min, Shin Se Kyung, Byun Yo Han, Yoon Kyun Sang, Chun Ho Jin
27. Moon Lovers: Scarlet Heart Ryeo
Synopsis: The series centers around Go Ha Jin, who is transported back to the Goryeo Dynasty, waking up as Hae Soo, among the many princes of the ruling Wang family, during the reign of King Taejo. She inevitably gets involved in palace politics and rivalry among the princes' fight for the throne.

Cast: Lee Joon Gi, IU, Kang Ha Neul, Kim San Ho, Hong Jong Hyun, Yoon Sun Woo, Byun Baekhyun, Nam Joo Hyuk, Ji Soo, Kang Han Na, Jin Ki Joo, Seohyun, Sung Dong Il
28. Lovers of the Red Sky
Synopsis: This was set during the Dan dynasty era when ghosts, demons, and gods are involved in human life, which recounts the fateful relationship of Hong Cheon Gi, the only genius female painter, and Ha Ram, a blind astrologer
Cast: Kim Yoo Jung, Ahn Hyo Seop, Gong Myung, Kwak Si Yang
29. 100 Days My Prince
Synopsis: Upon losing his memory, Lee Yul, the crown prince, encounters a commoner's life as Na Won Deuk, and experiences unforgettable love as the husband to Joseon's oldest bachelorette, Yeon Hong Shim. Both were married with the circumstance of neither of them being aware of each other's true identities, living as commoners alongside villagers.

Cast: Doh Kyung Soo, Nam Ji Hyun, Jo Sung Ha, Jo Han Chul, Kim Seon Ho, Han So Hee, Kim Jae Young
30. Mr. Sunshine
Synopsis: Mr. Sunshine takes place before the Japanese annexation, centering around Eugene Choi who was born into slavery in Joseon and eventually managed to escape to the United States and joined the Marine Corps. Later, Eugene returns to Joseon in order to carry out a mission and falls in love with Go Ae-shin, a noblewoman who is secretly part of the Righteous army.

Cast: Lee Byung Hun, Kim Tae Ri, Yoo Yeon Seok, Kim Min Jung, Byun Yo Han
31. The Crowned Clown
Synopsis: The series is a remake of the 2012 film Masquerade, which centers on the tale of the Joseon King Yi Heon and Ha Seon, his doppelganger and a clown whom he puts on the throne to escape the intense power struggles afflicting the royal court.

Cast: Yeo Jin Goo, Kim Sang Kyung, Lee Se Young
32. Mr. Queen
Synopsis: A chef who works for the Blue House in the present time, Jang Bong Hwan, finds himself inside the body of Queen Cheorin, who is also known as Kim So Yong, after a near-death incident. As he attempts to run away and come back to the present, he then discovers more about King Cheoljong and gets entangled in political issues and problems. This is a fictional take on the story of the 25th King of the Joseon Dynasty, King Cheoljong.

Cast: Shin Hye Sun, Kim Jung Hyun, Bae Jong Ok, Kim Tae Woo, Seol In Ah, Na In Woo
33. Bossam: Steal the Fate
Synopsis: This revolves around the story of Ba Woo, who followed the Bossam custom in the Joseon period, in which a bachelor wrapped up a widow in a blanket at night and made her his wife, where he mistakenly kidnaps Yi Su Kyeong, the King's widowed daughter.

Cast: Jung Il Woo, Kwon Yu Ri, Shin Hyun Soo, Kim Tae Woo
34. Arthdal Chronicles
Synopsis: The show is regarded as the first ancient Korean fantasy drama, taking place during the Bronze Age, and is loosely based on the story of Dangun, the founder of the first Korean Kingdom of Gojoseon. The story revolves around the inhabitants of the ancient city of Arthdal, wherein Eun Seom goes through hardships to bring his tribe back to life and learns of his true origins in the process.

Cast: Jang Dong Gun, Song Joong Ki, Kim Ji Won, Kim Ok Vin
35. Kingdom

Synopsis: The series was set during the Joseon Dynasty, three years after the Imjin War, following the story of Crown Prince Lee Chang and his subordinates, who stumble across an unnatural plague that resurrects the dead amidst his investigation of a brewing political conspiracy and rumors of the King of Joseon's death. It eventually leads to Lee Chang's continuous struggle to save his people from the spread of the plague and his dynasty.

Cast: Ju Ji Hoon, Ryu Seung Ryong, Bae Doo Na, Kim Sang Ho, Kim Sung Kyu, Kim Hye Jun
Here are thirty-five of the many sageuk K-Dramas that you should definitely watch! Which among the dramas is your favorite, and which would you add to your watchlist?