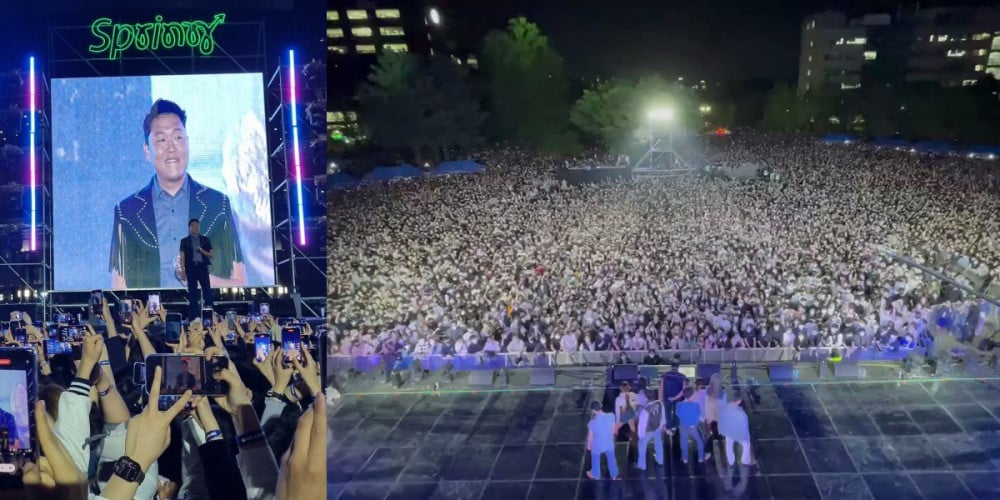 Students at Sungkyunkwan University literally. went. CRAZY., when singer Psy made an appearance at their college festival on May 4.
In fact, the large-scale festival at Sungkyunkwan University marked one of the first college festivals to take place on a Korean university campus in 3 years, post-COVID-19.
Needless to say, the crowd's energy was just unbelievable, and Psy decided to share a glimpse of what he felt during his performance via Twitter. The festival also happened to be Psy's first ever time performing his new song, "That That", live!
Netizens reacted with comments like, "I'm getting shivers...", "Did the entire student body at Sungkyunkwan practice for this kekekekeke. They are so in sync with the chanting!", "I was there kekekekeke. That's the first time in my life that I've been around that many people", "That is almost scary kekekekeke", "I'm so JEALOUS!", "Why wasn't I there TTTT", "OMG what is my school doing!!! Look at Sungkyunkwan!!!", "This is relieving my stress for some reason", "You know those people are literally going crazy in that crowd", and more.
Want more? Check out some fancams from the event, below! (You won't want to miss out on "Gangnam Style"!)