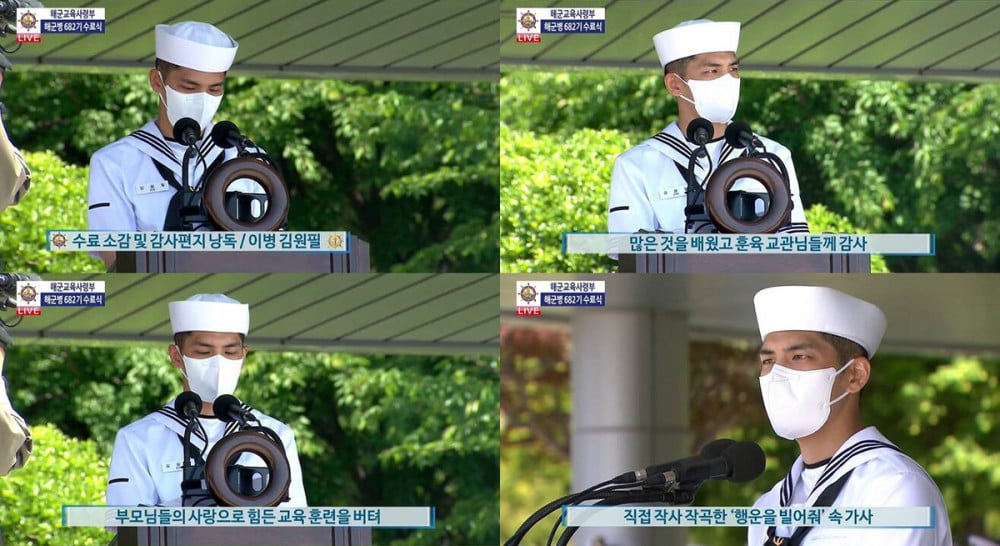 On the morning of May 6, members of the Republic of Korea Navy's 682nd training unit attended their official training completion ceremony, where all members were successfully assigned the title of naval guard.
On this day, DAY6 member Wonpil (Kim Wonpil) attended the ceremony as a representative spokesperson for the training unit, delivering a speech of gratitude. Wonpil delivered sincere remarks thanking the parents of all his fellow training center mates, as well as the training center officers, and more. During the speech, the singer also mentioned lyrics from his self-composed track "A Journey", sending out a message to his fans, My Days.
Back in March of this year, Wonpil began his mandatory military service as the first ever K-Pop idol to enlist in the Republic of Korea's Navy. Because mandatory service in the Navy is typically 2-months longer than serving in the Army or Marines, the Navy has not been preferred by active celebrities in the past. Similarly, fellow DAY6 member Young K also became the first ever K-Pop idol to enlist as a member of the KATUSA (Korean Augmentation To the United States Army) in October of last year.
Congratulations to Wonpil on completing his navy training! Meanwhile, the idol will be discharged from his mandatory duties on November 27, 2023.