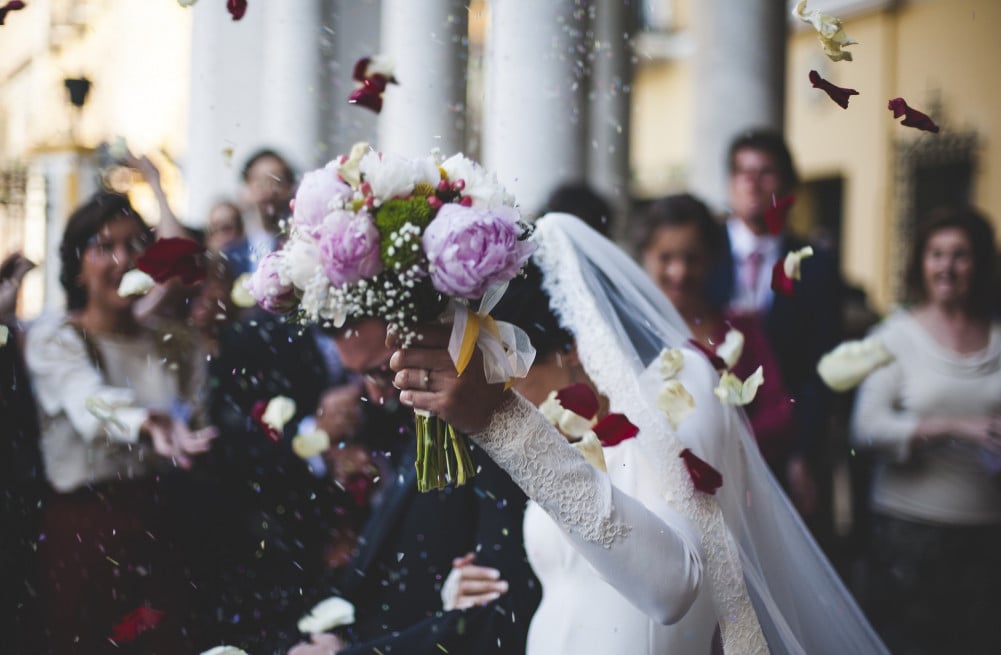 Songs, in general, can sway your moods and build your emotions in every lyric, every beat, or just the vibe in general. And just like people say that there's a K-pop song for every occasion, here's the ultimate playlist containing the songs you'd probably like to listen to while walking down the aisle (or while waiting at the altar).

1. Same dream, same mind, same night by SEVENTEEN
The song hails as one of the tracks from SEVENTEEN's "Your Choice" Album, performed by their vocal powerhouse unit Woozi, Jeonghan, Joshua, DK, and Seungkwan. Aside from the undeniably stable vocals and heavenly melody, the heartwarming lyrics are surely out to get your heart! The song is perfect for promising your partner to have the same dream, the same mind, and face the same night together for the rest of your lives.
2. My Everything by Lena Park
Korea's National Fairy and soloist Lena Park has an undisputable discography, and one of her songs was featured in the hit variety show "We Got Married " entitled My Everything. For lowkey International Fans, the song is in full English, so you will not worry about translations, not to mention her beautiful vocals. The song will make you believe in love again, and dedicate the song to your everything!
3. Beautiful by Crush
Crush has various OST hits along his belt, but one of the most prominent is the OST of the hit series Goblin, titled Beautiful. The song emphasizes a beautiful life and love together with your partner, a true candidate for songs that you would want to hear during your wedding. The song was also sung during the wedding of the power couple Park Shin Hye and Choi Tae Joon by EXO's D.O. and Crush himself.
4. Everyday by Haebin
Former member of Gugudan and now soloist Haebin has performed an emotional OST of another hit series Because this is My First Life! The song Everyday further gives color to the unconventional relationship of the main leads, with its lyrics practically telling the person that they are your everything. This is the perfect wedding song for people who have promised each other to love every day.
5. Nothing Better by Brown Eyed Soul
Classics will always find their way into a listener's heart; what more if played during the wedding? Nothing Better is characterized by Lee Jung Yup's honey-coated vocals, and soft melody played through the careful piano. As the song discusses that there isn't anything in this world that would be better, it is a sure hit for love stories waiting to be told.

6. Maybe by Lee Hae Ri
The ballad Maybe is sung by one of the vocal duos of Davichi, one of the OSTs of the heart-fluttering drama, Her Private Life, characterized by Hae Ri's stable vocals and the song's magical instrumental. Although it may seem sad, the song focuses on the fact that both of you have kept your love for each other for a very long time.
7. My Everything by NCT U
One of the tracks of the album, Resonance Pt.2, is entitled My Everything. The song is a soft ballad characterized by warm vocals that hug and comfort you. The lyrics suit the moment you walk in the aisle, with one of the lyrics being "You're my night and day, I'm waiting on this street, And I'm longing for you again.", a song dedicated to someone who will be your home and rest.
8. You Are My Everything by Gummy
The OST of the worldwide drama hit, Descendants of the Sun, is filled with the emotional vocals from one of Korea's OST queens and soloist, Gummy. It topped charts worldwide as it swept people's hearts for the beautiful song expressing how someone has fallen in love for the first time and became their everything as if fate has moved for them.
9. All for You by SECHSKIES
A song released last 2020 by the legendary first-generation boy group, SECHSKIES, All for You, is originally dedicated to their fans, Yellowkies, who has been with them ever since they first debuted, when they disbanded and came back together. However, the song's lyrics also show unconditional love, that of someone willing to do everything and be by their side after a long wait. And as the lyric repeats, it is sure a delight to hear the moment you finally say "I do."
10. U R by Taeyeon
For the hopeless romantics and those who found another chance to love again, here's the song for you! Taeyeon, one of the best idol vocalists, has the song U R in her flawless discography that also sounds wonderful for weddings. The lyrics express love for someone who has brought light in their lives once more and someone who gave color to one's world once more.
11. Serendipity by Jimin
Among BTS' songs of love and fate, Serendipity rolls everything into one. The emotional and magical vocal solo by Jimin tells the story of two lovers who discovered each other coincidently- through serendipity. One of the lyricists of the beautiful song is BTS' leader, RM, providing beautiful metaphors on penicillin and calico cat. The song is perfect for people who have met through the providence of the universe and were meant to be together.
12. Everyday With You by IU
The award-winning singer, songwriter, and actress have sure something to offer among her plethora of love songs. Everyday With You settles in very easily on one's ears and heart through IU's sweet vocals, not to mention the beautiful lyrics that practically enumerate every reason why would you want to be with the person every single day and share memories with them for the rest of your lives.
13. 20cm by TOMORROW x TOGETHER
The fourth-generation all-rounder group has proved themselves to be excellent in dancing, rapping, and of course, singing. The song may be a bit innocent with the simile of growing height alongside their growing feelings, but the lyrics fully uncover smaller details, such as the promise of being always there as they grow. The vocal prowess and various adlibs of the members make it more loveable and something you would like to hear while walking through the aisle.
14. You're my Garden by Jeong Eun Ji
Apink member, songwriter, vocal, and actress Eun Ji has sang You're My Garden as an OST for another hit drama series, Strong Woman Do Bong Soon. The song is filled with affirmations of love and admiration, wishing to become a flower in the garden of the person. The lyrics sang by Eun Ji's golden vocals are almost oaths of forever during a wedding, making it perfect to be heard during that moment.

These are only a few of the many songs you'll probably wish to be played during your wedding day! These songs are characterized by various levels of love that may suit depending on your taste and story. Which song is your favorite, and what other songs would you want to hear during your wedding day?