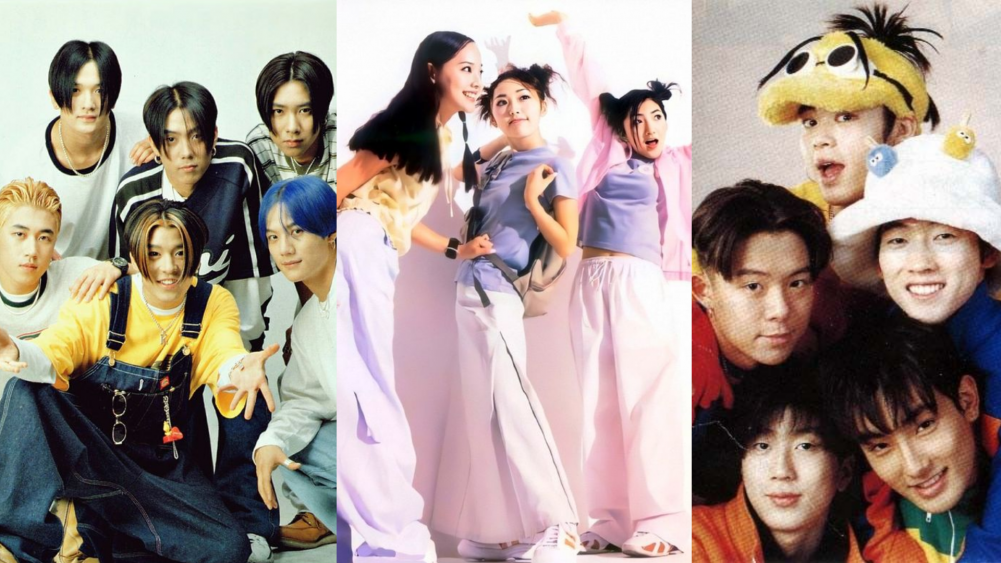 While K-pop continuously grows domestically and internationally, with various idol groups, duos, and soloists making a mark on the world and on each fan's heart, there is no doubt that everything started with THEM.
Yes, we are pertaining to the legends of K-pop, the first-generation K-pop idols who first navigated through the industry, first experienced the highs and lows, first performed in the stages that some might be nonexistent anymore, and many other firsts. These idols may have been the "biases" of our biases or our biases' parents, and there is no doubt that they opened gates for the next generations.
To walk back, let's all take a listen to the K-pop playlist that would bring us back to the start!
1. Sechskies
Sechskies is originally a six-member group, consisting of active members Eun Jiwon, Lee Jaijin, Kim Jaeduck, Jang Suwon, and former members Kang Sunghoon and Ko Jiyong. They are one of the first highly successful boy groups and are also credited for pioneering idol fandom culture, with one of K-pop's most loyal fans, Yellowkies. They debuted in the year 1997, then suddenly disbanded at the height of their popularity in the year 2000. However, they reunited in 2016, coming back for the Yellowkies who waited for more than a decade. Here are some of their most popular tracks during their early years:
The Way This Guy Lives - Pomsaengpomsa, 1997
Couple, 1998
Hunch, 1999
2. S.E.S.
One of the earliest girl groups, S.E.S., is formed by SM Entertainment, featuring three members, Bada, Eugene, and Shoo. Their debut album became one of the best-selling albums among all K-pop girl groups in Korea. Their impact was undeniable, with continuous success since their debut in 1997, followed by strong album sales, powerful fans, and general public support. After their official disbandment back in 2002, they reunited in 2016 for their 20th debut anniversary. Here are some of their greatest songs:
I'm Your Girl, 1997
Dreams Come True, 1998
Love, 1999
3. H.O.T.
H.O.T., an acronym for Highfive of Teenagers, is a first-generation K-pop boy group under the same label of S.E.S., SM Entertainment. The group consists of Moon Heejoon, Jang Woohyuk, Tony Ahn, Kangta, and Lee Jaewon. They are one of the earliest groups known to have officially carried the Korean Wave and were also considered the first successful formula and model for K-pop idol groups. Here are some of their breakthrough and famous songs:
Candy, 1996
We are the Future, 1997
Line Up!, 1998
4. Fin.K.L.
Fin.K.L. is a legendary girl group that rivaled S.E.S back in the days, debuting in 1998 under the same label with Sechskies, DSP Media. The group consisted of Sung Yuri, Ock Joohyun, Lee Jin, and now famous soloist Lee Hyori. They have won various awards for their incredible vocals, one of the few idol groups to debut with an R&B Ballad single instead of the usual dance, catchy pop songs. They have a comprehensive discography, with some of the most remarkable songs:

Blue Rain, 1998
To My Boyfriend, 1998
Eternal Love, 1999
5. Seo Taiji and Boys
Seo Taiji and Boys is a boy band probably known in the whole of Korea, a household name in the country for their legendary contribution to the music industry. The group debuted in 1992 and consisted of Seo Taiji, Yang Hyunsuk, who is commonly known as YG, and Lee Juno. Four of their albums sold almost 2 million copies, making them some of the best-selling albums in South Korea. They also pioneered the use of rap in Korean popular music. Here are some of their songs you should take a listen to:
I Know, 1992
Hayeoga, 1993
Come Back Home, 1995
6. Baby V.O.X.
Baby V.O.X., a girl group formed in 1997, consisted of the final lineup of Kim E-Z, Lee Heejin, Kan Minyoun, Shim Eunjin, and Yoon Eunhye, after many changes among the group members. They are one of the most prominent first-generation girl groups, rival to S.E.S. and Fin.K.L., and known for being one of the first groups who broke into the Chinese market, a forefront and leader of the Korean Wave. They are known for songs like:
Get Up, 1999
Killer, 1999
Coincidence, 2002
7. DJ DOC
DJ DOC, is a hip-hop trio originally meant to debut as an underground group, but gained mainstream audiences through their highly provocative and satirical songs. The group consisted of members Kim Changyeol, Lee Haneul, and Jung Jaeyong. Their songs often criticized societal injustices and overtly used profanity, some of the most popular being:
Dance with DOC, 1997
Run to You, 2000

8. Uhm Jung Hwa
A soloist, Uhm Jung Hwa debuted as a singer in 1993, the same year she debuted as an actress. She's highly known to be one of the most influential women in the industry, a role model to most idols and to fans as well. She has a plethora of songs, ranging from sensual to dance-pop, each single known and cemented her status as a pop icon in the 90s. Some of her songs include:
Invitation, 1998
Poison, 1998

I Don't Know, 1999

Festival, 1999
9. KOYOTE
KOYOTE, or KYT, is one of the earliest co-ed vocal groups in Korea, consisting of the final trio of Kim Jongmin, Shinji, and Bbaekga. The group, which is known for its signature dance and hip hop sound, no matter what lyrics it depicted, debuted in 1998. The group has gone through numerous line-up changes over the years, and Shin Ji is the group's only remaining original member. However, the trio is still active up until the present and continuously releases hit songs such as:
Genuine, 1998
Paran, 2001
Sad Dream, 2002
10. Shinhwa
Shinhwa is a South Korean six-member boy band composed of Eric Mun, Lee Minwoo, Kim Dongwan, Shin Hyesung, Jun Jin, and Andy Lee. Launched by SM Entertainment in 1998, the group signed with Good Entertainment in 2004 before creating their Shinhwa Company, making them the first K-pop idol group to lead a successful career after leaving its original agency. Known as the longest-running boy band in the history of K-pop, here are some of their most popular songs:

T.O.P. (Twinkle of Paradise), 1999
Only One, 2000
Perfect Man, 2002
11. g.o.d.
Groove Over Dose, known by the acronym g.o.d., is a boy band formed by SidusHQ, comprised of Park Joonhyung, Yoon Kyesang, Danny Ahn, Son Hoyoung, and Kim Taewoo. Debuting in 1999, the group became one of the most popular boy bands of the early 2000s in South Korea. They were often referred to as "the nation's idol" due to the broad popular appeal of their hit songs such as:

To Mother, 1999
One Candle, 2000
Road, 2001
Some of the most legendary first-generation songs also include:

Turn around and look at me by DEUX
Farewell Formula by R.ef
Black Cat Nero by Turbo

Twist King by Turbo
Tell Me by Jinusean ft. Uhm Jung Hwa
Coming of Age Ceremony by Park Ji Yoon

Wa by Lee Jung Hyun
3!4! by Roora
Woman on the Beach by Cool
Here are the K-pop icons of the first generation who debuted before the 2000s! There are many more, and there's definitely a music style to suit your taste! Which is your favorite song, and who is your favorite artist among the first generation idols?