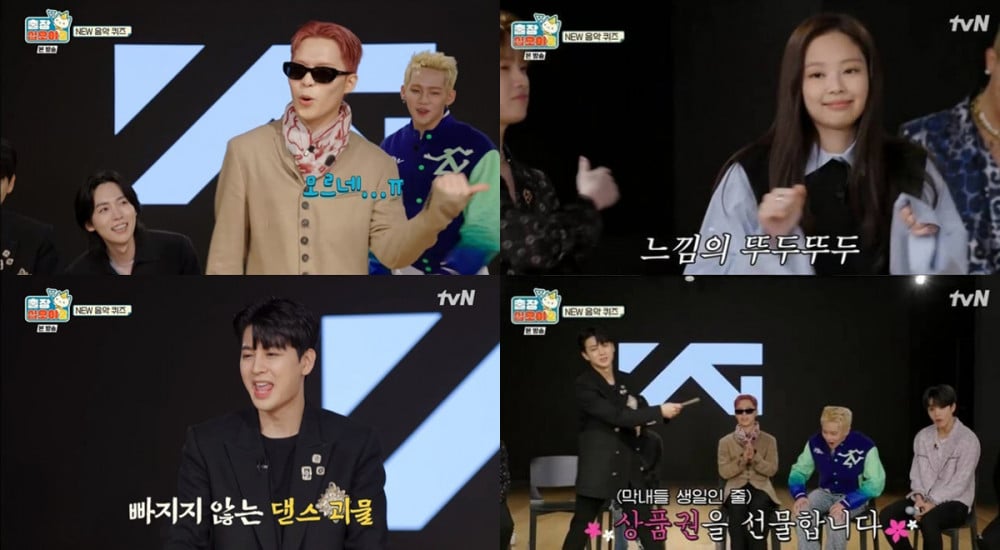 On March 4, Na Young Suk PD's 'Game Caterers' bid viewers farewell for a short while with its final episode set of season 2.

On this day, representatives from YG Entertainment including Sechskies's Eun Ji Won, AKMU's Chanhyuk, WINNER's Kim Jin Woo and Song Min Ho, iKON's Kim Jin Hwan and Song Yun Hyeong, BLACKPINK's Jennie, and TREASURE's Hyunsuk and Jihoon continued to play some of Na PD's signature games, hoping to score various prizes.
For this week's installments, the YG family members tested out their knowledge of K-Pop songs with a 'Song Listening' challenge! The musicians showed strength when it came to fellow YG artist songs, but faltered when other hit songs like SHINee's "Sherlock", Shinhwa's "Perfect Man", or Crayon Pop's "Bar Bar Bar" came on.

At the end of the games, each of the artists shared some of their future plans for 2022. Song Min Ho revealed, "WINNER is preparing to make a comeback, so please look forward to it a lot."
BLACKPINK's Jennie also said, "BLACKPINK is also preparing to make a comeback soon. I'm not really sure if I'm supposed to say this, but I did." iKON's Kim Jin Hwan then followed up with, "I can say this for certain. iKON will make a comeback in the first half of 2022."
Next, iKON's Song Yun Hyeong asked viewers to check out his YouTube channel, while WINNER's Kim Jin Woo shared a shoutout about fellow member Kang Seung Yoon's solo comeback. Here, AKMU's Chanhyuk caused laughter by joking that he was "preparing a travel reality program with Na Young Suk PD-nim".
Finally, TREASURE promoted the group's first concert since debut, as well as their comeback title track "Jikjin".
Did you enjoy 'Game Caterers' featuring artists at YG Entertainment?