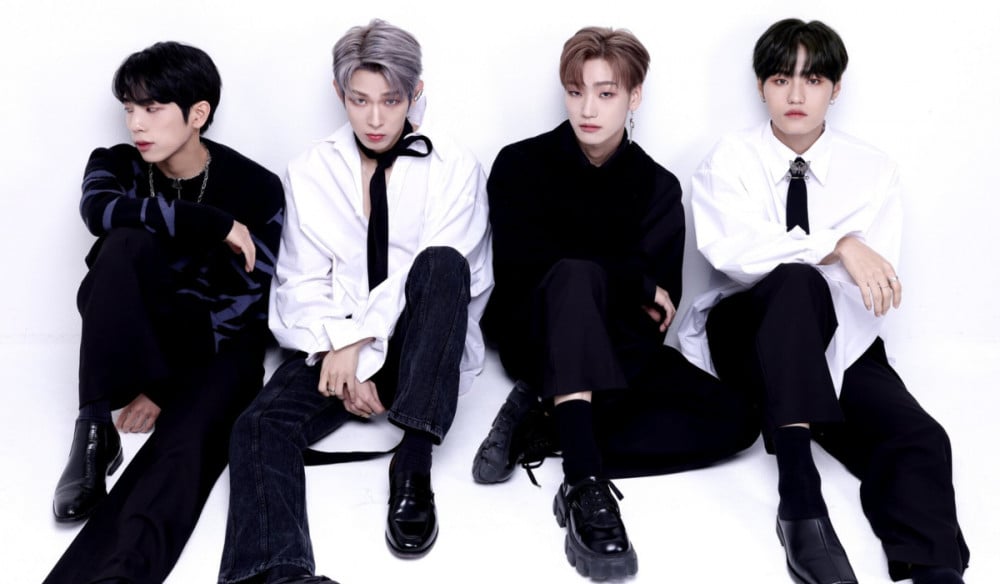 This January, the boys of LUMINOUS (Suil, Steven, Youngbin, and Woobin) kicked off 2022 with new music—making their first comeback since debut through second mini album 'Between Light & Darkness: Self N Ego' and its title track "All Eyes Down." Through the album, the members continue to develop the dynamic hip-hop/R&B sound heard in previous releases, proving that the group is as determined as ever to make their impression on the current K-Pop generation.
To commemorate the comeback, LUMINOUS talked to allkpop about their new music, ambitions as a newer group, and eagerness to head out on their first world tour. Keep reading to find out what the members had to say.

allkpop: First, a belated congratulations on the release of 'Self N Ego'! Can you tell us a bit more about the album's concept and title track "All Eyes Down"?
LUMINOUS: Thank you! Our second mini album 'Self N Ego' is an album paying homage to [Batman villain] the Joker, capturing the inner turmoil between the pure self and the ego that is created by external environments and a number of other elements. The title song "All Eyes Down" contains a message that says, "Don't give up even during difficult moments. You don't know what the future holds for you."
akp: The response to your "All Eyes Down" music video has been seriously impressive as it's already surpassed 11 million views within just three weeks of its release. What has it been like experiencing this uptick in popularity? Do you have any special content planned to celebrate the milestone?
LUMINOUS: Honestly, we worried a lot about what we would do if the reception wasn't good, but fortunately, we're glad and so surprised that many people and fans enjoyed it. We're really grateful to everyone who watched the music video, and we're continuing to plan out some special content.
akp: Can you tell us about a funny or memorable part of creating the "All Eyes Down" music video?
YOUNGBIN: One of the places where we filmed the choreography had a really bumpy ground, so I remember thinking it was a little hard to dance on. However, I'm really satisfied with how the music video ended up coming out.
STEVEN: When I was shooting one of my own scenes, we shot a lot of footage of me running away like I was being chased by something. The shooting locations had a special atmosphere, and I remember shooting at dawn when it was really cold.
akp: Steven, we noticed that you were able to participate in writing some of the lyrics for the B-side track "Matryoshka." What was the songwriting process for the song like, and what was your goal when working on the lyrics?
STEVEN: We only had a small amount of time to prepare for the comeback, so the songwriting process was pretty quick. However, I wrote as much as I could to reflect my own thoughts on the theme the other songwriters decided on.
akp: What kind of response do you want listeners to have when checking out 'Self N Ego'? Is there a type of artistic reputation you would like LUMINOUS to have as you continue to develop as a group?
LUMINOUS: The subject of the album is profound and thought-provoking, so we hope those who listen to it think about 'self' and 'ego' with us and feel like they can relate to and get comfort from the album. As artists, what we want to hear is that we are "믿고 보는 돌" [lit. trans: "see and believe idols"]. We want to become such a reliable act that you immediately look out for our music and performances regardless of any reason aside from the fact we're LUMINOUS.
akp: During the COVID-19 pandemic, 'staycation'-style variety shows have become popular ways for idol groups to better introduce themselves to newer fans. Is a reality show something LUMINOUS has considered doing in the future? If so, what kind of reality show concept would you like to do together?
YOUNGBIN: Of course! I want to shoot some reality content with the concept of us being in pajamas before going to bed.
STEVEN: I'd like us to try shooting a reality show with a camping concept.
akp: Do any of you have an interest in taking on other challenges like acting in a drama, appearing on a variety show, or continuing to explore music composition and production?
LUMINOUS: We're definitely interested. We want to be able to appeal to fans in a variety of ways outside of making music, so we'd like to participate in a lot of things like dramas and variety shows.
akp: It's been just about two years since LUMINOUS was first introduced to the public via introduction videos released through your official social media. Looking back at that time of your life to where you are now, how do you feel that you've changed as artists?
SUIL: While we've been working on the second album, I feel like I've definitely improved my concentration on stage.
WOOBIN: I feel like, as we've done promotions, my attitude toward our performances and commitment to each of them have changed.
akp: As we're just kicking off the new year, do any of you have special goals for 2022? What's something that you would like to accomplish this year, either professionally or personally?
YOUNGBIN: As a group, our goal is to do a world tour this year so we can meet a lot of our fans soon. My personal goal is for LUMINOUS to work hard and grow further so that the public can know us more and we can get a music show #1.
SUIL: My personal goal is to catch a lot of the public's eyes with a great album and image.
STEVEN: My goal is to take good care of my health and work hard.
WOOBIN: I hope that this year, we have a lot of performances, and no matter what performance it is, we do them with no regrets.
akp: Lastly, can you send a special message to your international fans here on allkpop?
LUMINOUS: Hello, this is LUMINOUS! First, we'd like to thank you for waiting for our comeback and also giving this album a lot of love. We'll pay you back for this love soon. Once we're given the chance to meet our fans, we'll show you a performance that you'll really enjoy. Thank you. We love you!