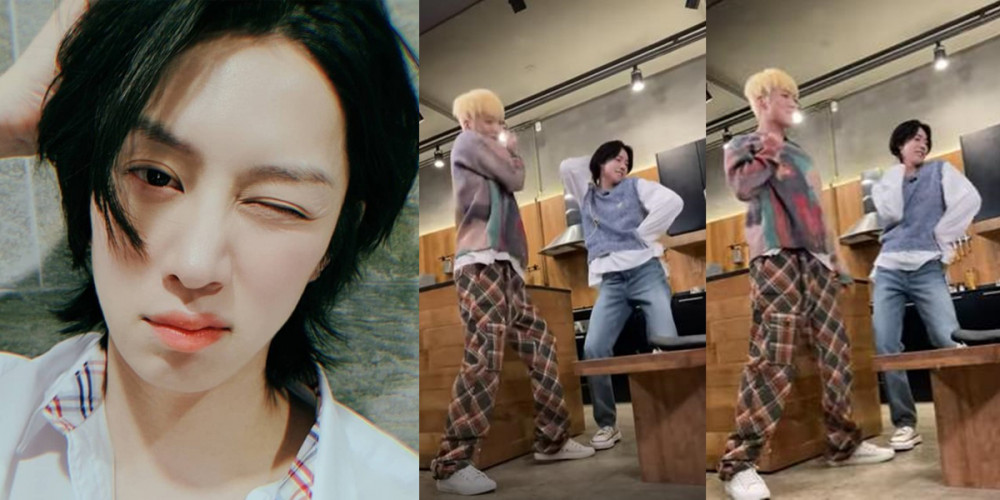 On March 17, Super Junior's Heechul met up with WINNER's Kang Seung Yoon and Kim Jin Woo for this week's installment of the Studio HOOK YouTube series, 'Street Alcohol Fighter'.
On this episode, Heechul chatted over drinks and played party games, as Kang Seung Yoon and Kim Jin Woo talked about their alcohol tolerance, preferences, etc.
While many fans enjoyed watching the main episode of 'Street Alcohol Fighter', a behind-the-scenes clip posted by Studio HOOK soon caused a stir, facing heavy backlash. In the behind-the-scenes clip, the two WINNER members are asked to do the trending 'Cocaine Dance', a popular dance challenge previously seen on 'SNL Korea'.
When the 'Cocaine Dance' music came on, Kang Seung Yoon and Kim Jin Woo began dancing to the beat. Heechul then walked in and commented, "Are you guys going on Panda TV now?" In response to Heechul's comment, Studio HOOK also added in captions like, "A user just sent a star balloon!".
The Panda TV mentioned by Heechul is known as an online live streaming platform used by many 19+ content BJs.
As a result, some netizens criticized Heechul's comment by stating, "Don't reference such a remote platform with sensitive content when there are viewers of all ages watching this", "That comment was uncalled for, and disrespectful to WINNER", "Panda TV is on a very different level from the more popular streaming sites like Afreeca TV... This just shows that Heechul goes on Panda TV", "It's not a joke if you make the other person uncomfortable", etc.
The behind-the-scenes clip has since been removed by Studio HOOK.