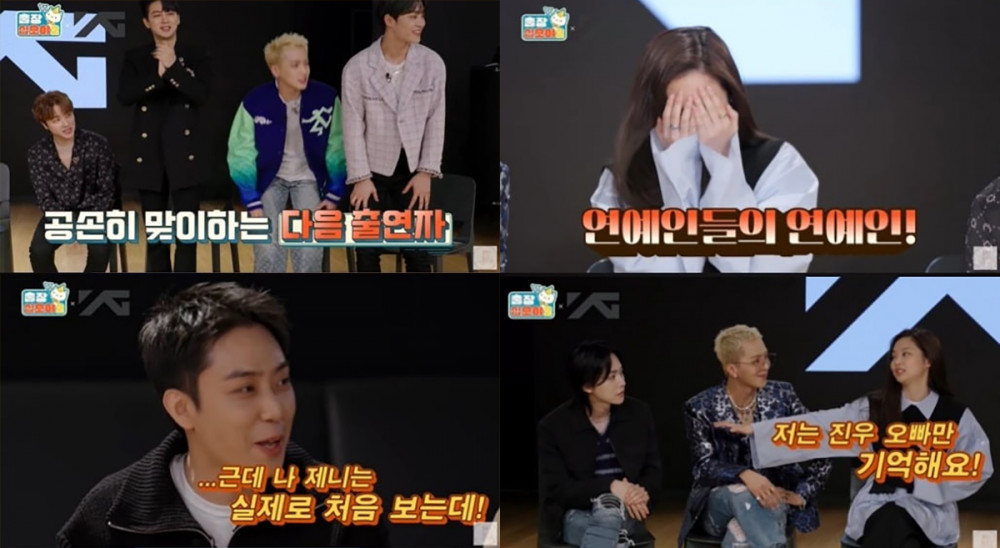 On the February 25 episode of tvN's 'Game Caterers', Na PD and his crew visited YG Entertainment, home to 'New Journey To The West' cast members Eun Ji Won and WINNER's Song Min Ho!
On this day, representatives from all YG Entertainment groups gathered together to strengthen family bonds, including Sechskies's Eun Ji Won, AKMU's Chanhyuk, WINNER's Kim Jin Woo and Song Min Ho, iKON's Kim Jin Hwan and Song Yun Hyeong, BLACKPINK's Jennie, and TREASURE's Hyunsuk and Jihoon.
Each of the YG artists entered the studio one by one and sat in debut order. Here, Chanhyuk revealed, "I am awkward with all of my co-workers." Next, when BLACKPINK's Jennie entered, everyone suddenly got up and began applauding. Na PD to ask, "Why is everyone getting up? How highly ranked is Jennie in this group?" Ultimately, Jennie was seated in the middle of the group, despite debuting later than iKON.
Seeing Jennie, Eun Ji Won suddenly commented, "This is the first time I'm meeting Jennie in person." iKON's Yun Hyeong also raised his hand and said, "This is the first time I'm meeting her too."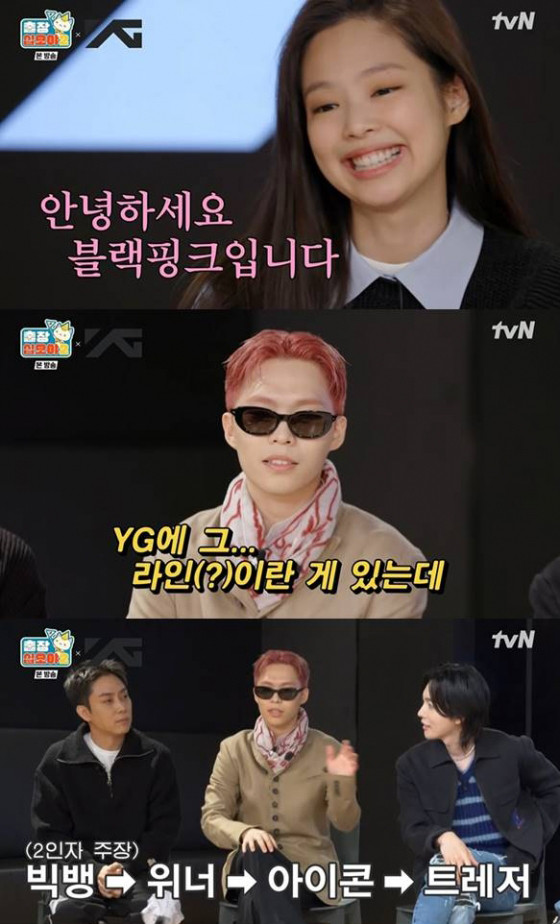 On the other hand, Kim Jin Woo revealed, "I've seen her so many times." Jennie also added on, "I've known Jin Woo the longest of anyone here," sharing that the two were the first in the group to become trainees at YGE in 2010. Jennie then caused laughter by pointing to Song Min Ho and joking, "This one came in much later, so I only really remember Jin Woo oppa from my trainee days. I don't remember seeing this one around."
Later on, each of the YG artists were asked to name the most meaningful song they've ever released. Eun Ji Won said "Couple", Chanhyuk said "Don't Cross Your Legs", Kim Jin Woo said "Really Really", Song Min Ho said "So So", Kim Jin Hwan said, "Love Scenario", Song Yun Hyeong said, "Rhythm Ta", Jennie said, "Whistle", Hyunsuk said, "JIKJIN", and Jihoon said, "Boy".
The names of these songs were then used to play the first game, the Strawberry Game!
Watch the first part of this week's 'Game Caterers' featuring the artists of YG Entertainment, below!