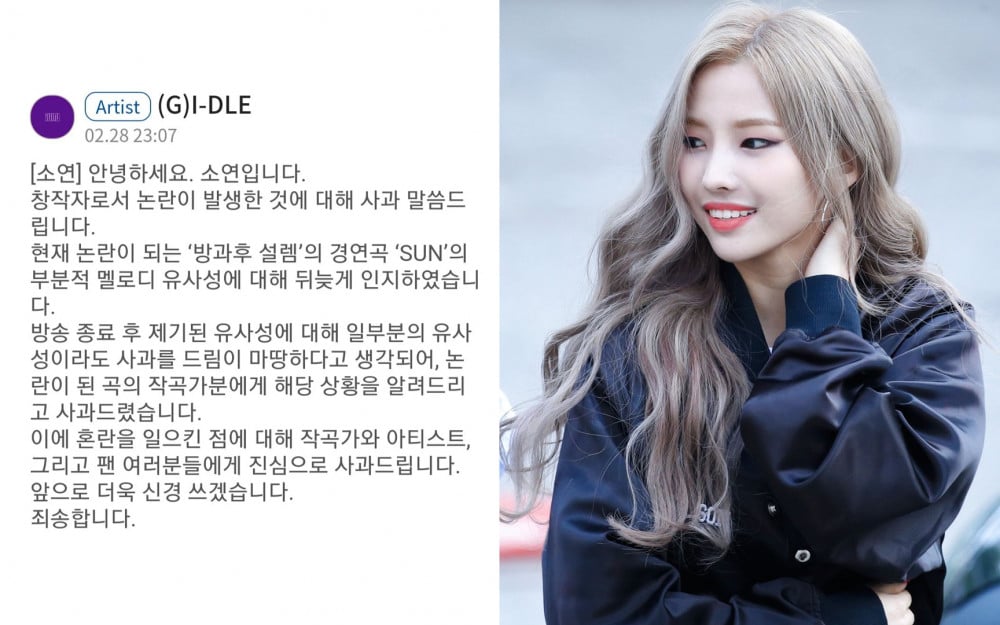 Earlier today, (G)I-DLE's Soyeon was embroiled in a controversy as a part of the finale song "SUN" from the MBC audition program 'My Teenage Girl' sounded similar to ATEEZ's 2019 single "WAVE."

The issue arose when KQ Entertainment released a statement in regards to the similarities on February 28 KST. Soon after, CUBE Entertainment released an apology explaining they had reached out to the original composer and offered an apology. In addition, they requested for the credits to be edited to include the composer.
On the same day, the (G)I-DLE member posted a personal apology for causing confusion. She wrote, "As a creator, I apologize for the controversy that has arisen. I belatedly recognized the partial melody similarity of 'SUN', the finale song from 'My Teenage Girl.'"

She continued to say, "Regarding the similarities raised after the broadcast ended, I thought it was appropriate to apologize for even a partial similarity, so I informed the original composer of the song about the situation and apologized."


Soyeon also apologized to fans saying, "We sincerely apologize to the composer, artist, and fans for this latest incident that caused confusion.
We will pay more attention in the future. I apologize."