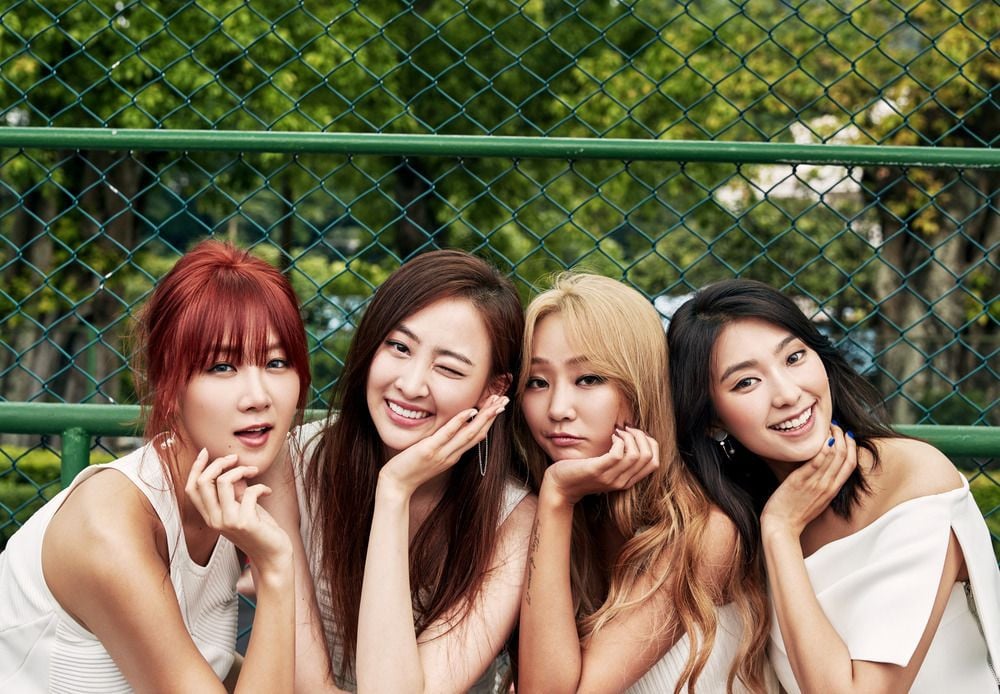 Welcome to another post on a time machine back to our favorite girl groups! Previously, we took a look at the pre-girl group era, first-generation, 1.5th generation, and most recently, the second generation. Today, we will be looking at the mini generation right after the second generation, often called the 2.5th generation.
While there is no official timeframe that divides these eras, many fans can call this era any girl group that debuted from 2010 through 2013. We can always give and take in this timeframe, but girl groups that debuted in this time are often called the 2.5th generation. Some have said that they haven't called this an official third generation because there were realistically no legendary groups that could receive the baton touch from first-generation legends S.E.S and second-generation legends Girls' Generation. Let's take a look at the amazing girl groups that debuted during this timeframe and all the hits they released in their time!
Sistar
Sistar debuted in the summer of 2010, and their debut song was already a summer hot. "Push Push" hit it big with the public, and they became known as the healthy summer girl group. This became Sistar's pathway into becoming a summer girl group, and they consistently released hits, such as "So Cool," "Loving U," "Alone," and "Touch My Body," All four members were extremely talented, and they all had their own charms. Though the group does not exist anymore, they are all active in their own categories.

Orange Caramel
After School's sub-unit group debuted with Orange Caramel, and contrary to the public's initial response, the concept was well-received by the Korean public. The cutesy & weird concept was rather unique to Koreans, and they consistently released hit singles, such as "Magic Girl," "Aing~," "Catallena," and "Lipstick." Orange Caramel was more popular than the actual group at one point.
miss A
miss A was also a hit group that debuted in the summer of 2010. This JYP group also broke the record of being the fastest rookie girl group with a #1. A notable member from miss A is Suzy, who is currently very active and very popular in the entertainment industry. Throughout their times, they released hit singles, such as "Bad Girl Good Girl," "I Don't Need A Man," "Breathe," and "Only You."
Girls Day
Girls Day also debuted in the summer of 2010. Unlike the popular Girls Day that many people remember, Girls Day wasn't quite that popular back during their debut. Their debut song, "Tilt My Head," was quite a unique song that wasn't well-received by the public, and it's often called their ugly past. The group was able to later shine their light after releasing hits such as "Expectations," "Something," "Female President," and "Darling." The group was also popular because each member had extra talents besides their main job as a singer. Hyeri and Yura were active in the acting industry, and Sojin and Minah would also promote solo as a singer during their promotion time as well.
Nine Muses
Nine Muses had a nickname of model-dol when first debuting, and they boasted of tall members. Many people expected them to be not as talented because of their "model" title; however, all the members had pretty strong singing skills. The group was able to see some more light as Kyungri became a trendy member within the group.
A PINK
In 2011, a legendary group was formed. A PINK debuted in April of 2011. Even though you weren't a fan of this group, everyone has heard of all the members' names at least once. Jung Eun Ji hit it big not only as a musician but as an actress as well through "Reply 1997," and Na-eun received attention for her shocking visuals. All six members have a fair share in the entertainment industry, whether it be acting, variety, or music. They are often titled as the nation's lovely and charming girl group. A PINK has always received love through their hits, such as "I Don't Know," "No No No," "Mr. Chu," "Remember," and "Dum Durumdum."
SPICA
Lee Hyori's produced group SPICA was an extremely talented group, with the main vocalists being on top tier level. Many people would often compare SPICA with Mamamoo as they are both talented vocal-wise.
Hello Venus
Hello Venus, known for their actress-turned-member Kwon Nara, also debuted in 2012, and Nara was already at the center of attention because of her beauty and her amazing visuals. Though they weren't necessarily top-tier girl groups, fancams of songs such as "Wiggle Wiggle" and "I'm Ill" were always a must-watch fancam for Hello Venus fans.

Crayon Pop
Crayon Pop is a group that had near-Wonder Girls syndrome with their track. Their helmet costume and their "JUMPING" chant were viral sensations throughout the country, and there were so many remakes, parodies, and covers of their songs (Imagine if there was TikTok now).

AOA
AOA can be considered the hottest rookie group of 2012. Before beginning, if there was Suzy in mi A and Hani in EXID, there was Seolhyun in AOA. Her beautiful face and body were already a cheat key. Though the group itself wasn't super famous at first and had an identity crisis with their so-called band concept, they eventually found their colors and became a famous girl group, releasing singles such as "Miniskirt," "Short Hair," "Like a Cat" and "Heart Attack."

Some other girl groups that debuted during this timeframe include Bebe Mignon, Dal Shabet, 5Dolls, Brave Girls, RaNia, Ladies Code, 2EYES, BESTIE, and Wassup.
What are your thoughts on this generation of K-POP? Stay tuned as we take a look at the third generation of K-POP next.