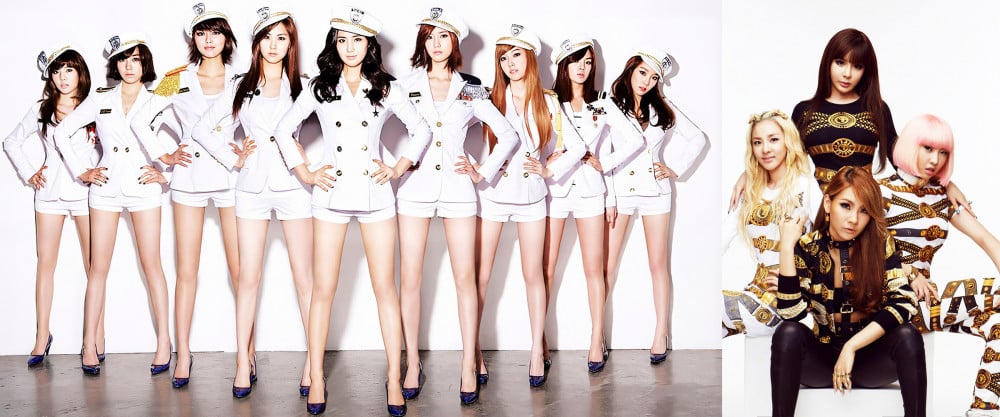 Girl groups have become a huge factor and almost their own genre within the K-pop scene. It is mainly because their music is actually great, and there are some WONDERFUL bops to listen to when it comes to girl groups.

A few weeks ago, we took a look at first-generation girl groups, which paved the whole way for girl groups in general, as well as the 1.5th generation, often referred to as the "dark era of girl groups." Today, we will be taking a look at second-generation girl groups. This era is known as when girl groups really popped off, and girl groups were really debuting left and right.
The second generation can be considered of the groups that debuted between 2007 and 2009 -- though many argue that the second generation extends until 2013, many Korean netizens also consider the 2010-2013 era the 2.5th generation. While there is no actual official guideline that differentiates each generation, let's take a look at the groups that debuted during those three years! Let's take a look at who was actually part of the second generation and their impact on the K-pop scene today!
Wonder Girls
JYP... and the Wonder Girls! Everyone who was an active listener of K-pop knew that exact phase. Even K-pop listeners today would know the phase if they listened to a few Wonder Girls songs. Produced by JYP Entertainment, Wonder Girls debuted in February 2007. Everyone can agree that Girls' Generation was the most popular and one of the most influential girl groups in not only the second generation but throughout the entire history of K-pop. However, Wonder Girls actually hit it big first and there WAS a point where they more popular than Girls' Generation.
The group was able to achieve a triple crown with their famous "Tell Me," "So Hot," and "Nobody" releases. They created an "Omona~" syndrome with Sohee's legendary dance. Besides these songs, they continued promotions releasing other various hit songs, such as "Irony," "Why So Lonely," and "Be My Baby." Before there was Tik Tok, everyone was dancing along to Wonder Girls choreography, and it really was a big hype back in the days - literally, EVERYONE was doing it.
KARA
Shortly after Wonder Girls' debut, DSP Media debuted a new girl group as well - KARA. They were actually not well-received by the public at first, but after a few member changes and the release of "Pretty Girl," they were on their way to stardom. They were not only famous in Korea, but they were also one of the first second-generation girl groups to hit it big in Japan. Han Seung Yeon and Goo Hara's visual was out-of-the-world, and they continuously released hits, such as "Honey," "Mister," "Lupin," and "STEP."

Girls Generation
THE QUEENS - GG is considered to be the nation's girl group just because they were pretty much the most popular girl group. Debuting from SM Entertainment, the (back-then) nine members were all extremely talented, and the group also experimented with various genres. Unlike other groups who usually have an abnormally large amount of popularity, each member was loved in its own way. Though K-pop has become global and girl groups such as TWICE or BLACKPINK have achieved bigger hits, Girls Generation's fame was really extraordinary, and every song they released was such a hit. "Into the New World," "Girls' Generation," "Kissing You," "Baby Baby," "Gee," "Tell Me Your Wish," "Oh!," "Run Devil Run," "Hoot," "The Boys," "I GOT A BOY," "Mr. Mr.," "PARTY," "Lion Heart," "Holiday" - do we need to mention more? "I GOT A BOY" placed into the Billboard's 2010s chart along with PSY and BTS -- must we say more?


After School
After the initial girl group boom in 2007, 2009 was considered a peak for girl groups as many groups began appearing. Of those groups, After School was different than your ordinary girl group. Instead of a lovely or sweet image, After School was a strong girl, girl-crush concept. They were all tall, and the choreography was intense. The group also received attention for having a 30-year-old member during debut - Kahi and the group also were able to find their own little concept by "graduating" and "adopting" new members. Because of this, members such as UEE, Rain, and Nana were able to belatedly join the group and promote.

2NE1
2NE1 can be considered a group that truly raised the rigor of a typical girl group in South Korea. Debuting from YG Entertainment, they displayed a quite different concept from their rivals SM and JYP. 2NE1's tracks were based on hip-hop and often produced by YG producer Teddy, and they were able to release various hit songs such as "I Don't Care," "I Am The Best," "Ugly," "Go Away," and "Can't Nobody."

4Minute
In the summer of 2009, it was announced that former Wonder Girls member Hyuna would be re-debuting in a new girl group produced by CUBE Entertainment. (Wait, Hyuna was part of Wonder Girls?!) Their debut track, "Hot Issue," was a powerful track that received a lot of love - they were even #1 candidates on music shows immediately upon their debut. 4Minute's hit songs include "What's Your Name?" "Crazy," "Mirror, Mirror," and "MUZIK."

T-ara
Let's remember that we're still in 2009 - T-ara also debuted in 2009. Known for their super catchy and addicting melodies, T-ara created songs that are easy to sing along to, and while some of their songs may sound kind of weird and unique at first (Bo Peep Bo Peep), somehow you were humming along to it an hour after! T-ara not only received love in Korea, but they were also extremely popular in Japan and China. Towards the end of their promoting period, they ended up promoting more in China than in their homeland. Some of their hit songs include "Bo Peep Bo Peep," "Roly Poly," "Day by Day," "Go Crazy Because of You," "SEXY LOVE," and "TTL."

f(x)
f(x) was also a group that escaped the norm of a typical girl group. You can just hear it by listening to their debut track, but that actually became a trend and molded f(x) into their own little music style. f(x) also received attention even before debut as to if Amber was actually a girl or not. Releasing hit songs such as "Hot Summer," "Electric Shock," "Pinocchio," "Rum Pum Pum Pum," they were able to establish their presence and find their own niche throughout the industry.

Rainbow
Rainbow is considered one of the groups that really deserved to win a #1, but they, unfortunately, couldn't. That does not mean they were unpopular, though. Debuting from the same company as KARA, these seven ladies released hit songs such as "A," "To Me," "Tell Me Tell Me," and "Sunshine." Fans to this day are STILL upset that they were never able to reach #1 because, frankly, their music is great.

Besides these groups, Brand New Day debuted in January 2009, and JQT debuted in the latter half of 2009 as well. And, we can't really consider it a girl group, but power vocal duo Davichi also debuted in 2009 as well.
What a wonderful generation this was! Frankly, maybe it's the nostalgia hitting but I really miss this period of K-pop.
We can see that many groups debuted in 2009 -- we'll be able to see even more in the upcoming 2.5th generation. Make sure to tune in soon to see the 2.5th generation for even more girl groups! Let us know what your favorite second-generation girl group was in the comments below!