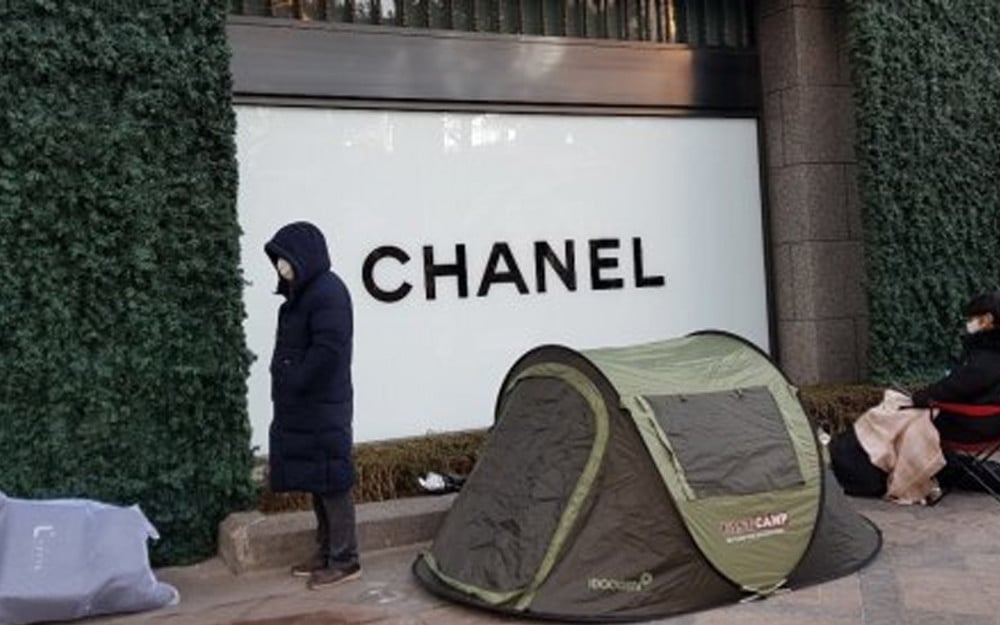 "I waited since 8 PM last night and I received the number 1 ticket," said Lee (age 26), who was wearing a long padded jacket with a thick blanket standing in front of the main branch of Shinsegae Department Store in Seoul.
On January 13, the lineup for the race to buy luxurious goods did not stop despite the severe cold weather. On this day, the temperature in Seoul dropped to -13 degrees Celsius (8 degrees Fahrenheit), but citizens endured the cold to camp in line to buy luxury goods. Some even stayed up all night on the street in front of the department store in Myeong-dong, Seoul.
■ People lined up with tents and sleeping bags. They say they waited 14 hours.
Dozens of people lined up from early morning in front of luxury department stores such as the Shinsegae Department store and the Lotte Department store in Seoul. There were about 25 people found lined up in front of these department stores at 7:30 AM. However, around 10 AM, just 30 minutes before the department stores opened, there were more than 100 people lined up. Many of these people were fully dressed, wearing long padded jackets and some with tents and sleeping bags set up.
This was a race to purchase the products before stock runs out. For this reason, there were a few people who stated they had lined up starting from the night before. According to these individuals, you must arrive before 6 AM in order to get the waiting ticket number that is within the first 20.
Oh (age 43) explained he received waiting ticket number 2 after waiting in line starting 9 PM last night. He explained, "I came here to buy a Chanel bag for my girlfriend. This is my first time waiting in front of a store like this and it's not easy because the weather is cold too." He added, "I took a day off from work and came to line up. I thought right now is when the luxury goods are at their cheapest because the prices are climbing every day. So I thought it would be a good investment too since I can sell it later."
■ Consumption of goods increased after the COVID19 pandemic
According to a market research firm named Euromonitor, the Korean market for luxury goods increased by 14.1 billion USD (17 trillion KRW), which is an increase of 4.6%. It has been analyzed that the age group of consumers of luxury goods also increased as 50% of the consumers being in their 20s and 30s.
With the demand for luxury goods increasing significantly, there were new jobs created as they have part-timers who would stand in line in place of the buyer. Lim (age 39), who was standing outside of the Lotte Department store on this day, stated he earned 600,000 KRW (~504.28 USD) just by standing in line for others a few times.
Experts are speculating that the increase in luxury goods consumption is due to the COVID19 pandemic. Lee Eun Hee, a professor of consumerism at Inha University explained, "Consumers are releasing the suppressive feelings and limitations caused by COVID19 through purchasing these luxury goods. There is a limited quantity of these luxury goods so people find joy in purchasing them also they feel it is as a form of investment."