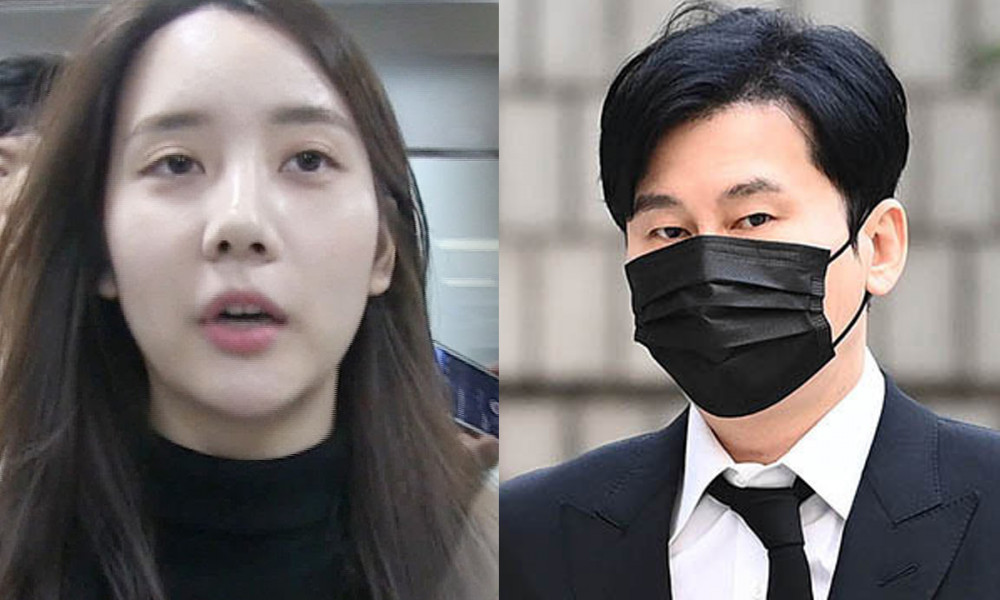 A second trial was held against Yang Hyun Suk, the former representative of YG Entertainment, who was accused of covering up the drug investigations of B.I.
Police officer 'A,' who serviced as a witness, reaffirmed that Han Seo Hee spoke about Yang Hyun Suk and the drug allegations of B.I during the first two police investigations. However, 'A' stated that he was unaware that Han Seo Hee had also sent a message to a YG Entertainment official, B, saying, "Oppa, I've been released," and was hiding the fact that she was the person who reported Yang Hyun Suk. The witness explained, "I was surprised by her dual attitude and actions."

On December 6, the 23rd Criminal Settlement Division of the Seoul Central District Court held the second trial against Yang Hyun Suk on charges of violating the Act on Aggravated Punishment of Specific Crimes. Following the first trial on the 5th of last month, a witness interrogation was conducted on Police officer 'A,' who investigated Han Seo Hee for violating the Drug Control Act back in 2016. Yang Hyun Suk was seen attending the trial in a black suit.

Police officer 'A' stated that he felt there was a part where he needed to edit the testimony after the first trial.

'A' stated, "After the second investigation against Han Seo Hee ended, we requested for an arrest warrant, but the prosecutor at the time rejected it. This was because Ham Seo Hee had cooperated with Kim Han Bin's case before her release. Therefore, we conducted the investigation without having her detained." However, the witness edited his testimony and explained, "It was a different case that we discussed with the prosecution about the dismissal of the warrant. At that time, there were many drug-related cases so I got things mixed up."

During the witness questioning, Yang Hyun Suk's legal representative pointed out, "After the arrest, did Han Seo Hee say during the first and second investigation that she had provided drugs to Kim Han Bin? There was nothing like that included in the report."

In response, 'A' stated, "We requested for the arrest warrant (for Han Seo Hee) but there was pressure that the other charges should be separate from the investigation report. Therefore, the content about Kim Han Bin was not included in the first and second report."

The witness continued to say, "But it is true that Han Seo Hee provided drugs to Kim Han Bin. However, she hesitated to step up as a witness and to report Kim Han Bin for his drug use because they are 'close' with each other. I did not write anything Han Seo Hee said about Kim Han Bin in the report because we decided to make it a separate case."

The witness continued to testify about the third investigation in which Han Seo Hee was accompanied by her lawyer.

Police officer 'A' explained, "At the time of the police investigation, Han Seo Hee's lawyer didn't seem like a typical one. Usually, the lawyer is there to protect their client but Han Seo Hee's lawyer didn't seem to be protecting Han Seo Hee but rather seemed protective over Kim Han Bin. The lawyer did not let Han Seo Hee reply to the questions in person so I had an argument with the attorney."
However, 'A' only found out that Han Seo Hee reported Yang Hyun Suk with the intention to expose the fact that YG Entertainment and the police had a close relationship with each other.

'A' explained, "Han Seo Hee contacted me to tell the media that she had cried during the third investigation." The witness explained that Han Seo Hee reached out to him after she made the public report and explained that he was not aware that she had made a public report. He added that he only found out about Han Seo Hee's double-dealing during the investigation.

Witness 'A' then explained that the allegations that the investigations were canceled due to the close relationship between YG Entertainment and the police isn't true.

'A' also clarified that he had not omitted a written report and did not receive any requests to stop the drug investigations against Kim Han Bin. He elaborated that Kim Han Bin's drug case was transferred over when he changed teams, and the case was pushed back due to the urgent schedules.

Meanwhile, Han Seo Hee reported about Kim Han Bin's drug charges during the first and second police investigations. However, after she was released, she came back for a third investigation with a lawyer. During that time, Han Seo Hee changed her testimony about Kim Han Bin, explaining that she stated wrong things under the influence of drugs.

On this day, Yang Hyun Suk denied the allegations that he had covered up the drug investigations against B.I. Yang Hyun Suk was under investigation when there was a public report given to the Anti-Corruption and Civil Rights Commission in 2019. The reporter, Han Seo Hee, stated that she was threatened by Yang Hyun Suk to change her testimony about Kim Han Bin, and he was brought to trial.