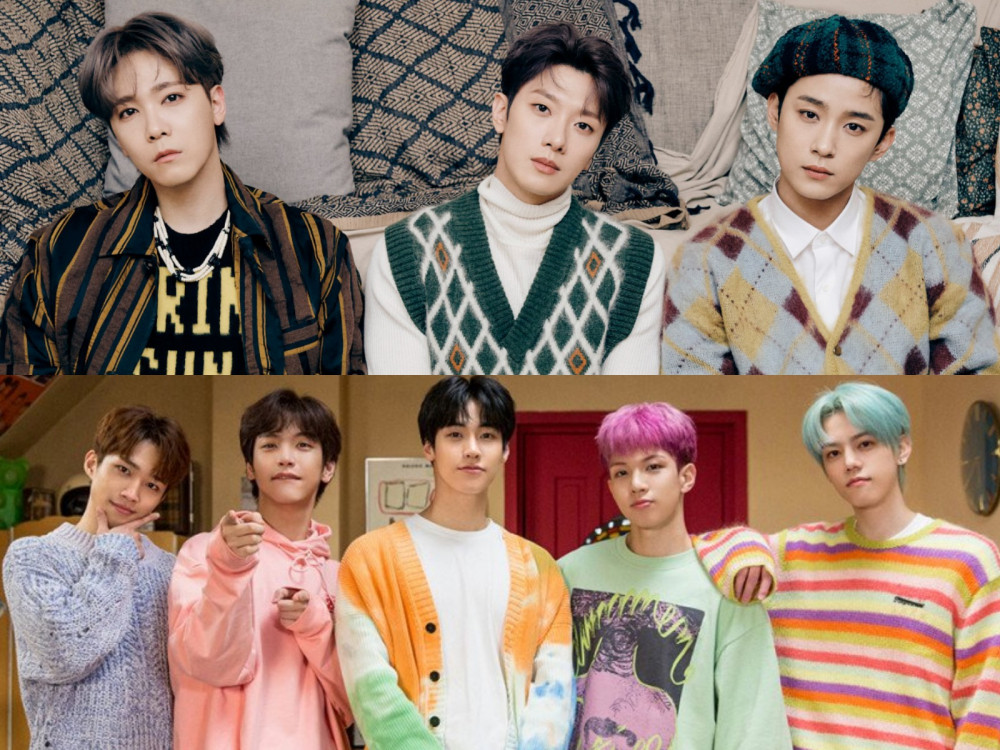 FTISLAND and N.Flying are two groups with perhaps the best Sunbae-Hoobae relationship in the Korean music industry!

FTISLAND, who debuted in 2007, and N.Flying, who debuted in 2013 in Japan and 2015 in Korea under FNC Entertainment, have had the perfect Sunbae-Hoobae relationship since they got to know each other. The two groups have always supported each other, helped each other through difficult times, sang duets together, went to each other's concerts, and did everything the two brother bands could do. Here are 22 interactions between two brother bands, FTISLAND and N.Flying.

1. FTISLAND first introduced N.Flying in their concert as an opening act

N.Fyling, who made their Japanese debut with the song "Basket" on October 1, 2013, opened FTISLAND's Replay Zepp Tour Nagoya concert on October 29, 2013, and so FTISLAND was the ones who introduced N.Flying to Kpop fans.

2. N.Flying talked about how awesome FTISLAND is

In 2015, N.Flying members talked about FTISLAND and said: "FTISLAND's concerts are so great that you won't even know until you witness it with your own eyes. "We did a concert with them for FNC Kingdom, and FTISLAND's performance was… really.. hot.. really..cant be expressed in words..rock.."

3. The two bands have always supported each other during their debut and comebacks
Lee Hong Ki was watching their Showcase when N.Flying made their Korean debut on May 20, 2015, and posted a photo with the caption "Fighting N.Flying!!!"
When Lee Hong Ki had his solo debut on November 18, 2015, and N.Flying member Seung Hyub supported Hong Ki by writing the following words on the band's Weibo account on November 12: "Hello guys, I'm Seunghyub. Guys!! My FTISLAND Lee Hongki sunbaenim!!! Finally releasing his solo album. I'm curious what his style is because the solo song is so strong anyway!! Guys please look forward to it! Hongki hyung!! Fighting!!!!"
When N.Flying made their comeback with the song "How Are You Today," Hong Ki shared a photo of the band on his Instagram and wrote, "My babies' song is out!!!!! Everyone make sure to listen to it once, it's more appropriate for the mood right now #.N.Flying # HowRYouToday".
When N.Flying made a comeback with "Like A Flower," Lee Hong Ki shared on his Instagram account and wrote, "Our N.Flying's new song is out!!!!! Download it guys he he, see you Seung Hyub on Music Bank".
On February 18, 2019, N.Flying topped the charts with the song "Rooftop," and Lee Hong Ki shared N.Flying's #1 spot and he wrote, "Agu Agu!!!!! My babies!!!!! Let's cheer up a lot!!!!!!!! While we're in the army, the task of resurrecting the band scene will fall on you!!!!!!!".
4. N.Flying talked about FTISLAND and CNBLUE in Asia News interview on September 15, 2015

Q: NFlying also had a lot of opportunities to perform abroad.

Cha Hun: It's all thanks to the company's sunbae who gave us a chance. (*N.Flying was the opening act for a number of FTISLAND's concerts abroad)

Q: Are you satisfied with your first album?

Jae Hyun: FTISLAND's Lee Jaejin told us that we should pile the bricks one by one on top of each other, so that they will be able to rise higher and won't collapse. The beginning is only a half of it. From now on, we will show more. We are so happy doing the activities that we feel happy at the moment.

Q: It must be pressure to follow the sunbaenims?

Seung Hyub: As FTISLAND and CNBLUE sunbaenims have made a great success when they first started, of course, it becomes a burden to us. The sunbaenims gave us a lot of advice. Lee Hong Ki sunbaenim always said, "peel off your 'wrapping paper' and show confidently the band that you really are inside." We are trying to put off the burden, and we will show you our true color instead.

Q: It seems like your sunbaes take good care of you.

Seung Hyub: We are delighted that our sunbaes are giving us a lot of advice. As sunbaenims are taking care of us, we confidently will believe and follow them.

Cha Hun: They really care for us 'prettily.'

5.N.Flying talked about being the opening band of FTISLAND in the Hanryu Pia 2016 July issue interview

Seung Hyub said, "The fans went to watch FTISLAND sunbaenims' Live, but they cheered us on nonetheless, I feel really grateful," the fact that FTISLAND's fans have cheered them on sincerely to the end of their performance apparently had touched him. Jae Hyun said, "Since our indie days, we have been given a lot of advice from sunbaes, we have had a lot of opportunities to talk about various things especially among us who hold the same kind of instruments. Sunbaenim strong will of "we are a band" that makes us admire and follow them."

6. Cha Hun starred in FTISLAND's Love Sick 10th anniversary special version MV

In 2017, FTISLAND was celebrating their 10th anniversary, and on 28 May 2017, they released a 10th-anniversary special version of their debut song Love Sick. Cha Hun becomes the male lead role of the Love Sick 10th-anniversary special version.


7. Lee Hong Ki gifted television to N.Flying

In August 2017, N.Flying guested on Lee Hong Ki's "Kiss The Radio." N.Flying members said, "We can't watch Hong Ki hyung's shows because there is no TV in our dorm." Hong Ki then said that if they managed to score 100 points in karaoke, he would buy them a TV. N.Flying members managed to score 100 points, and the next day Hong Ki sent them a large TV.

8.N.Flying's Jae Hyun and Cha Hun went to FTISLAND concert

On August 22, 2017, two N.flying members went to FTISLAND's concert and spoke highly of FTISLAND.
Cha Hun said, "Hi, I'm Chahun. Jaejjing (Jaehyun) and I went to our FTISLAND sunbaes' concert today!!!! Ha... Haa was burning with fire.. really, our brothers!! ㅠㅠㅠㅠㅠ We are so proud of our brothers who are always good examples to other bands ㅠ ㅠㅠㅠ My brothers, thank you for showing us the splendor ㅠㅠㅠㅠ We love you!!! Take us too ㅠㅠㅠ #.hunstagtam #.jaestagram #.NFlying #.FTISLAND #.BrothersWonderfulGuys #.ForGorgeousConcert #.Thanksㅠㅠㅠ".
And JaeHyun said, "When Hun and I see the stages of our FTISLAND sunbaes, this thought always comes to mind. They are our older brothers, whom we are thrilled to have seniors, and we feel their great pride!" Thanks for the great concert today!! I want to take a photo with Hongki hyung, but... Next time I have to run to ask for a photo. heuheh, We will definitely buy delicious fruits! #.NFlying #.Ftisland #.ToTheseGorgeousSunbaes #.Let'sNotBeEmbarrassingHoobaes! #.Delicious #.Fruits."
And they took a photo with the FTISLAND members backstage.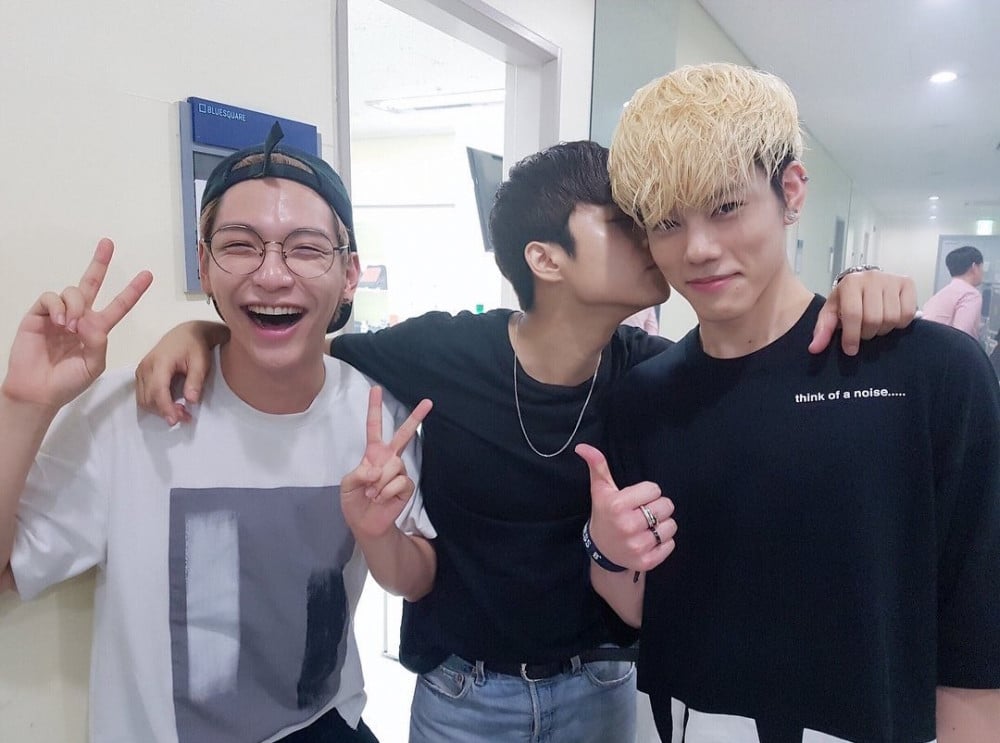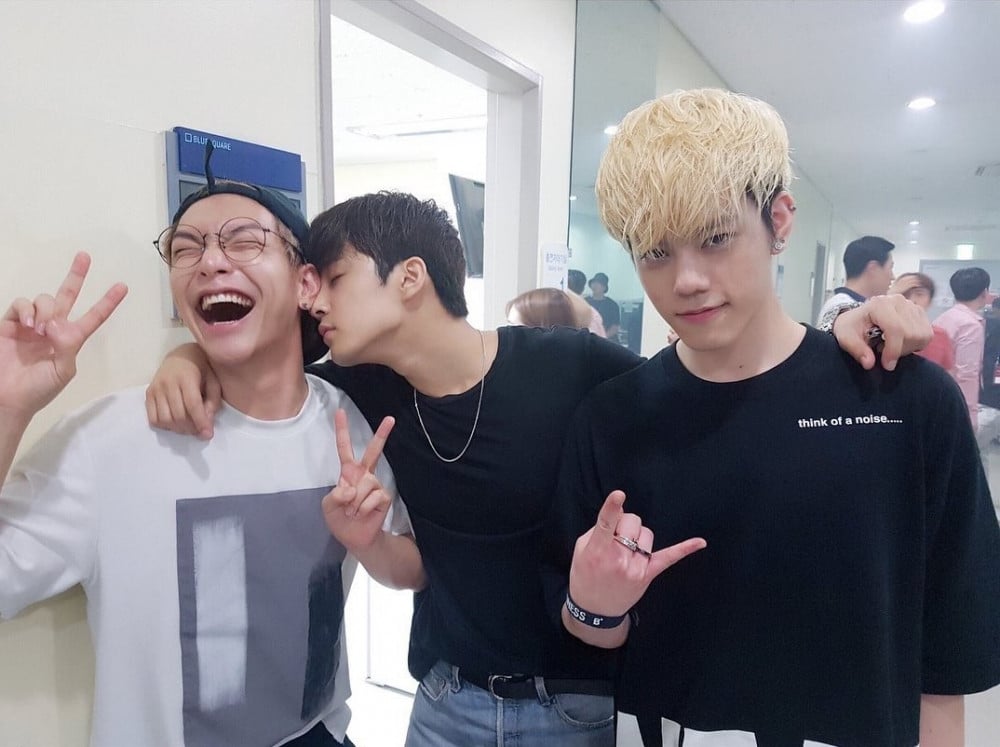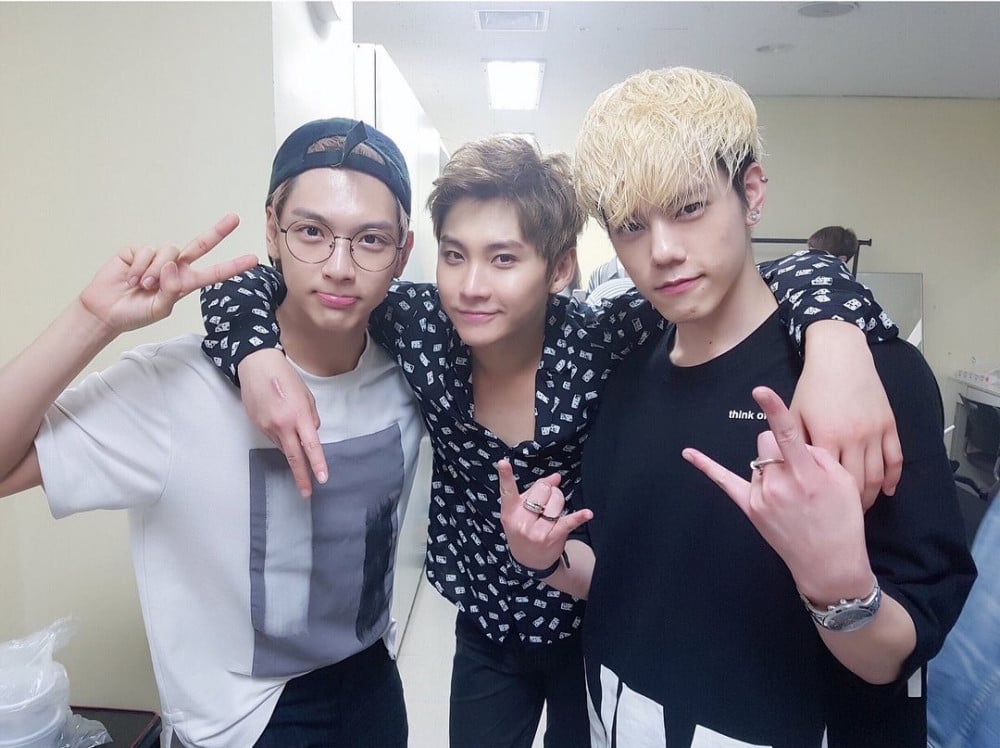 9. Lee Hong Ki and Yoo Hwe Seung collaborated: Still Love You

Lee Hong Ki and Yoo Hwe Seung released their collaboration song "Still Love You" on April 8, 2018. Still Love You was loved by everyone and became a hit. Hong Ki and Hwe Seung have also performed this song live on shows a few times. Regarding this song, Hong Ki said, "This was actually my solo song. So I did it. But I couldn't sing such a difficult song by myself. I didn't have the confidence to sing the 6-tone high note. That's why I chose to do it with Hwe Seung . To be honest; you don't want to give the prominent part to anyone else. But I thought it would be better if I had a good supporter, and I believed and trusted in Yoo Hwe Seung and supported him with all my heart." He told the song's origin story and showed how much he trusted Hwe Seung.
10. With FTISLAND and CNBLUE's enlistment approaching, Lee Hong Ki said that N.Flying will be on a mission to resurrect the band scene and asked fans to support N.Flying
On May 8, 2018, Lee Hong Ki said that FTISLAND and CNBLUE will enlist soon, so, from now on, the one that will be the big band is N.Flying, now N.Flying needs to work harder and FTISLAND will support them from behind.
On February 18, 2019, while Lee Hong Ki celebrated N.Flying's success on the charts said, "While we're in the army, it's up to you to resurrect the band stage!!!!!!!"
At a concert in 2019, Hong Ki told his fans, "you can go to N.Flying's concerts while we're away" and encouraged fans to go to N.Flying's concerts.
11. N.Flying performed at the FTISLAND concert and made a potpourri of FTISLAND songs with together Hong Ki

N.Flying opened FTISLAND concert once again in May 2018, this time accompanied by Hong Ki. They sang short parts of FTISLAND songs together and had a lot of fun. Look at their beauty.
Later, N.Flying members broadcast V-Live, and Cha Hun said, "We opened FTISLAND sunbaenims' concert today. Thank you very much to the Primadonnas for having fun with us, listening and supporting us. We will work hard to be a great band like FTISLAND sunbae."
12. N.Flying covered FTISLAND's song "I Hope."

At their concert on September 1, 2018, N.Flying covered FTISLAND's song "I Hope."

13. N.Flying's Seung Hyub sang the rap parts of Lee Hong Ki's solo song "Cookies."

Lee Hong Ki released his 2nd solo album on October 18, 2018, which featured a duet with Btob's Ilhoon for the title song Cookies. As Ilhoon couldn't appear on music shows with Hong Ki due to his busy schedule, Seung Hyub accompanied Hong Ki on music shows. They also released an official live photo video.


14. N.Flying And Lee Hong Ki appeared on "Idol Room" Together

On March 19, 2019, N.Flying and Lee Hong Ki appeared on Idol Room together. They played several games together. Hong Ki did his best for N.Flying to win the awards. They were very friendly and had a lot of fun together.
15. FTISLAND's Lee Jae Jin Accompanied N.Flying as the bassist on their 3-Concerts tour of Japan
N.Flying's bassist Kwon Kwang Jin left the band on December 18, 2018, due to some troubles, and N.Flying was left without a bassist. N.Flying, who were preparing to embark on a 3-concert tour of Japan in June 2019, were considering what to do in such a difficult time when FTISLAND's bassist Lee Jae Jin offered to tour with them. Lee Jae Jin accompanied them as the bassist for 3 concerts.
Look at how the N.Flying members are hugging Lee Jae Jin!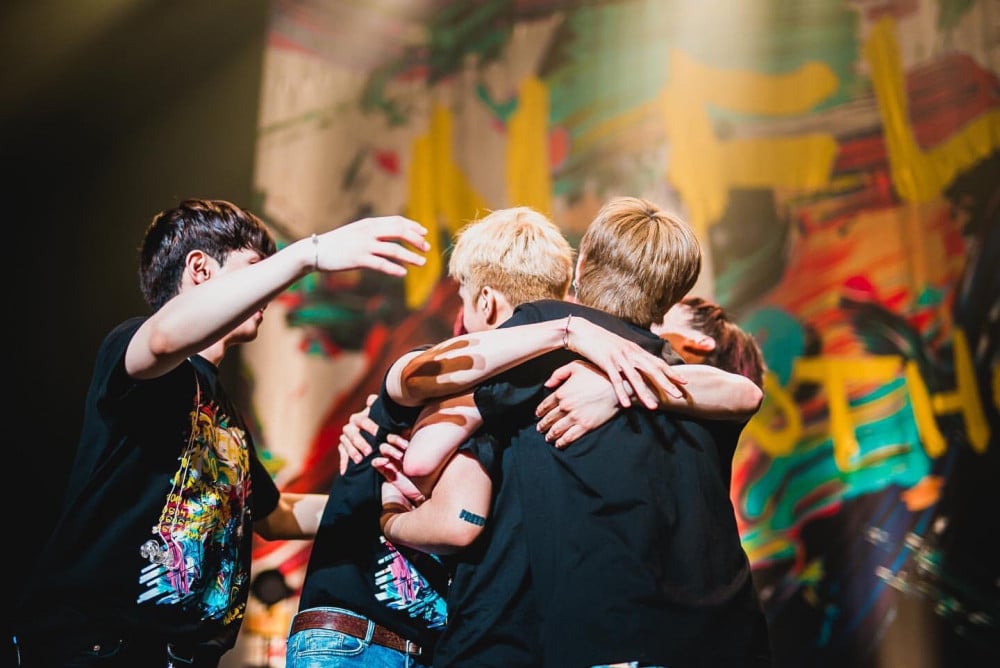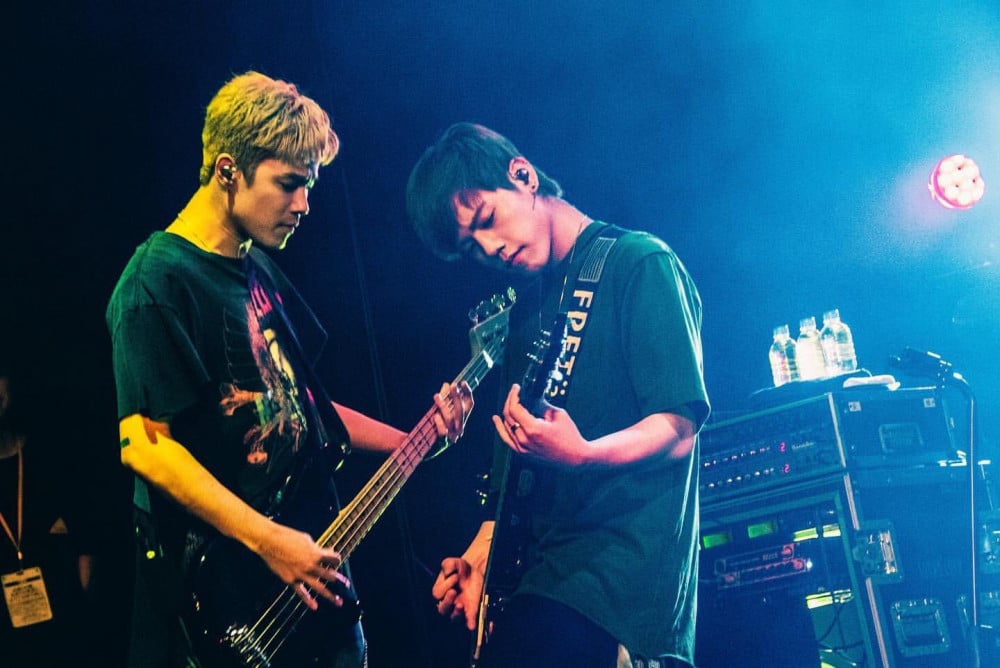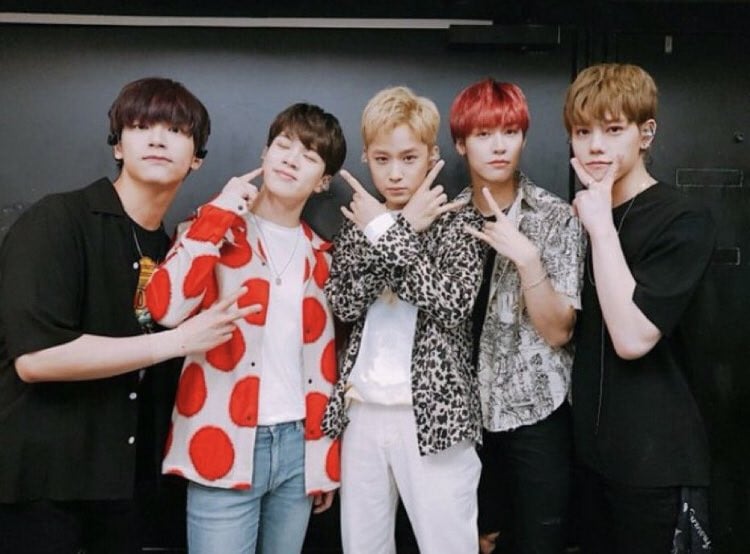 16. A sweet dialogue between Hong Ki and N.Flying members in August 2019

On August 28, 2019, N.Flying received an award, and Lee Seung Hyub thanked his fans by sharing a post on his Instagram account. Lee Hong Ki commented on this Instagram post, and the following sweet dialogue took place between Hong Ki and N.Flying.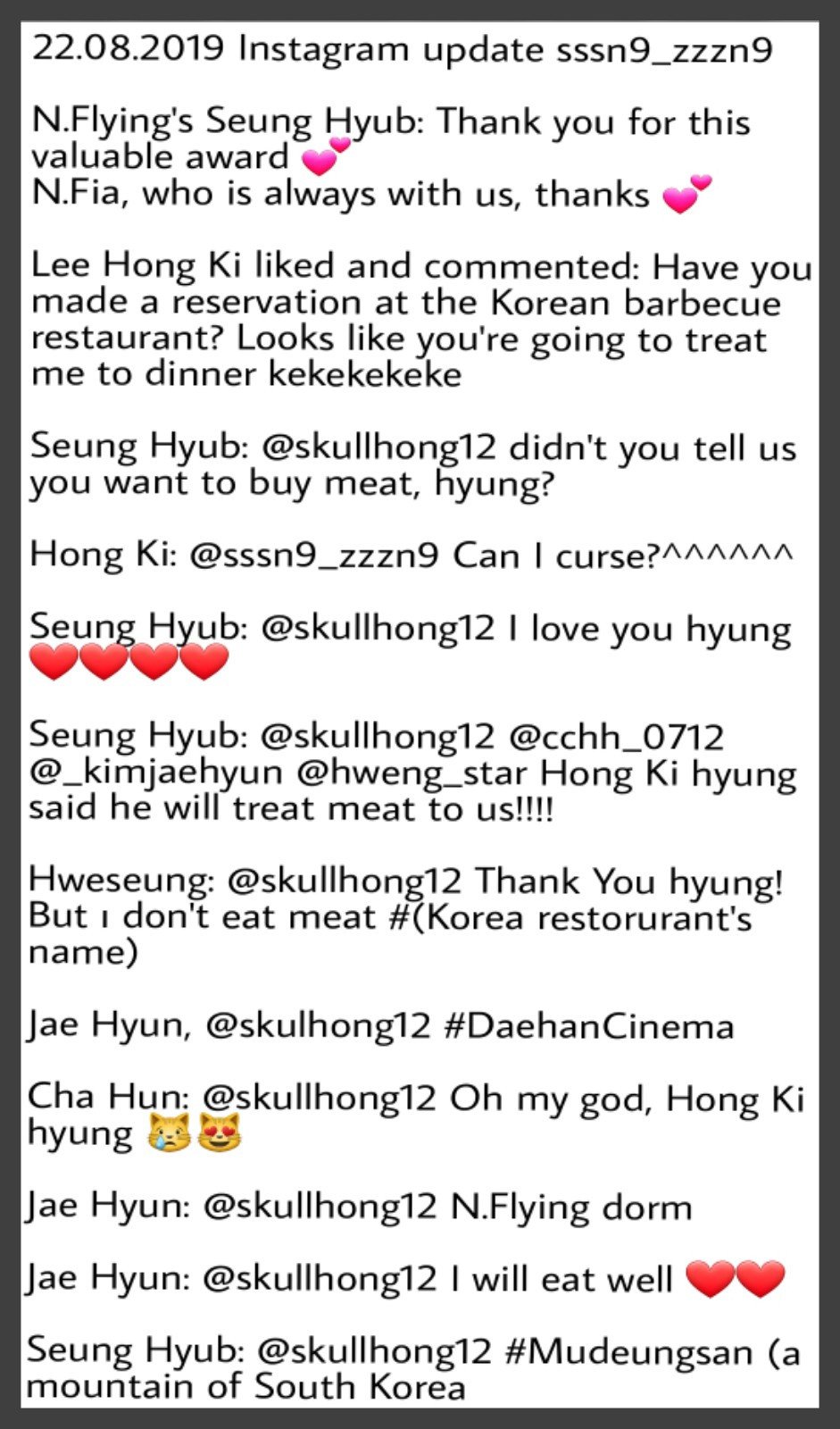 17. N.Flying's Jae Hyun made a rock version of Baby Shark for FTISLAND's Min Hwan's son

Min Hwan was in charge of Jae Hyun's drum lessons. Broadcasting On the September 4, 2019, episode of Mr. House Husband 2, Min Hwan took his son Jaeyul with him to Jae Hyun's drum lesson. Jaeyul woke up after sleeping for a while, and Jae Hyun played his favorite song, Baby Shark, on the drums to entertain him.
18. N.Flying acted in the MV of Lee Jae Jin's Japanese solo debut song "Love Like The Films."

Lee Jae Jin made his Japanese solo debut with the release of the album "Scene.27" on October 9, 2019. N.Flying members were grateful to Jae Jin for accompanying them on their 3 concerts tour of Japan and wanted to help him by starring in Jae Jin's music video. Thus, N.Flying members showed their gratitude to their Jae Jin brothers by starring in the music video for "Love Like The Films," the title track of Jae Jin's solo album Scene.27.

19. N.Flying released an "FTISLAND Medley" consisting of the songs "Hello Hello," "I Hope," and "I Wish."

On November 19, 2019, N.Flying released an "FTISLAND Medley" consisting of FTISLAND's songs "Hello Hello," "I Hope," and "I Wish."

20. 3-Hours Phone conversation between Lee Jae Jin and Yoo Hwe Seung


Yoo Hwe Seung acted in the musical "We Will Rock You," which ran from December 17, 2019, to February 20, 2020. Hwe Seung was inexperienced, nervous, and confused as it was his first time appearing in a musical. He called Jae Jin to get advice and address his concerns, and they talked on the phone for 3 hours. Hwe Seung recounted his phone conversation with Jae Jin on a live broadcast on December 25, 2019, saying, "I was very confused while preparing for the musical We Will Rock You. It's my first time acting in a musical. I asked the members but hyung didn't know what to do either because they had never been in a musical either. So I asked my Jae Jin sunbaenim. It was around 2 or 3 am, I called him after we finished our band practice. I told him how hard it was for me and we talked for about 3 hours, he gave me a lot of advice. I'm really grateful to him for that "

21. N.Flying's Jae Hyun is an FTISLAND fan with Min Hwan bias

On June 9, 2021, N.Flying's Jae Hyun was a guest on 'TMI News.' That day, they asked Jae Hyun, "Was there an idol you admired when you were little?". Jae Hyun said, "The person I admired when I was younger was FTISLAND's Min Hwan. He was still very young back then, but he excelled at drumming. And his name was much bigger than being the drummer of FTISLAND.

22. FTISLAND's Lee Hong Ki Sends Watermelons to N.Flying Members

N.Flying was gearing up to make a comeback on October 6, 2021. On October 1, 2021, Lee Hong Ki sent two large watermelons to the N.Flying members who were preparing for their comeback, and he wrote, "Fighting N.Flying!! on a large piece of paper! N.Flying's bassist Seo Dong Sung shared an Instagram story showing the watermelons and the paper and tagged Hong Ki's Instagram account, with the caption, "Thank you, Hong Ki hyung, we'll have a blast." It is also known that Hong Ki has bought meals for both N.Flying members and SF9 members many times before.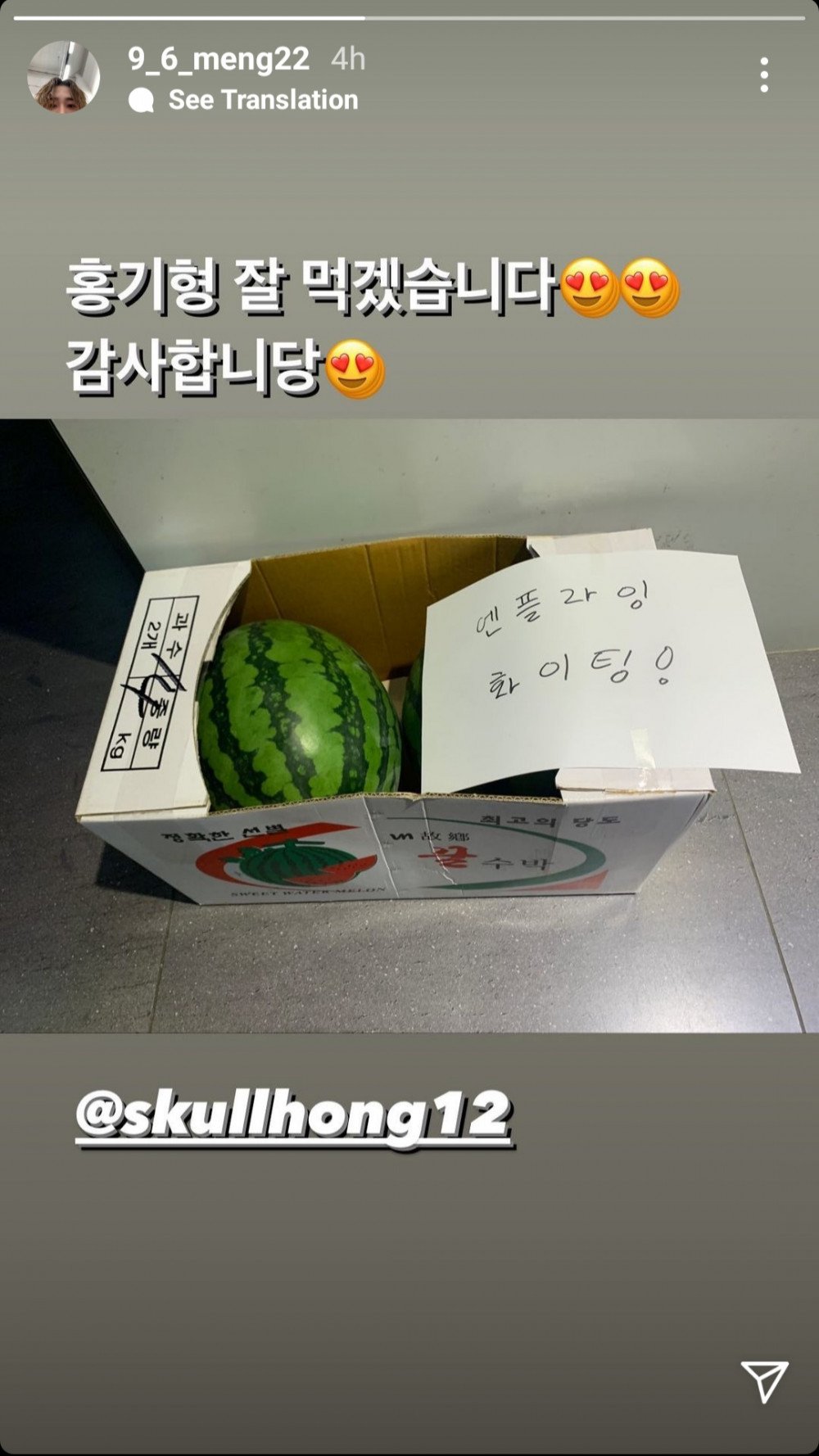 What do you think about the friendship of the two bands? Meanwhile, FTISLAND made their long-awaited comeback with the album "Lock Up" on December 10. You can listen to the title track "Unthinkable" HERE. Stay tuned for updates.