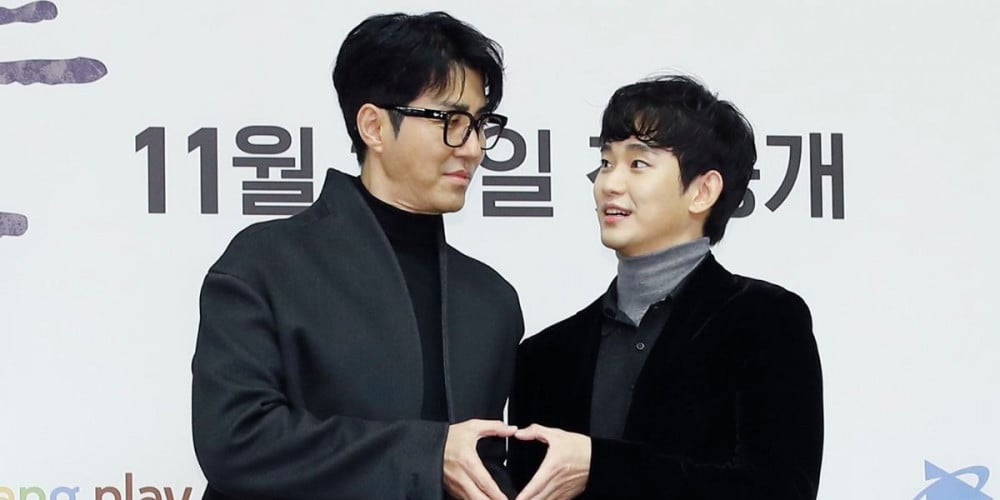 On November 26, actors Cha Seung Won, Kim Soo Hyun, and more attended a press conference for the upcoming Coupang Play original mystery/crime series, 'One Day'.
In 'One Day', Kim Soo Hyun takes on the role of an ordinary college student who is suddenly framed as a murderer overnight. When no one is willing to help this young man prove his innocence, a lawyer by the name of Shin Joong Han (played by Cha Seung Won) extends a hand.
The production also marks Kim Soo Hyun and Cha Seung Won's first project together. During the press conference, the two stars discussed their impressions of each other as they worked together. First, Cha Seung Won shared his honest thoughts about his hoobae Kim Soo Hyun, saying, "He is not sensitive or picky. He has his own method of doing things. However, it is not easy for someone to do what they need to do while also making others around him feel comfortable. I saw that he made efforts to do that, and I was greatly impressed."
Cha Seung Won then added, "I have a strong afterimage [of Kim Soo Hyun] being very calm and composed even in situations when one can easily become uncomfortable. Often times, you have to choose one or the other, you take care of yourself or you take care of others. But Kim Soo Hyun had a strong mentality and was able to do a little of both."
On the other hand, actor Kim Soo Hyun was all smiles as he talked about the opportunity to work with one of his very own idols in the acting world, Cha Seung Won. Kim Soo Hyun revealed, "I grew up watching [Cha Seung Won] sunbaenim. I was really worried that he might be a scary person, or we might not get along somehow. But on the day of our first script reading, I exchanged a glance with him while we greeted each other. I could tell that we were both getting positive vibes from each other just from that glance. I got to talk with sunbaenim about some of his past projects like 'Kick The Moon' and 'My Teacher, Mr. Kim', and I acted like I knew what I was talking about. It felt exhilarating. I was so excited."
Meanwhile, Cha Seung Won x Kim Soo Hyun's 'One Day' premieres via the streaming platform Coupang Play on November 27. While you wait for the series, check out the bromantic chemistry between the two leading stars from their recent press conference, below!