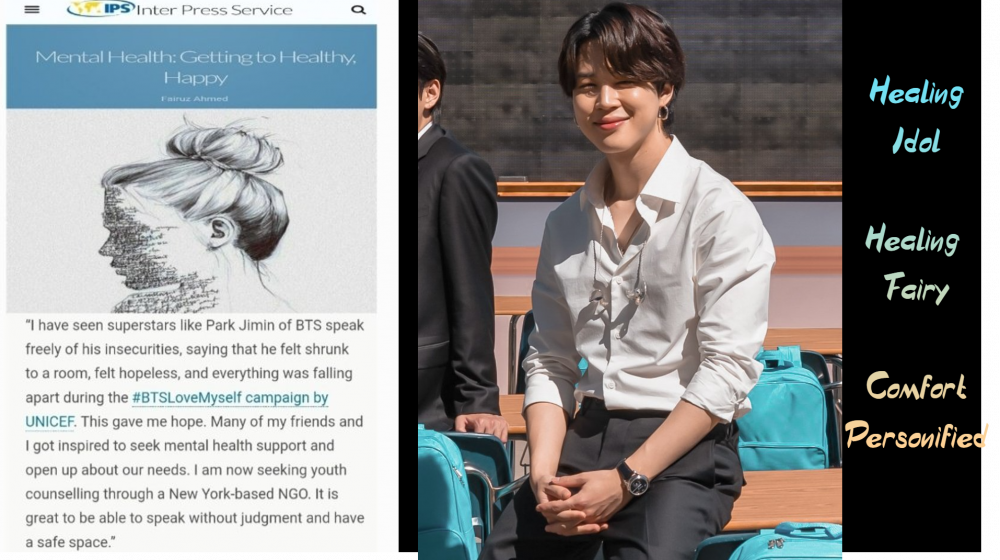 Jimin is not only known for his world-class dance moves and vocal skills but also for his words of comfort and encouragement for anyone who may be going through a rough time for various reasons. He has earned the title of the 'healing idol' and 'healing fairy' for this reason, and fans see him as the human representation of comfort. They say, 'If comfort was a person, it would be Park Jimin.'
Not only are his words a source of strength and comfort for disheartened individuals, but he also makes himself very relatable in any situation by sharing his own experiences. In this way, his listeners do not feel alone in their struggles. Moreover, considering his world-class superstar status, such sharing, especially when it is a topic that is stigmatized in society, makes it easier for other individuals experiencing the same problems to talk about their troubles and seek help, which can be all it takes for someone's life to get better. Therefore, it is right to say Jimin changes a lot of people's lives for the better just by being himself.
Inter Press Service (IPS) News, an international communication institution with a global news agency headquartered in Italy, recently mentioned Jimin in the same light in a publication about mental health. This institution amplifies the voices of civil societies and emerging economies on topics of human rights, the environment, and globalization.
In this piece, a teenager named Laibah Ahmed narrates that she and many of her friends sought therapy following Jimin's message as delivered during the #BTSLoveMyself campaign by UNICEF. His words brought her extraordinary comfort and hope as he was a celebrity speaking on matters of mental health. The publication further talks of the severe stigmatization of mental health matters in society, which makes people hesitant to come forward and admit to their struggles and seek help. However, Jimin's words helped a number of young people to overcome this and find support through a New-York based NGO.
Many fans agreed with Laibah after reading about her story, and they shared their personal experiences and thoughts on how Jimin is truly a source of comfort, strength, and encouragement for them as well.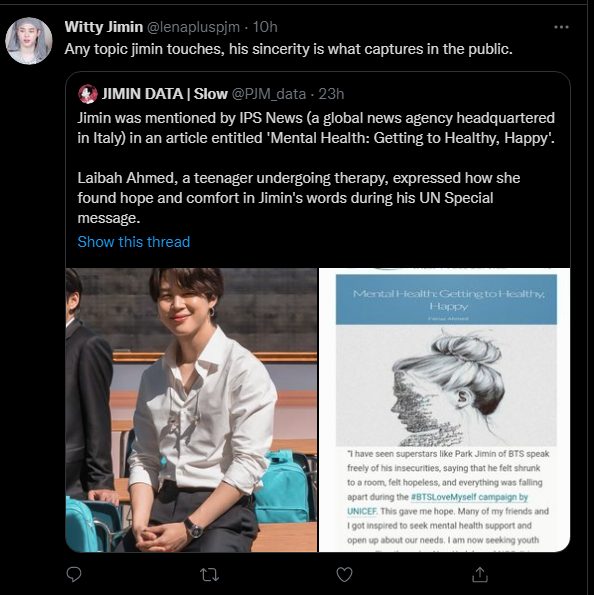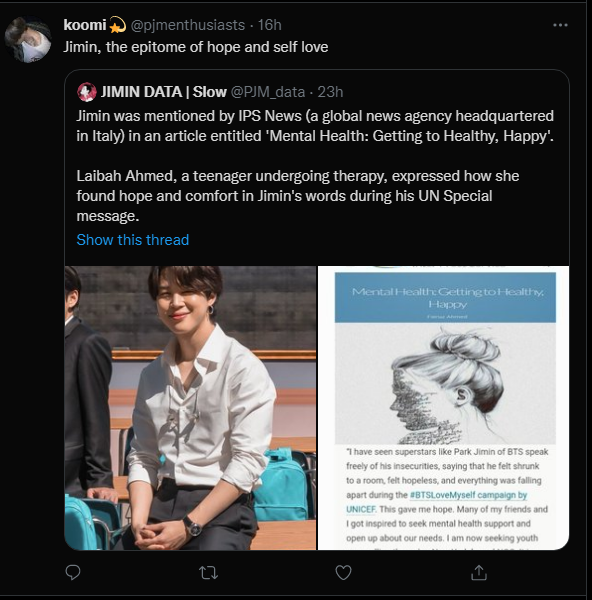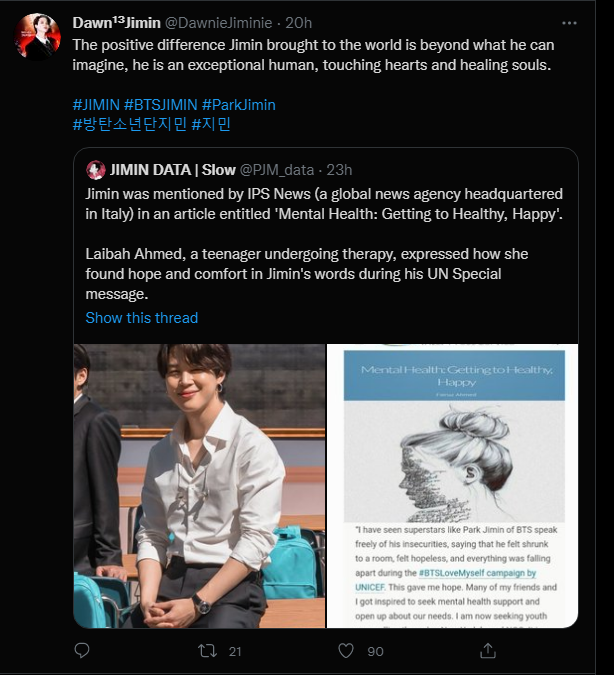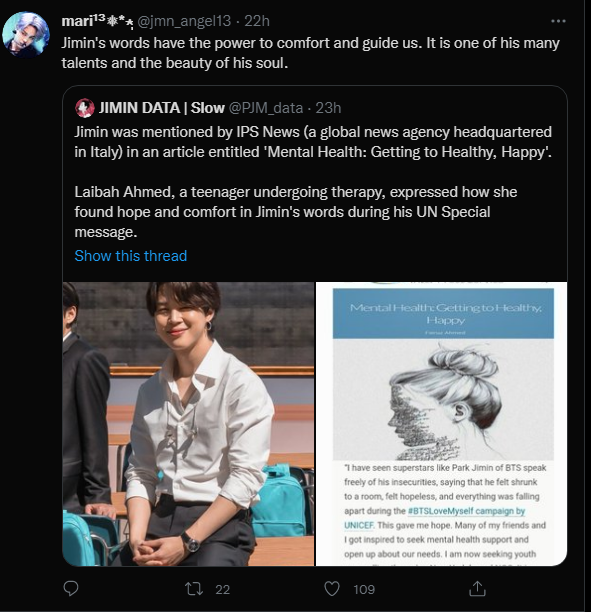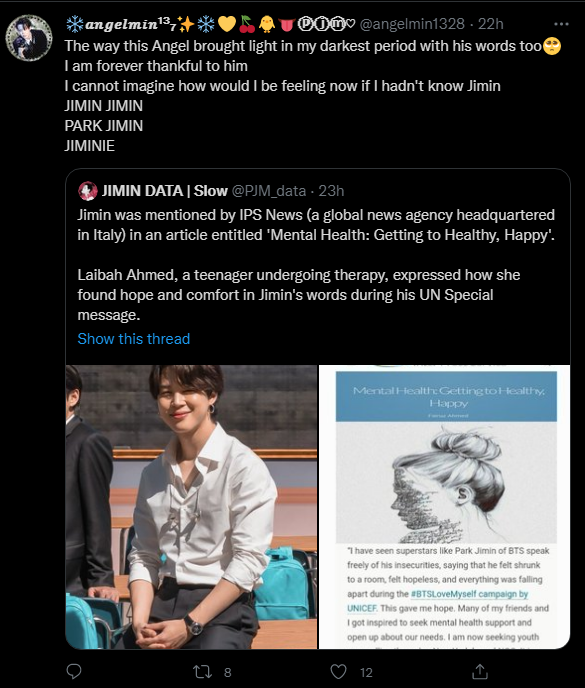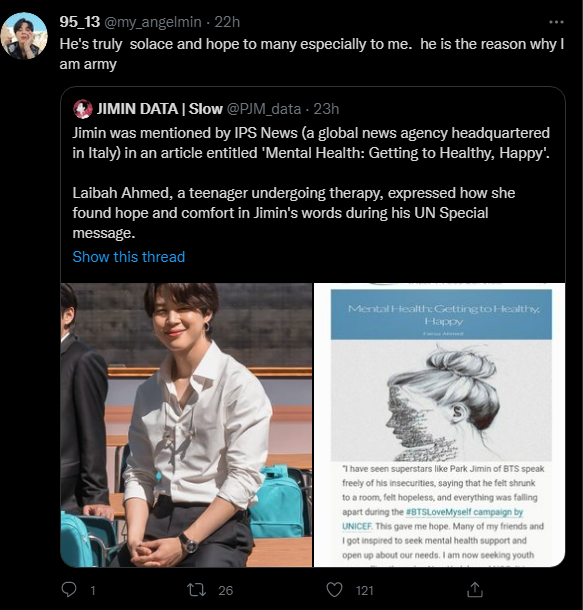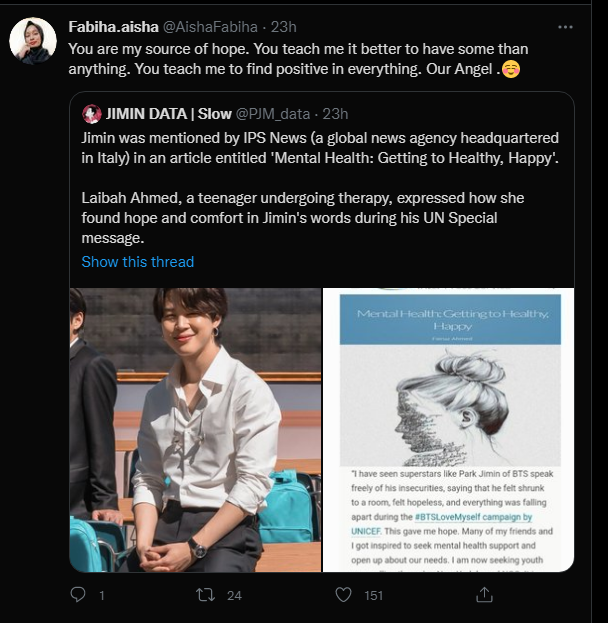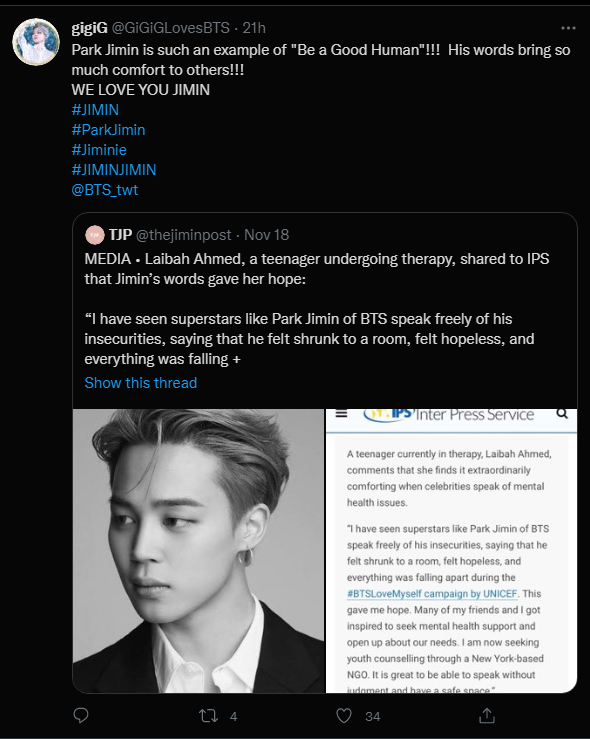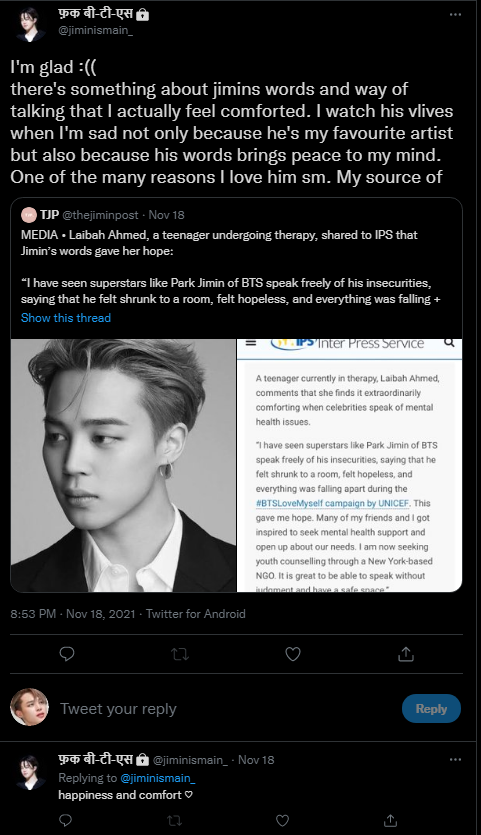 Jimin is extremely talented as an artist and a human being in terms of his ability to impact people's lives with his words and how he lives his own life. With all the problems the world faces, people like Jimin are exactly what society needs to help vulnerable individuals to cope with any challenges that they may be facing. The world would be a better place and more manageable even with all these issues if more people were like Jimin.