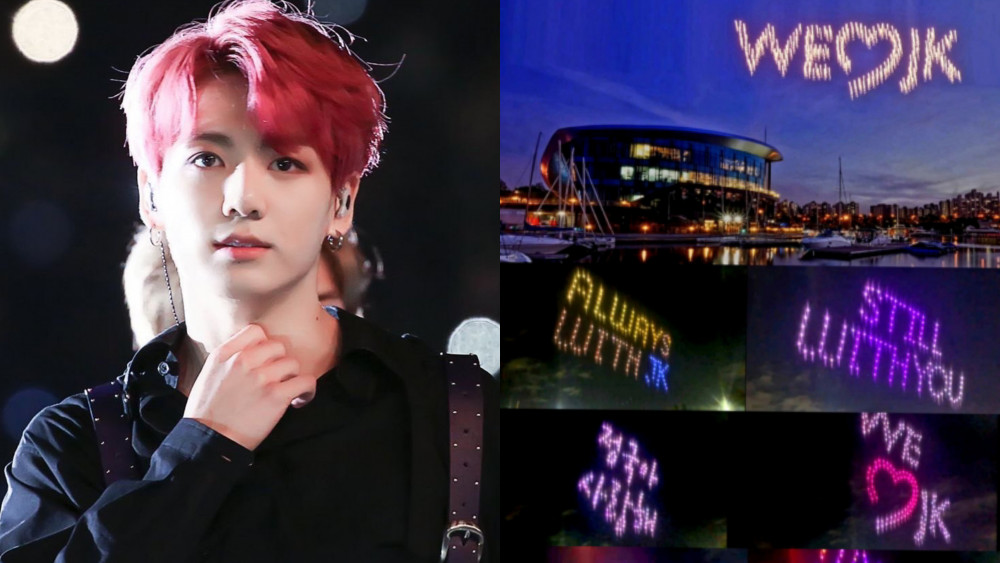 BTS Jungkook's birthday is celebrated by millions all over the globe like a worldwide festival is over, but the celebration is still ongoing. Jungkook has received uncountable birthday projects and donations/ charities on his birthday.
Chinese fanbase of Jungkook, 'Jungkook China,' which is known for their massive scaled and perfectly executed birthday projects, prepared a huge Light and Fire Show using drones along with many other birthday projects. The massive birthday project led by Jungkook China is:

▪︎World's 1st Pyrotechnic Birthday Event ▪︎Korea's 1st Spectacular Light & Fire Show involving 200+ customized drones

Beautiful fireworks and drone show were executed on 'Kookooro Day' (11th of November 2021 as it was postponed due to the weather condition) at Hangang Park, South Korea. The live stream and video of the project were shared on YouTube, and many fans visited the site to see the beautiful fireworks in real-time.

On the Korean Community 'theqoo', the post became a hot trending, and K-Netizens were seen praising the crazy scale and beautiful fireworks.
K-Netizens loved the choice of phrases and said that's what they wanted to say to Jungkook. Some even shared that it looks more beautiful than the introductory ceremony of the Tokyo Olympics.
• The scale is really cool The drone show is so pretty, the phrases are touching, the fireworks show is great too, thank you so much for the deep love for Jungkook ㅠㅠ I hope Jungkook sees it too
• Wow, better than the opening ceremony of the Tokyo Olympics.

• (Replying to the above comment) i'm not the only one who thought so haha
• Wow, what a scale, the Chinese fans are really hot. Happy birthday to Jungkook.
• Awesome scale!!! It's so pretty, cool, and touching itself, thank you for Jungkook China

• I envy people who saw it in real time ㅠ

• The fireworks display scale is amazing for 2 years in a row since the drone show, really
• The scale is really ㅜㅜㅠ It's cold, but those who went to see it are amazing