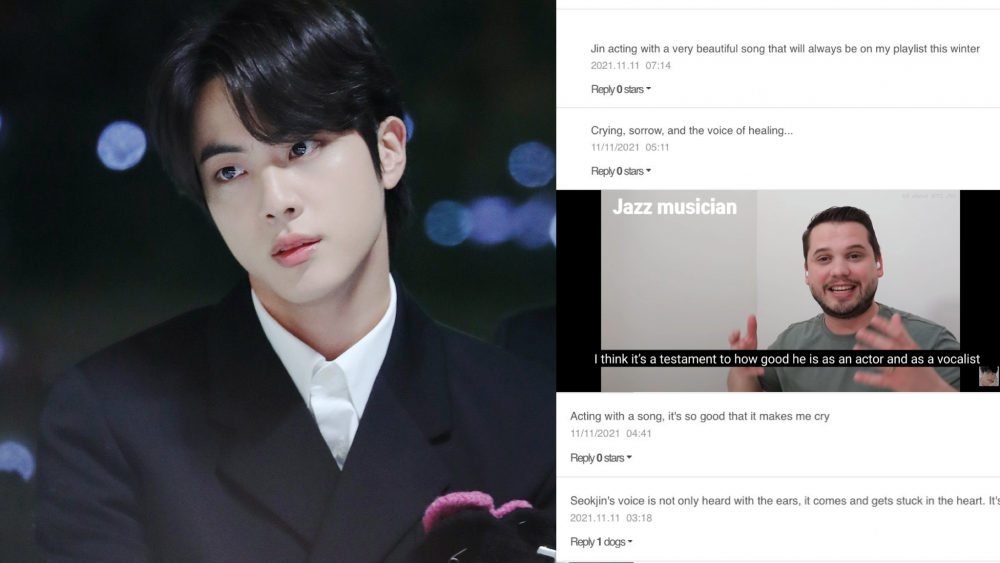 Despite having great technique and skills, one of the most important features required for a great vocalist is being able to convey various emotions through notes. One of the vocalists known for having an outstanding ability to showcase emotions in songs is BTS's Jin. After the release of his solo song "Yours", he once again got noticed for such a talent of him as a vocalist.
Knetz made lots of comments regarding such an ability of Jin. They were saying that his voice is able to make anyone cry, despite the situation or mood, just because of how powerful he showcases the emotions of the character the song is about. What's remarkable is that he got named someone who is like an "actor of singing". Such a word combination means that Jin creates narrative with his voice and portrays even the most subtle emotions as great as if he was acting.
A jazz musician who was watching the video of Jin singing "Yours" noticed such specificity in Jin's singing as well:
"Jin's emotions are so real in his singing that it really feels like he wrote the song himself. It doesn't sound just like some manufactured pop-song or something. It feels like something you'd write from your heart. I think it's a testament to how good he is as an actor and as a vocalist."
The jazz musician has also made a remark on how Jin creates an impression of a singer who does acting with his voice.
Previously, a known musical director from Chicago, James Osorio, who is also known as an "actor's music director" and worked on such musicals as "Little Women", "Into the Woods", "25th Annual Putnam County Spelling Bee", "Wizard of Oz", "Priscilla Queen of the Desert", "Me and My Girl", "A Chorus Line" and etc., while also making soloist piano concerts in Carnegie Hall, Ganz Hall, Harpa, has also praised Jin's vocal qualifications being very impressed by his belting. Remarkable that in one of his statements he said that, "People often forget that Jin majored in acting. He treats songs like monologues. He isn't just singing. He is telling a story through a song."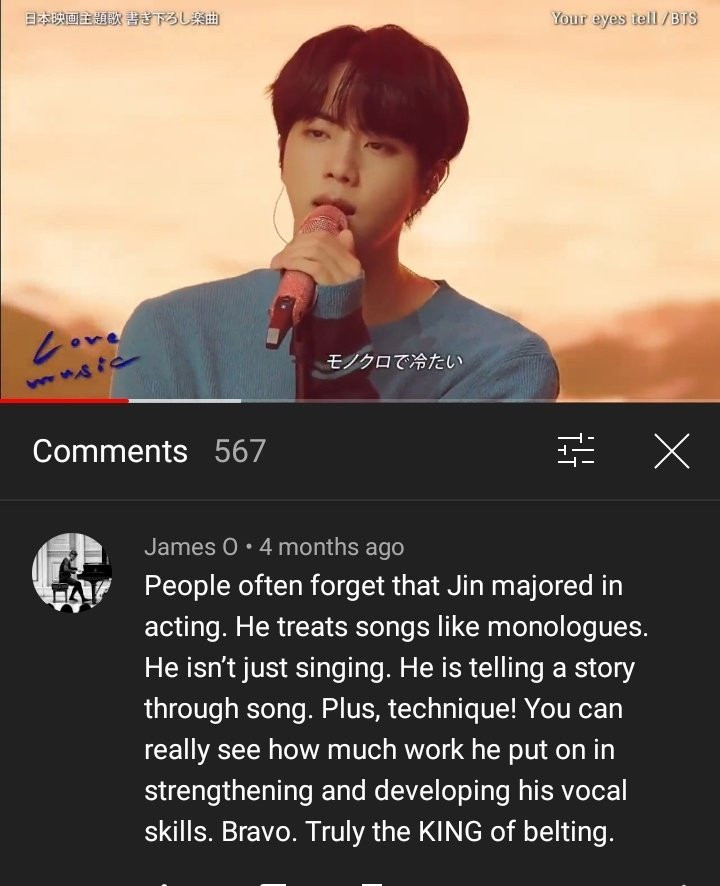 It really highlights the way Jin treats singing. A year ago a paper of him working on the vocal part of "Life goes on" and "Dis-ease" made a lot of fuss on Twitter as people got impressed over Jin giving special attention to every little detail and syllable, adding remarks on a mood and feeling every other line should be sung with. The hard work behind the performance really shows itself whenever Jin is singing. You will not be able to find a performance of Jin not giving the song his 100%, it can be heard how much feeling and a certain emotion he puts into every note. That is why often people feel the connection to Jin's verses and songs even if they don't understand what the lyrics are about. Jin breaks the language barrier with the way he turns into an actor who sings.
To understand the background of such Jin's specificity, let's dive into his past. Since his childhood, Jin was a theater kid, who attended a special acting academy and participated in some theater plays there. After turning 18, he became the first student from his acting academy to be accepted into the University that year and even got a special congratulation on that from the academy!
Wanting to become a professional actor and dedicate himself to that path, Jin applied to two best acting universities in the country - Seojong and Konkuk, he did so on an early admission which is known for being even more competitive than the ordinary way of enrolling. One university had a ratio of 157:1 and another 200:1 while accepting only 10 students every year. That is also the reason why many people try to get into these universities for years, due to wanting to get the best possible acting education. After passing a few exams that required demonstrating the flawless acting talent of various types, Jin got accepted to both universities and then decided to choose Konkuk! According to his words, people from the first floor of his academy were going up to the third floor to see who was the guy accepted to Konkuk and congratulate him. Even after becoming a worldwide superstar, Jin never thought of leaving the university and continuing studying as best as possible, because he truly liked this sphere and wanted to finish his transformation into a professional skilled actor. Right now, he is the only member of BTS who has a higher education!
Jin joined BTS expecting to become an actor-idol, but sadly the company could not make it happen to this day, but fans are patiently waiting and enjoying Jin being the actor of all BTS's video content such as music videos, special short films and etc.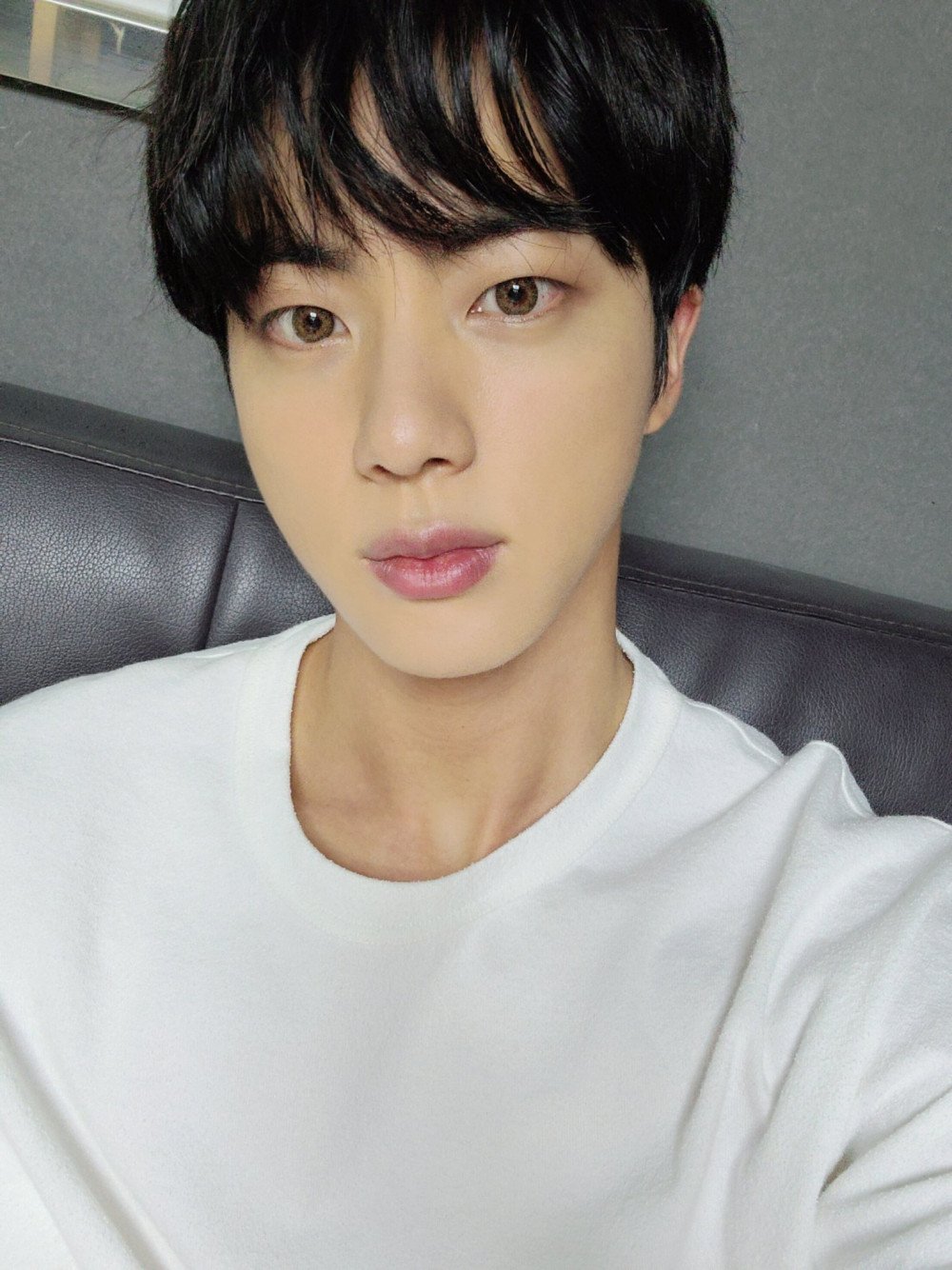 Since Jin had a natural talent for acting, he was really great at everything required from a person who does it on a professional level since the very beginning of being in BTS. One of those talents is acting vocalization. The difference in the way Jin speaks on stage or even in songs is very much noticeable compared to the rest of the members. His speech is professionally delivered, clear and trained because it was one of the subjects he learned in the acting academy and university. Jin's early day vocal coach confessed that he had a hard time learning how to switch from his acting voice to a singing one because it is a challenging thing to do. However, Jin successfully managed to do it, the traces of him being an actor at heart still have a place in the way he sings. For example, his singing pronunciation is very clear and easy to understand, he delivers every word clear and beautiful, pleasant to the listeners' ears.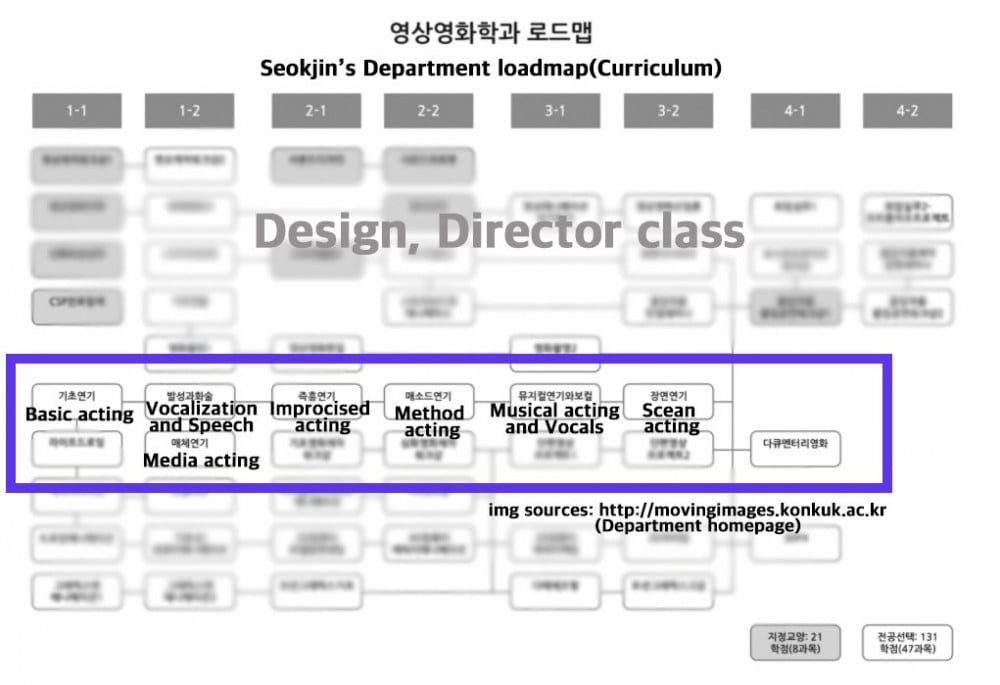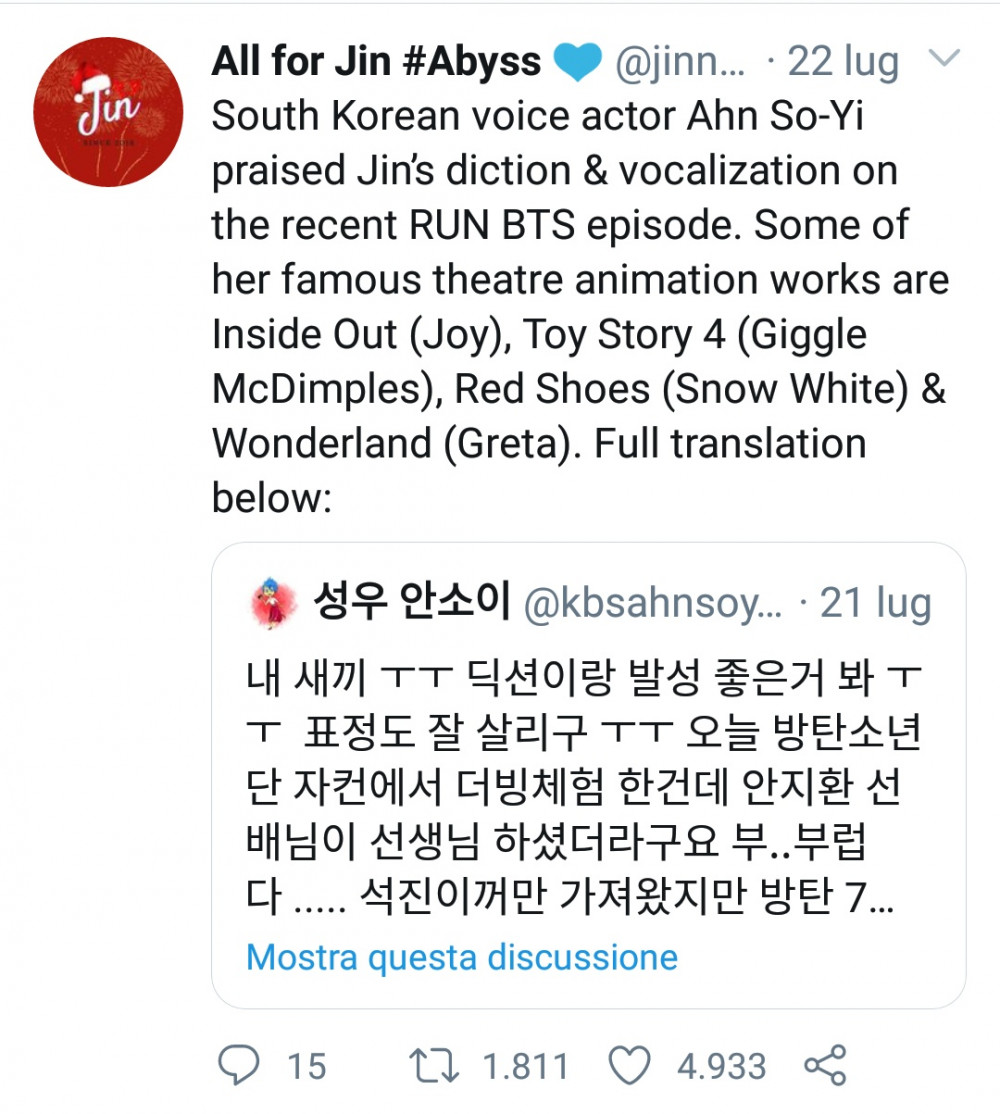 Another big evidence of Jin being a born actor showing even in his singing style is the way he delivers his singing performances. He always adjusts himself to a certain atmosphere for every song, shifting his stage presence into different moods very easily. You will never see Jin being into the same character in each song! While that, you can hear him building his singing verses like monologues, Jin tells a certain story to an audience, knowing how to use his acting talent to create a powerful impression on the audience and make them feel the song. It is very remarkable to have such control over the voice. That is one of the reasons he is the first idol to receive a standing ovation for his stage performance. It is also one of the reasons his vocals bring lots of attention to BTS because he stands out not only with vocal color and skills but also with a spectacular delivery of emotions. He is an idol and vocalist who goes viral even for his acting.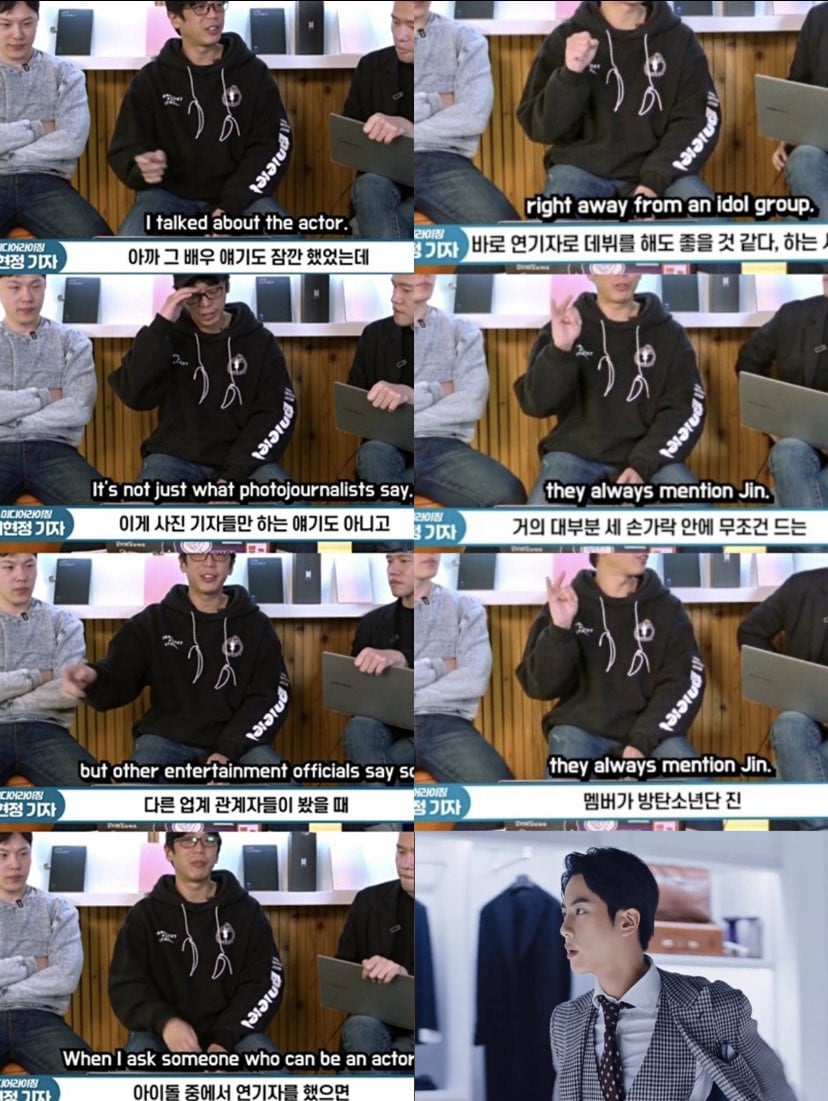 Have you ever noticed that Jin's solo stages are very theatrical?