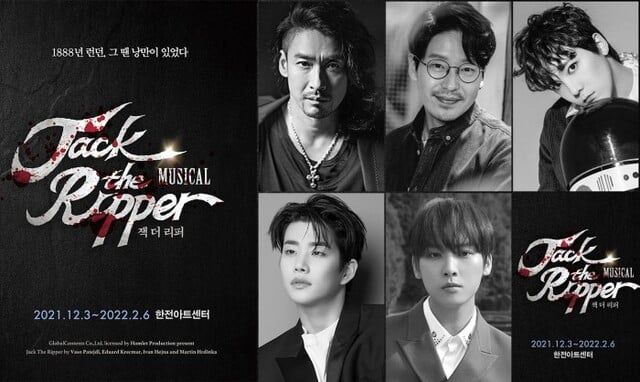 The musical "Jack the Ripper," which will return in December after a two-year hiatus, has announced its cast.
Premiering in 2009, 'Jack The Ripper' tells the story of a detective trying to solve a serial murder case targeting only prostitutes, a rare murderer, a surgeon involved in the murder, and a newspaper reporter on the hunt for news.
Although the original is a licensed musical based in the Czech Republic, the plot, song, and scene have been recreated to fit more than 90% of Korean emotions and received positive reviews for "perfection that surpasses the original." The musical will be directed by Shin Sung Woo, who started directing during its 10th-anniversary performance in 2019.
Uhm Ki Joon, FTISLAND's Lee Hong Ki, ASTRO's MJ, and SF9's Inseong will play the role of surgeon 'Daniel,' who has a strong personality but makes a dangerous deal with murderer Jack for the woman he loves.
Following Shin Sung Woo and Kim Pub Rae, Kang Tae Eul and Kim Paul, a member of the second team of 'Phantom Singer 3', Lavidence, will play the role of 'Jack,' a ruthless killer who fills London with fear. Lee Gun Myung will play the role of 'Anderson,' a homicide detective on the hunt for an unidentified killer.
Seo Beom Seok and Jang Dae Woong play the role of 'Monroe,' a special reporter who, along with Anderson, finds out the identity of the killer. Lindsay (Lim Min Ji), Kim Soo, and Jung Su Ji play the role of Gloria, a confident woman who meets and falls in love with Daniel.
The musical "Jack the Ripper" will be staged at KEPCO Art Center between December 3, 2021, and February 6, 2022.