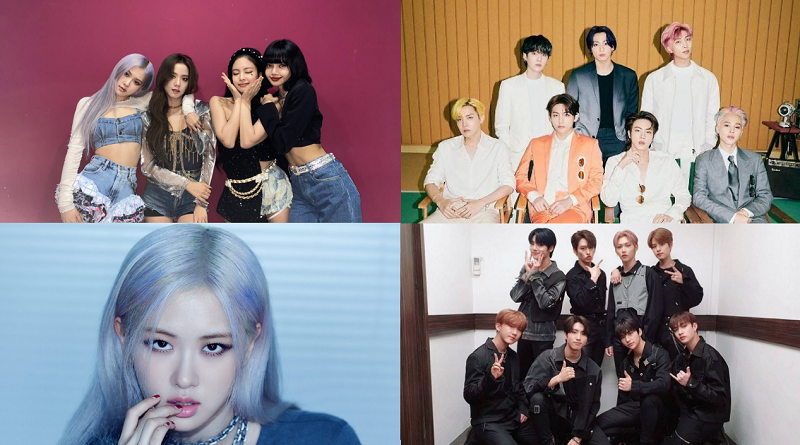 Blackpink, BTS, Rosé and Stray Kids ( Photos/Web)
The awards season in Brazil continues. After BTS won five awards at the Brazilian Nickelodeon Meus Premios Nick 2021 Awards, tonight (21), another award took place in Brazil. BreakTudo Awards 2021 was hosted by actor Bernardo Velasco and singer Gerf and was broadcast by the channels Telemilênio, TV Cidade, Yeeaah, and Box Brazil Play.
At the BreakTudo Awards 2021, BTS won another award, the International Hit for "Butter." Stray Kids was awarded a Brazilian award for the first time, receiving the K-pop Male Group award. IU won for the second consecutive year in the Global Artist category.
ROSÉ, who debuted this year as a soloist, won in the International New Artist category, a category in which she competed with big names like Olivia Rodrigo.
But the highlight of the BreakTudo Awards 2021 night went to the Blackpink group, which won in four categories: K-pop Girl Group, International Group, International Video of the Year for "Lovesick Girls," and Fandom International for "Blinks."
Check the winners:
Brazilian Female Artist
Anitta
Brazilian Male Artist
Pabllo Vittar
International Female Artist
Ariana Grande
International Male Artist
Harry Styles
International Artist On The Rise
Kim Loaiza
Brazilian Artist On The Rise
Gabi Martins
Latin Artist
Lali
Brazilian New Artist
João Gomes
Interntional New Artist
ROSÉ
Global Artist
IU
International Group
BlackPink
K-pop Female Group
Blackpink
Kpop Male Group
Stray Kids
Brazilian Best Collaboration
Artigo 157 – Biel, Tays Reis
International Best Collaboration
Stay – The Kid Laroi, Justin Bieber
International Hit
Hit Butter – BTS