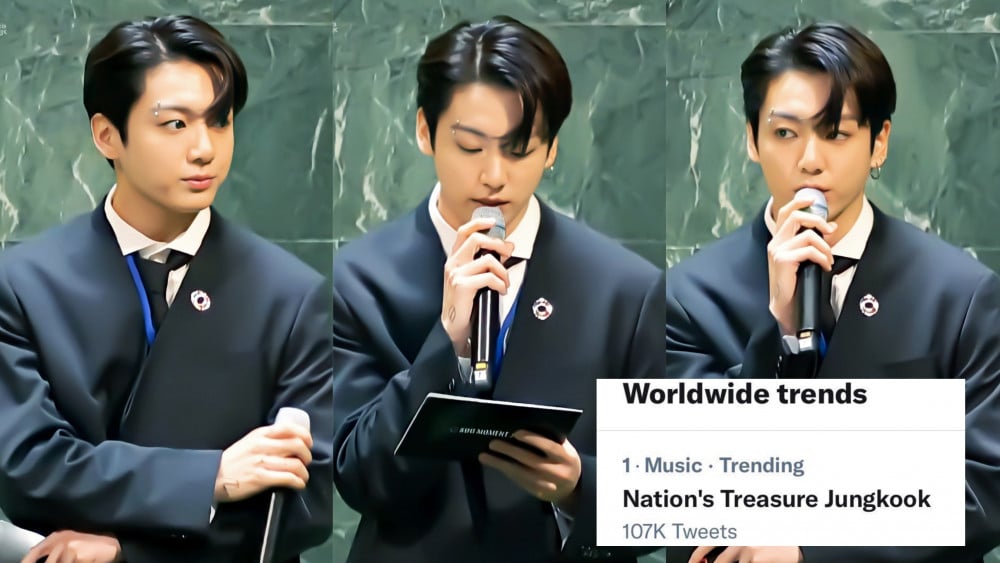 BTS attended 76th United Nations General Assembly today with President Moon Jae-In as Special Presidential Envoy.
Jungkook's powerful appearance and speech touched the hearts of everyone as 'NATION'S TREASURE JUNGKOOK' topped the Worldwide trends and trended at #1 Worldwide and #2 in South Korea.
Following his appearance at UNGA, Jungkook has surpassed 5.6 Million engagements and 1.1 Million mentions on Twitter.
Jungkook also ruled Facebook trends as multiple keywords for him became the HOT Search and trending topics on Facebook.

Jungkook Dance [18K], Jungkook UNGA [6.9K], Jungkook UN [130K], Jungkook speech [16K].

Jungkook delivered a powerful yet comforting speech at United Nations General Assembly in front of influential World Leaders. His calming yet confident voice became a source of comfort for many.
"I was saddened to hear that entrance exams and graduation ceremonies had to be cancelled, this are moments in life to celebrate, and missing out in them must've been upsetting. We were heart broken when we heard our concert tour was cancelled. We yearn for the moments we want to make complete."
"Of course sometimes the world seems stuck in place even if you are ready to go, sometimes it feels like you've lost your way. There was a time we felt the same way."

Jungkook used the United Nations Podium to perform and spread awareness. His stunning performance made everyone even prouder.
Actor Jungkook is a bonus with the Vocal King that he is. He showed excellent acting skills, facial expressions along with singing in the UNGA.
Fans couldn't get enough of Jungkook and even labeled him President Jeon Jungkook.
Jungkook's powerful and handsome visuals also became the talk of the town as he looked incredibly stunning and breath-taking even while giving the speech.
K-Netizens called Jungkook as the Crown Prince.
Is it the Crown Prince accepting the succession to the throne?
Jungkook's Permission to Dance introduction at the U.N Assembly's podium became a HOT topic on Korean Communities as the post started trending immediately. Korean Netizens are very proud of Jungkook and called him impressive and charismatic.