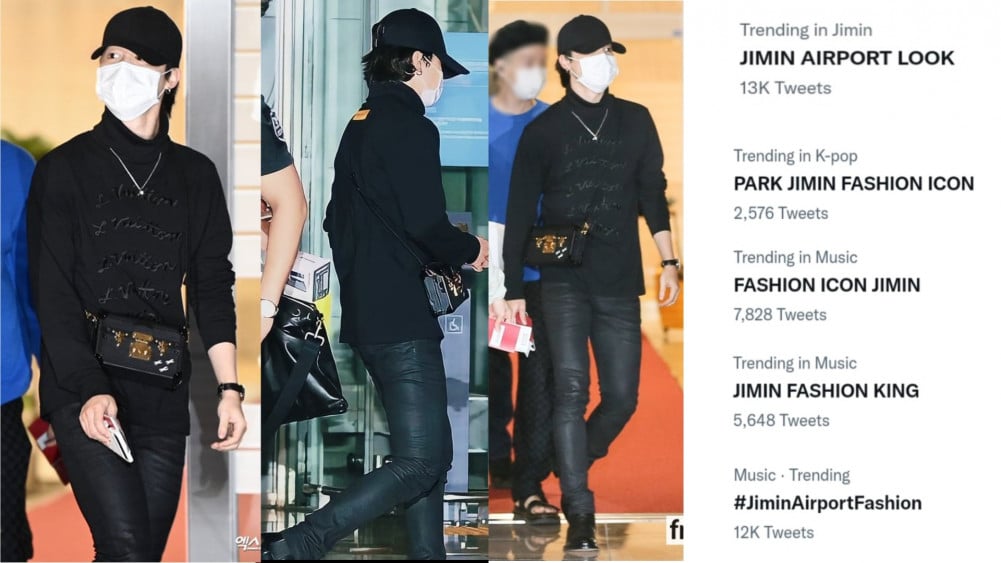 Jimin's airport fashion has always been a hot topic, not just among fans and netizens but also among media outlets. He mesmerizes with his outfit of choice along with how he carries it. His supermodel body with his long legs, tiny waist, and slim body frame, coupled with his clear and milky skin, all work together to create an impressionable look. Jimin is able to make any outfit work for him with how he blends everything and with his perfect body proportions, even though most people would not be able to pull off the same look. It is no wonder that he was named as a member of the #BoF Class of 2019, which consists of individuals who are deemed to shape the global fashion industry.
BTS's appearance at the Incheon airport for departure to the US for the UN General Assembly event, following their appointment as "special presidential envoy for future generations and culture" by South Korean President Moon Jae-in, was yet another instance where Jimin showed why he is such a highly influential individual in the fashion world.
In fact, fans had been anticipating his airport look for this event since the previous day, September 18. They kept reminiscing on previous airport fashion looks by Jimin that left them in awe. They shared some of these looks, which they considered their favorites, using the hashtags #JiminFashionKing and #JiminAirportFashion, which saw the tags enter Twitter trends along with the keyword JIMIN AIRPORT LOOK SOON.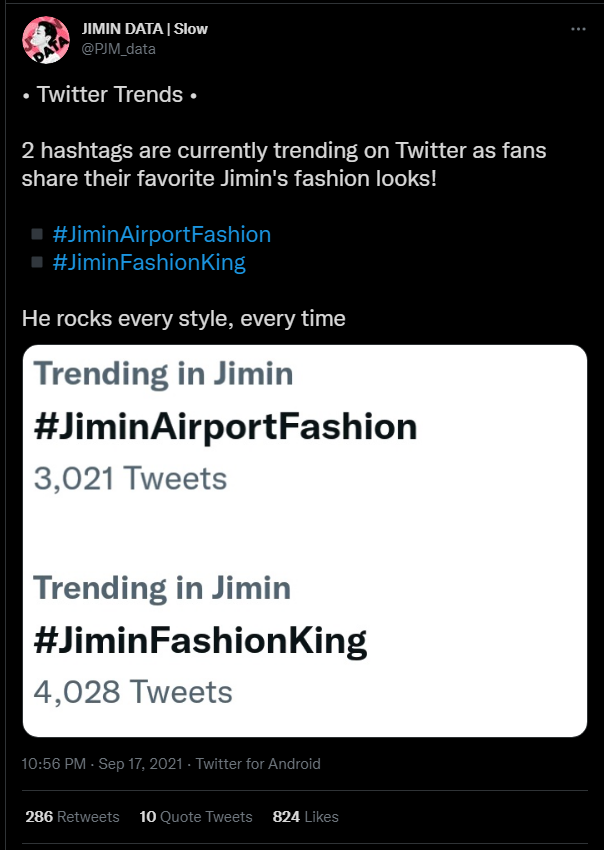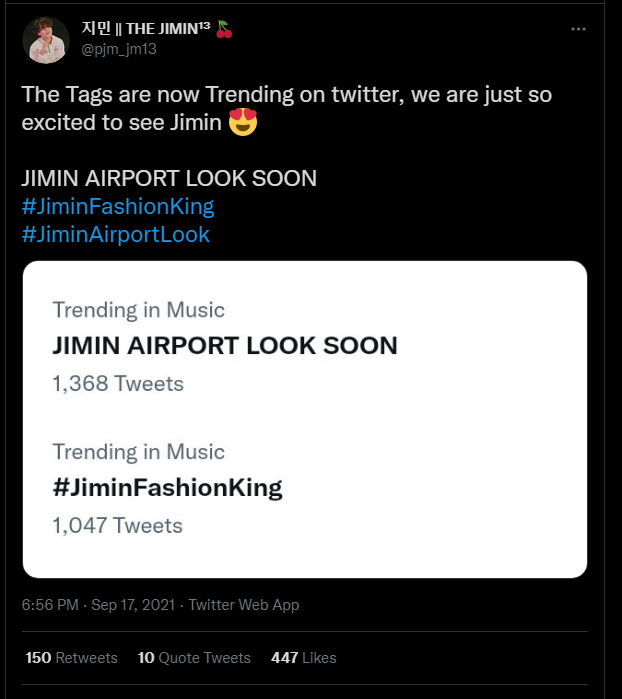 Finally, on September 19, the much-anticipated look came. Dressed in all black from head to toe, Jimin wore Louis Vuitton, including the accessories. He had skinny jeans with a loosely fitting polo neck and a cap. The entire look amounted to a cost of slightly over $70k in total.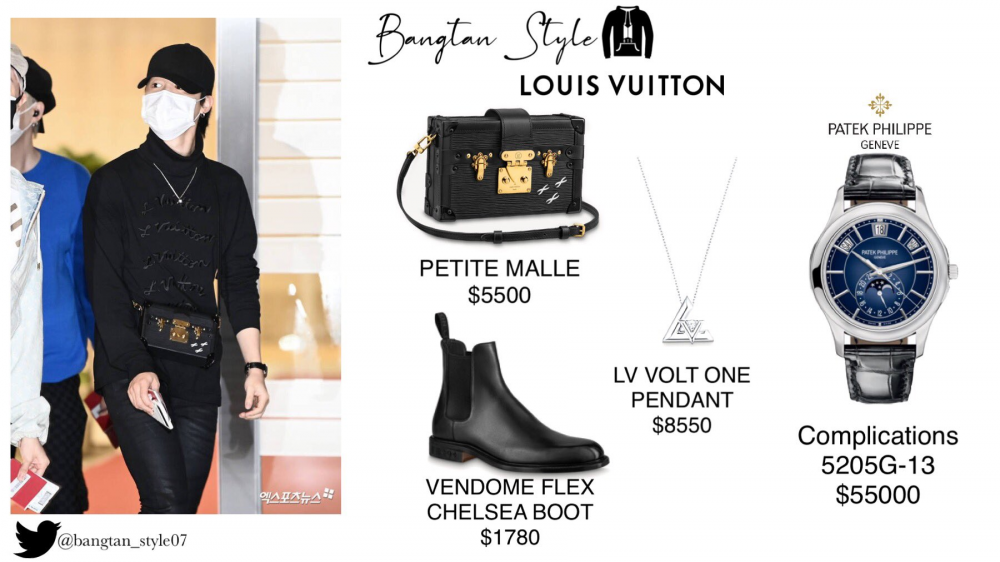 As expected, there were reactions from fans, the media, and Korean netizens all praising Jimin's look. Various media articles in South Korea were published, showing the photos they had taken at the airport. All articles gave Jimin heart-warming titles and descriptions while showing his powerful impact. They described everything from his entire look to his eyes, which everyone is known to fall in love with.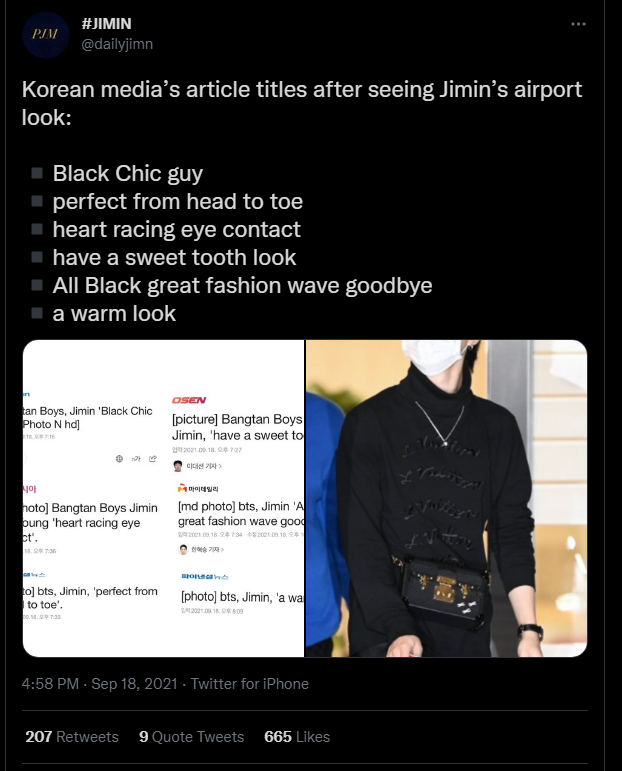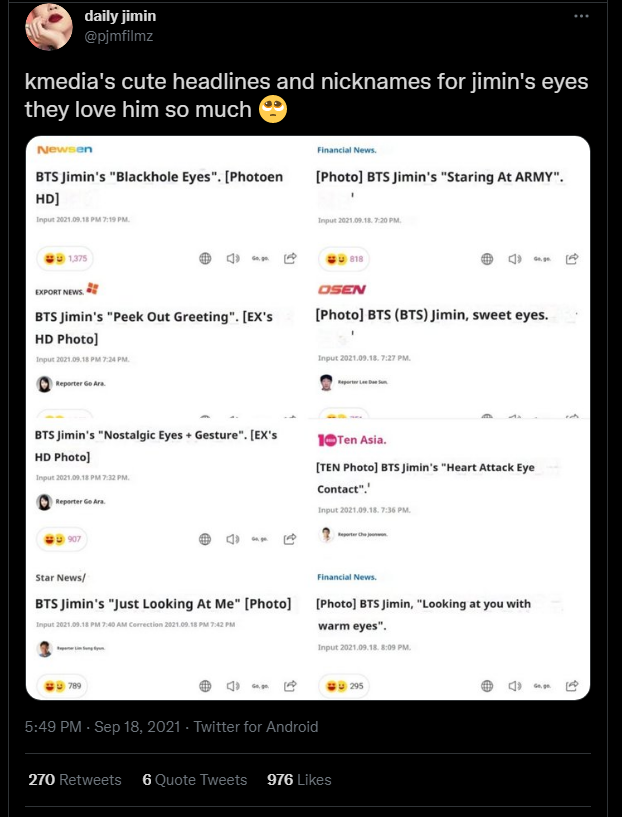 On the online community forum, theqoo, Korean netizens were also in love with the photos of Jimin that the media had released. They said, "Jimin is a model," "Jimin's god body style is good," and "Park Jimin's airport arrival is always a legend," among other praises.
On Twitter, Jimin quickly took over trends with the hashtag #JiminAirportFashion, and various keywords such as JIMIN AIRPORT LOOK, PARK JIMIN FASHION ICON, FASHION ICON JIMIN, and JIMIN FASHION KING. Fans could not contain their excitement in witnessing his airport fashion after such a long time, in addition to him posting photos on the group's official Twitter handle. They showed their admiration and praised his airport fashion while pointing out little details that they found captivating, such as his eyes, his hair, and his walk, among other things.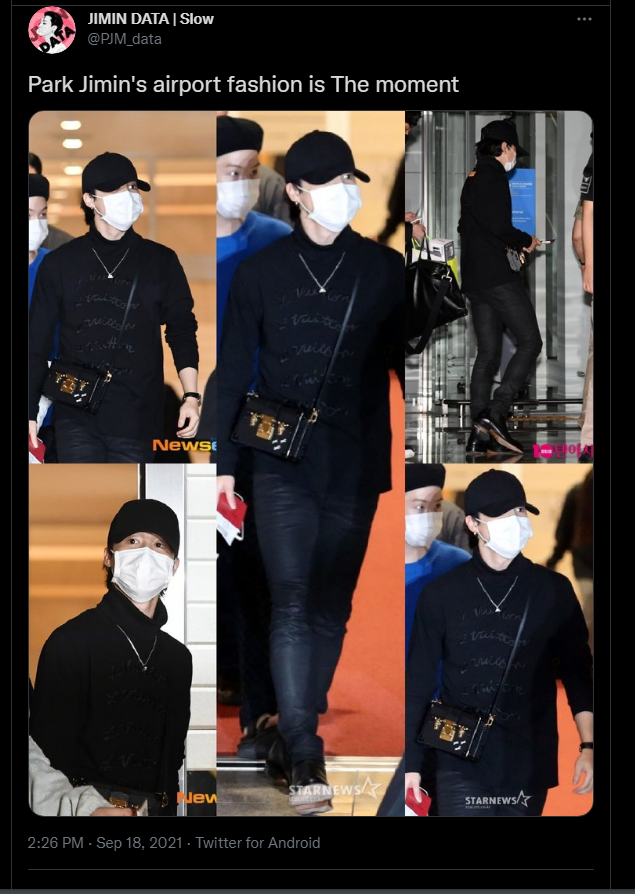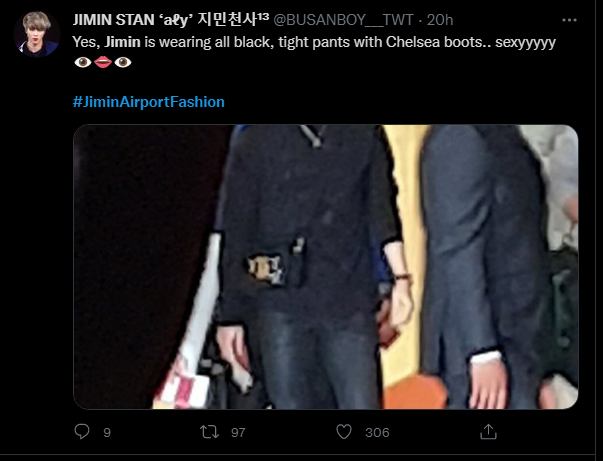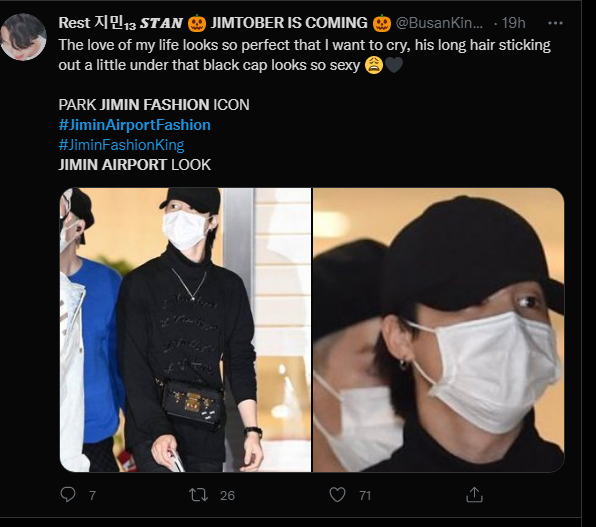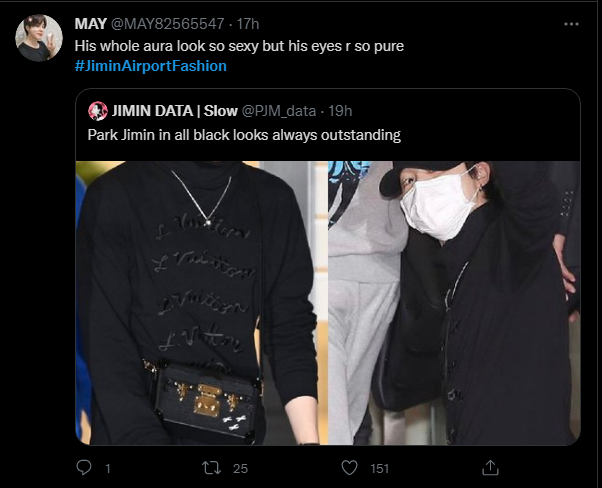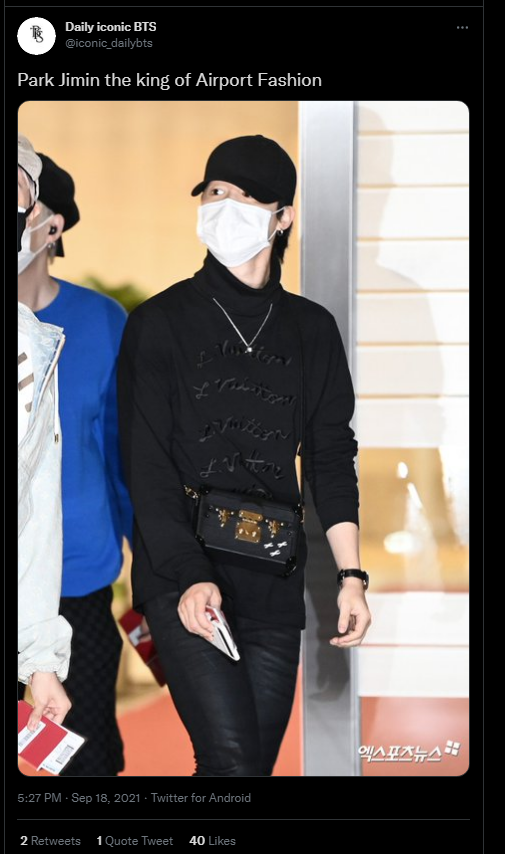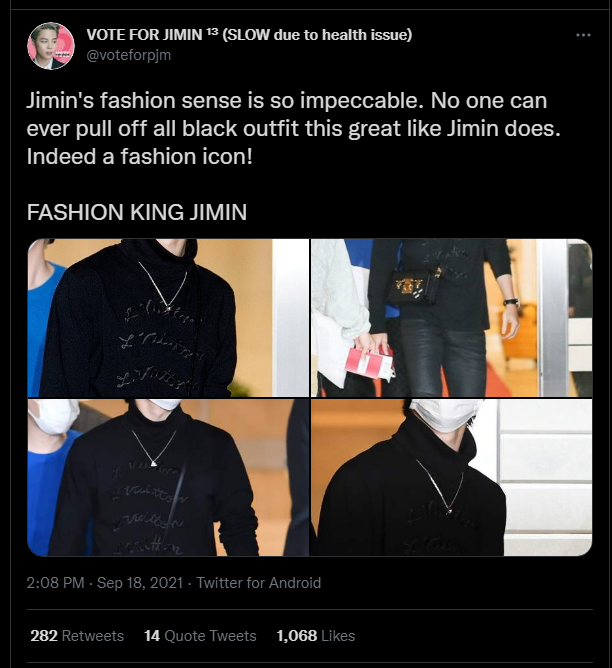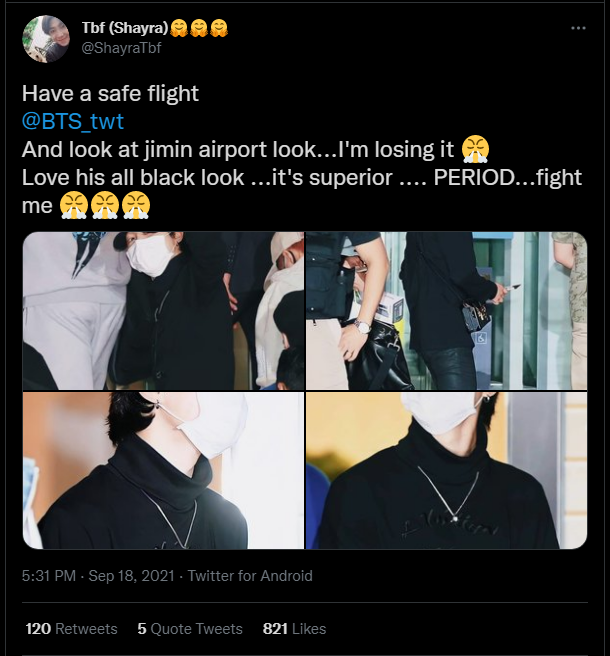 Previously, GQ magazine, a US men's fashion magazine, had named him as one of the best-dressed men of the week following one of his airport looks. Additionally, Her magazine named him one of the best Korean celebs of the week, also due to one of his fashion looks. A Spanish website also first named Jimin as an IT boy due to his massive influence in matters fashion, again using his airport looks.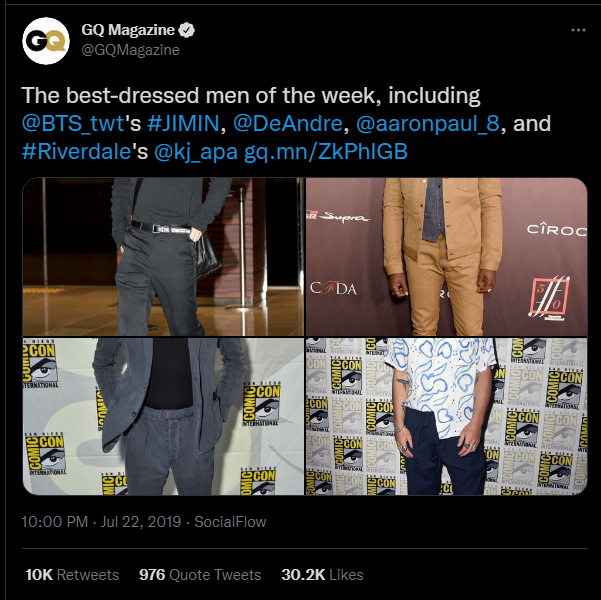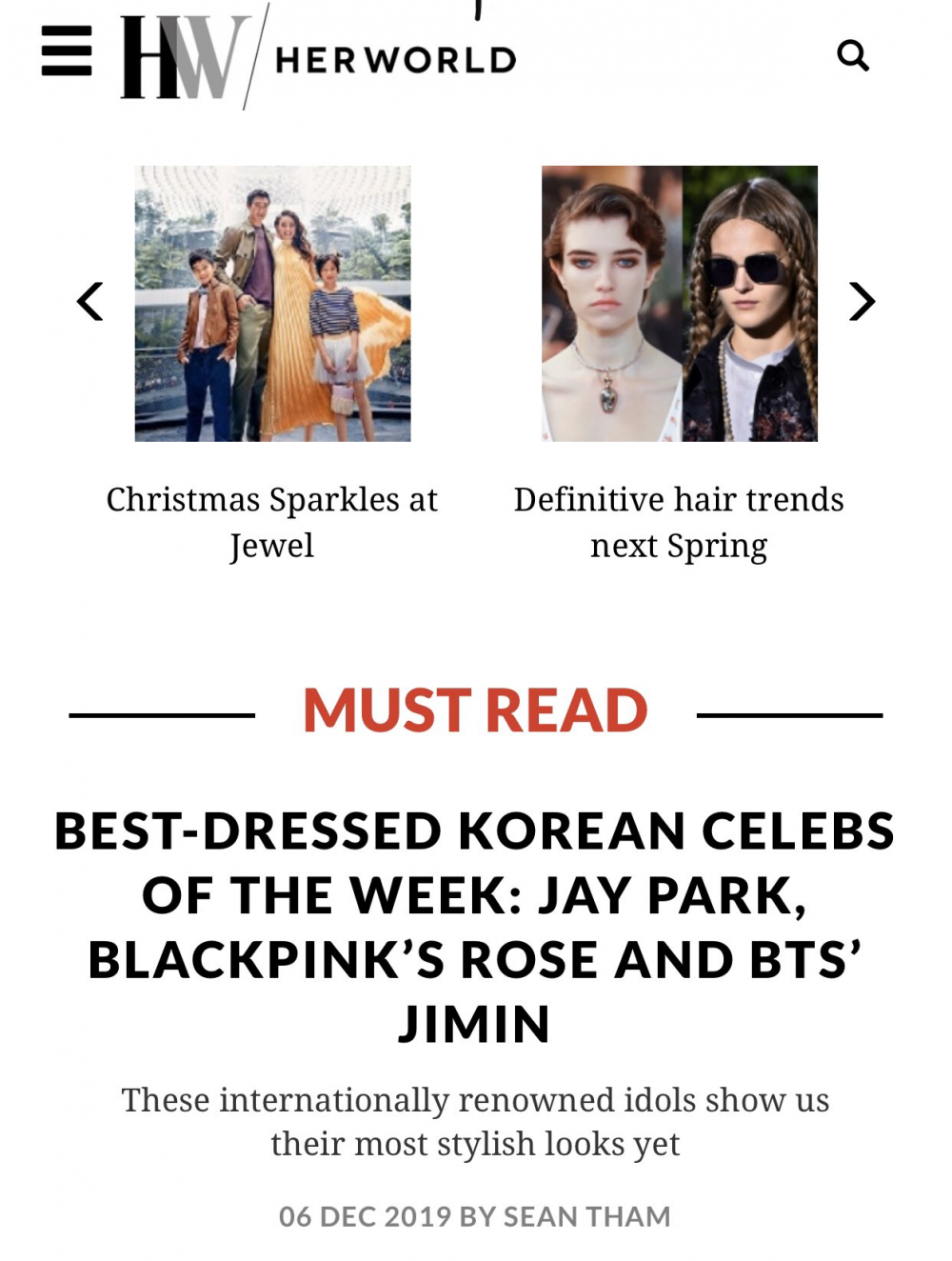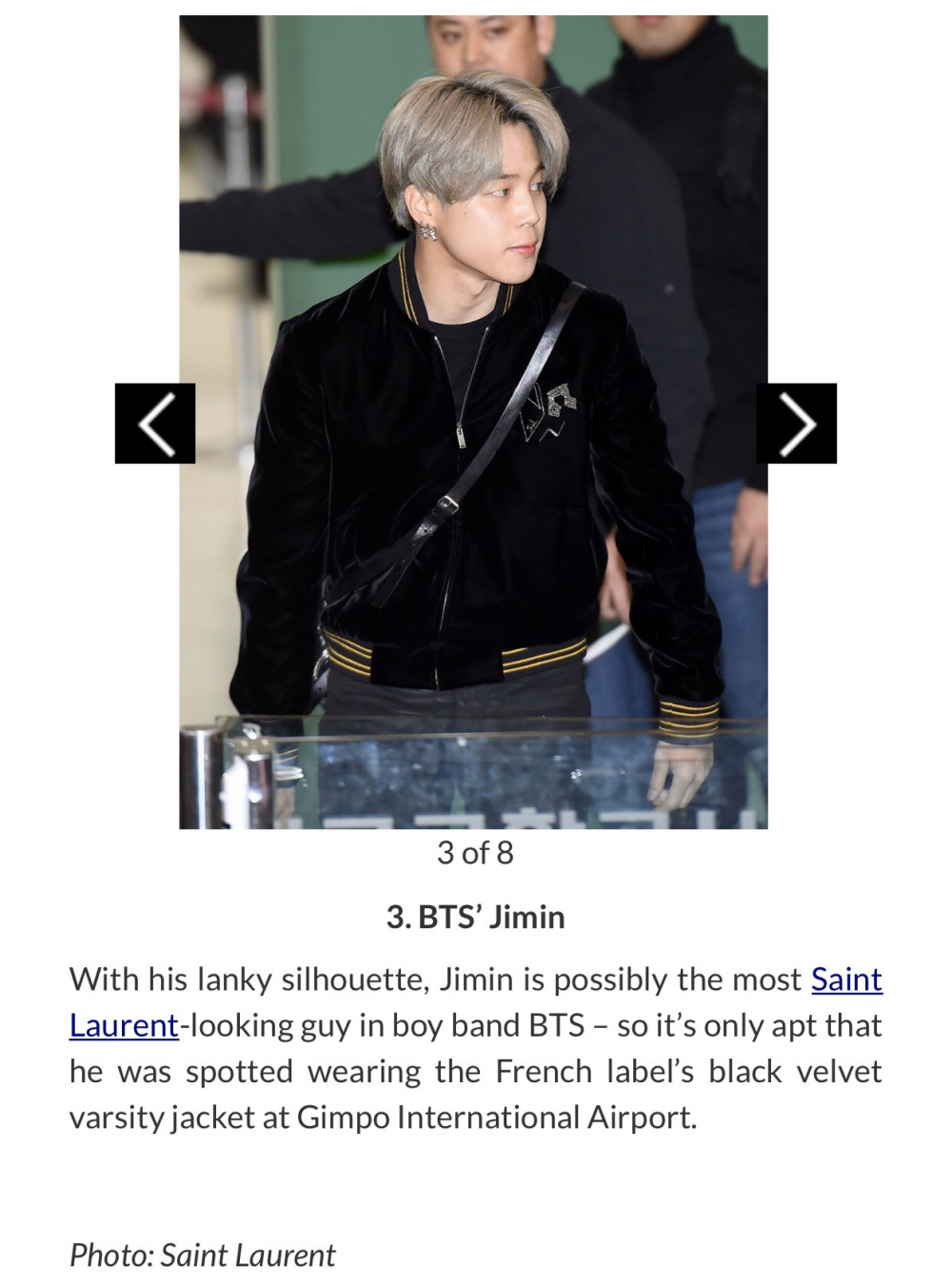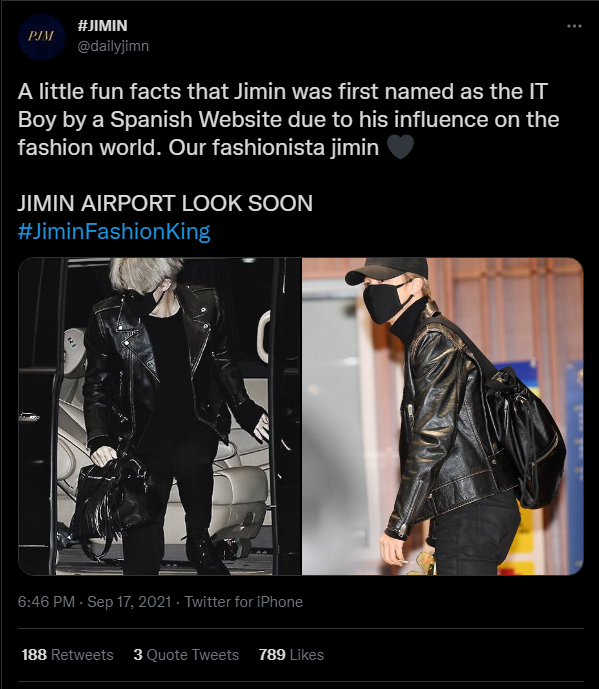 Jimin is a true fashion king and fashion icon, and fans are excited to see more of his airport fashion looks in the future.