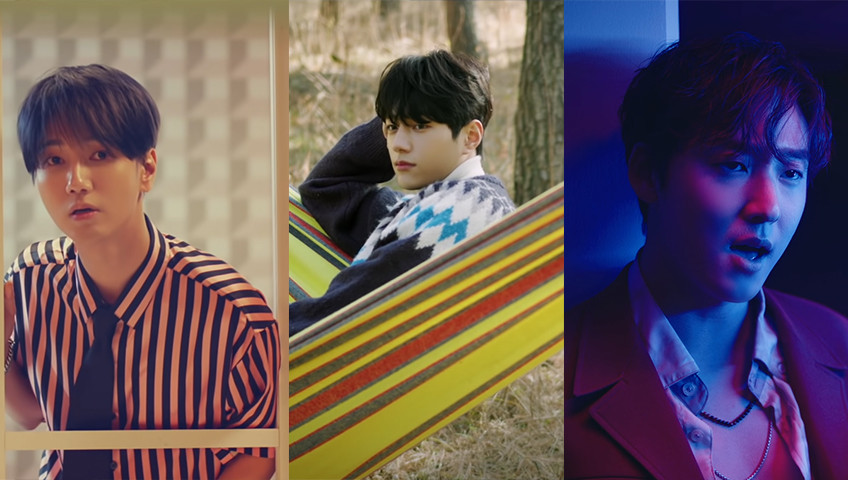 As an arena of artists, K-pop will always be dynamic in nature. With the rising tide of young blood entering the stage, it isn't much of a surprise that fans get to see newer sounds and concepts each debut.
While it's exciting to see works from recent idols, there is still a special kind of thrill when playlists are filled with the voices of Hallyu from the second generation. Luckily for long-time followers of this music scene, this year does not disappoint when it comes to dropping badly-needed comebacks from these OGs. We know you miss seeing them perform, so we rounded up 2021 releases of current and former members of boy bands that echo unfailing charisma!
Goodnight, Summer by Sungmin
Two years after his mini-album Orgel, the Super Junior member is back with an easy, groovy track driven by his trademark soulful vocals that never fail to captivate listeners. Quite sentimental but also rightfully refreshing, Good Night, Summer feels like a slow cool breeze blowing on that one summer day you've always wanted to go back to.
Mi Casa Su Casa by Heo Young Saeng
Can anyone even say no when Heo Young Saeng opens up his own little world? Posing an irresistible invitation, the SS501 main vocalist glides into the spotlight with a chill party vibe that will leave you unknowingly moving to the beat. Mi Casa Su Casa is the perfect jam for the night before vacation - and all the good things in it - come to an end.
Hate That by Key
From the lyrics to the video, Hate That exudes wistfulness from the get-go - grief over something that can no longer exist in this space and time. SHINee's master Key did not need any in-your-face kind of music to capture attention; with his SM sibling Taeyeon, he effectively puts into words what most people have left unspoken all along.
All In by Jay Park & pH-1 (prod. GroovyRoom)
Collaborating with rapper ph-1 and producer duo GroovyRoom, Korean hip-hop royalty Jay Park has all eyes and ears laser-focused on the unveiling of All In, a "labor of love" and the anthem for the League of Legends Champions Korea team of e-sports organization Gen.G.
Together by Kyuhyun
Showcasing melodies fitting for every season, the Super Junior maknae marks the time of the year with a bright and sunny song that is sure to lighten up even the dullest mood. With Together, Kyuhyun confirms yet again his superiority and versatility as an artist - acing not just ballads, but upbeat songs as well.
Got It by Kevin Woo
Baring honest takes on a toxic relationship, the former face of U-KISS officially makes a US debut with retro-R&B-Kpop-inspired Got It. Kevin Woo fully owns a more mature image with a sleek touch of sexy sound in this Shintaro Yasuda-produced single. There's just no escaping his magnetic charm.
Summer Night by Kim Kyu-jong
SS501's Kim Kyu-jong treats fans to a soothing love letter with Summer Night. In this melodic confession, he expresses unending appreciation and sweet assurance to everyone who stayed with him no matter how much time has passed.
Stay With Me by Hoya
Following his 2018 EP Shower, Hoya drops 1AM this 2021, which includes the heavily emotional track Stay With Me. Written, produced, and composed by himself, it is an all-out and desperate plea for someone not to leave. The ex-Infinite member seals the package with a melancholic piano paired with a voice that exudes both passion and hopelessness.
Advice by Taemin
Taemin just enlisted in military service earlier this year, and he made sure even his temporary exit was as stunning as his long-standing presence in the industry. SHINee maknae leaves on our doorstep the gift of Advice, a sophisticated and gripping audio-visual work of art.
Beautiful Night by Yesung
Kings of Hallyu Super Junior gave us one of K-pop's strongest vocal lines, and it's always a delight to have their swoon-worthy voices front and center, especially in their solo releases. Beautiful Night best exemplifies how music like city pop can have so much color with Yesung's chesty tone and stylish dynamics.
Hush by Kim Sung-kyu
Before taking a bow as a Woollim Entertainment artist, Infinite leader Kim Sung-kyu blesses our ears with ever-flavorful throwback synths elevated by his enthralling vocals. Both the song and music video of Hush work to build a comforting and nostalgic atmosphere, which makes it so easy for listeners to get hooked on it.

Memory by L
Before his short-term goodbye brought about by army enlistment, L a.k.a Kim Myungsoo makes certain that he doesn't leave fans empty-handed. Last February, the Infinite visual made his solo debut with Memory, a subtle but sweet piece that will make you look forward to his comeback even more.

Thank U by U-know
It's no secret that TVXQ's Yunho is an incredibly passionate performer and is deeply invested in the creative process, and the entirety of this material mirrors that. Thank U is not just the next earworm track you would play on speakers - it's an unapologetic cinematic experience that manifests why after all this time in the industry, he is here to stay.