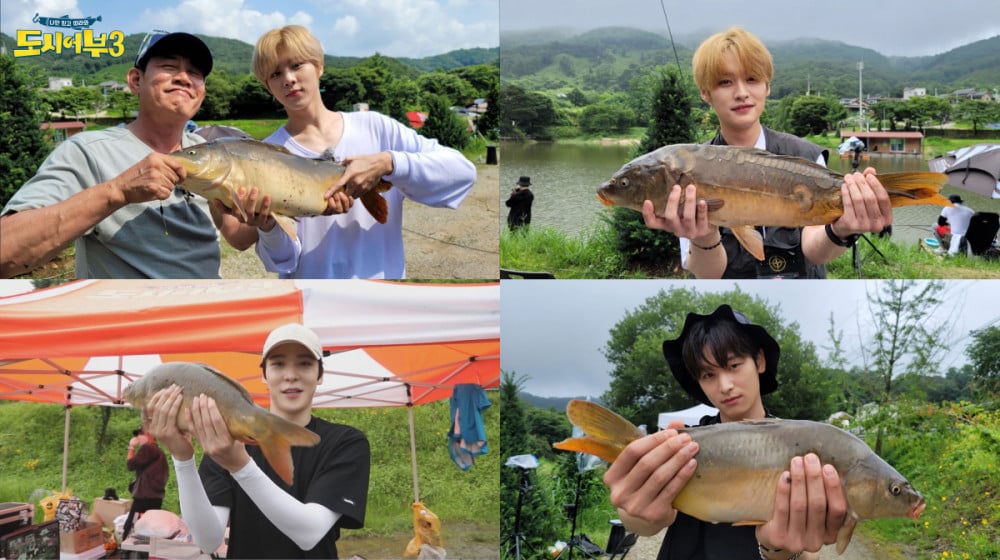 On August 12, Channel A's 'City Fisherman 3' featured: K-Pop idols meet freshwater fish special!
On this day, K-Pop idols including Block B's Jaehyo, Ha Sung Woon, Kim Woo Seok, AB6IX's Park Woo Jin, The Boyz's Jooyeon, Stray Kids's Lee Know, and ATEEZ's Yunho joined the cast members of 'City Fisherman' for a freshwater fishing competition!

While real-life neighbors Lee Soo Geun and Ha Sung Woon made everyone laugh with their bickering, idols like Jooyeon, Lee Know, and Yunho tried out freshwater fishing for the first time ever. Each of the fisherman took turns hooking up big, strong freshwater fish, bringing out their competitive sides!
[SPOILERS AHEAD]
At the end of the freshwater round so far, which K-Pop idol succeeded in hooking up the biggest (longest) fish?
In the first hour, actor Lee Tae Gon scored the first big fish of the day at 53 cm. Soon afterward, Stray Kids's Lee Know pulled up a huge fish at 56 cm, garnering the envy of his fellow idols!
After lunch, Park Woo Jin made the first catch of the afternoon, but his fish fell short of Lee Know's record at 51 cm. Then, toward the end of the episode, Kim Woo Seok nearly snapped his fishing rod in half while hooking up a 60 cm-long fish!
Meanwhile, the competitors' fishing battle continues on next week's 'City Fisherman 3', airing on August 19 at 10:30 PM KST! Check out some recap clips from this week's episode, below.