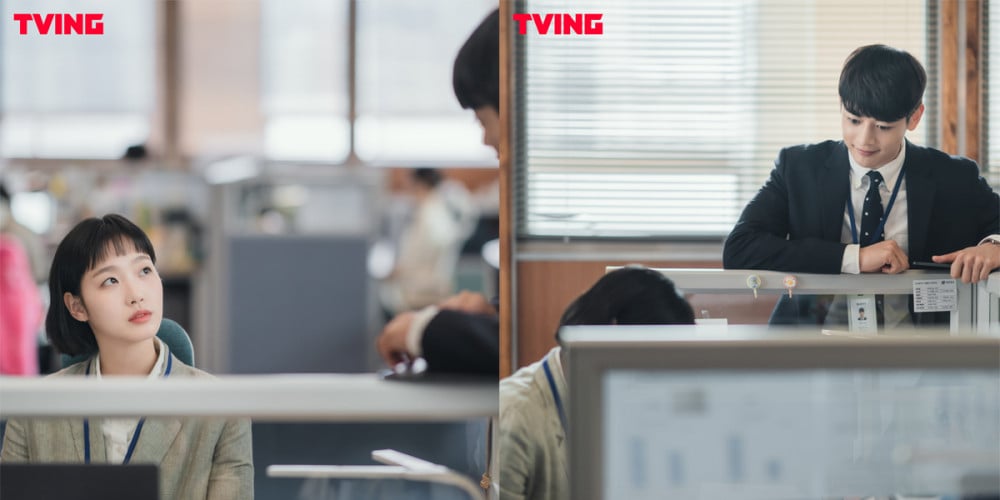 It seems like Kim Go Eun may be dealing with some butterflies at work in her upcoming TVING original drama series, 'Yumi's Cells'!
Ahead of its premiere via TVING and tvN on September 17, 'Yumi's Cells' has unveiled new still cuts of the rather puzzling chemistry between the story's heroine Yumi (Kim Go Eun) and her younger co-worker, Woo Gi (SHINee's Minho).
In one set of still cuts, Woo Gi approaches Yumi's desk at work with a soft smile, and Yumi reacts with a conflicted expression. In another set of stills, Yumi and Woo Gi seem to be caught up in the middle of an intimate conversation, making close eye contact.
Meanwhile, the upcoming TVING original series 'Yumi's Cells' tells the story of an ordinary office worker named Yumi, whose life completely lacks romance. However, things change as Yumi encounters three different men in her life. The story also takes on a unique format by being told from the perspectives of animated characters, the "cells" living inside Yumi's body.
The first ever animation x live drama collaboration project in Korean television, 'Yumi's Cells' is coming to TVING and tvN on September 17 at 10:50 PM KST!