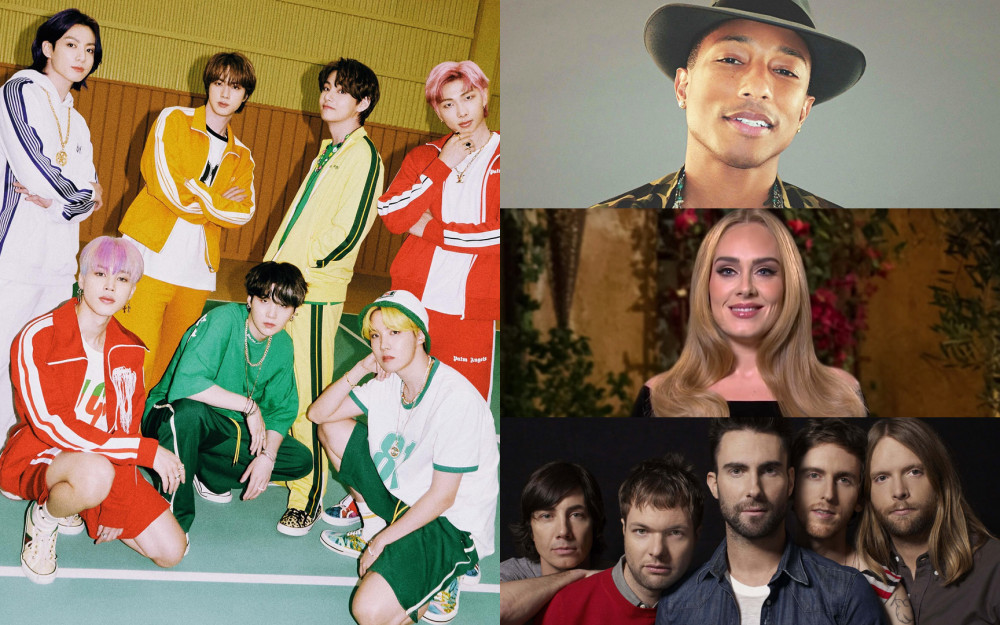 BTS's "Butter" spends another week as number 1 on Billboard HOT 100. The global boy group's hit song is now the longest leading hit of 2021, spending nine weeks at #1, beating out the eight-week record of Olivia Rodrigo's "Drivers License."

With this, BTS is just a week away from joining the list of an elite club of hit songs that topped the HOT 100 for ten weeks. Songs such as Adele's "Hello," Pharrell Williams' "Happy," and Drake's "In My Feelings" are some of the few songs that topped the HOT 100 for ten weeks.
From March 8, 2014, to May 14, 2014
November 14, 2015, to January 16, 2016


Many BTS fans are looking forward to seeing if BTS will be able to join the elite club and reign as number 1 for the tenth week.
BTS is currently on their ninth week as number 1 on Billboard's HOT 100. Here are some songs that spent nine weeks at #1 on the HOT 100:
Korean netizens commented, "I think these songs are all-time legends," "I can't believe BTS is almost breaking the records again," "I think BTS is amazing for being able to be on the Billboard charts for this long," "This doesn't seem so real because these songs were epic," "Wow, this is so amazing," "Omg all these songs are so good," and "I'm so proud that BTS's song will be among these legendary songs."