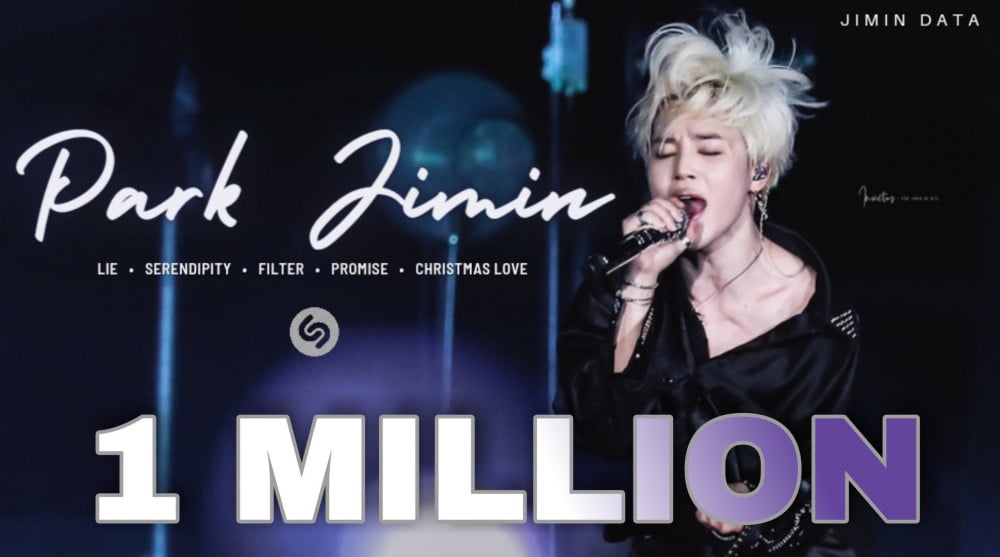 Just days after it was announced that BTS member Jimin had achieved 1 Billion streams across three platforms with his 5 audio solo tracks, he scores yet another milestone on Shazam.
Shazam is the world's largest discovery platform for music, movies, advertising, and television shows. It is used by over 600 million people. On the 20th of August, it was revealed that data from all of Jimin's solo tracks Promise (197,869), Christmas Love (11,955), Filter (301,875), FullLength and Intro Serendipity (330,853), and Lie (198,962) had attained 1 Million shazam's in total.
The importance of Shazam cannot be overlooked because through the platform, artists are able to appropriately plan their promotional, social media activities, and even live shows in order to find out what their audiences want and even better connect with them. Since this is the case, Jimin's achievement on the platform shows his potential for a booming solo music career when the chance shall present itself.
Fans were also thrilled with this great achievement and celebrated by trending 1 MILLION SHAZAM'S FOR JIMIN, CONGRATULATIONS JIMIN, and more to honor the occasion.
On the same day as well fans had much to celebrate, as Jimin set the record for the fastest Korean B-Side and Korean Male Solo Song with Filter, when it surpassed an outstanding 190 Million streams on Spotify. The track is on its way to 200 Million streams as the most-streamed Korean B-side since 2018 and the most-streamed solo track from the BTS Map Of The Soul 7 Album.
It should be remembered that Filter enjoyed the biggest debut ever for a track recorded by a Korean Soloist with 2.2 Million streams, and along with Friends, it was even nominated for the 10th GAON Chart Artist Of The Year and appeared on Genie's 2020's Top 5 most streamed B-Side track. Filter is also the most-streamed Korean Solo on Melon, having garnered 118 Million streams. It can be said then that the song achieved a triple crown on the three major Korean music streaming platforms (GAON, Genie, and Melon). Recently it demonstrated longevity on the BILLBOARD World Digital Song Sales Chart by ranking #12 for 73 weeks as the longest-charting Korean solo track from a group. On the 18th of August, "Friends" also achieved 116 Million streams on Spotify, while Filter bagged 67 Million streams on YouTube, remaining the most-streamed Korean solo track on the platform.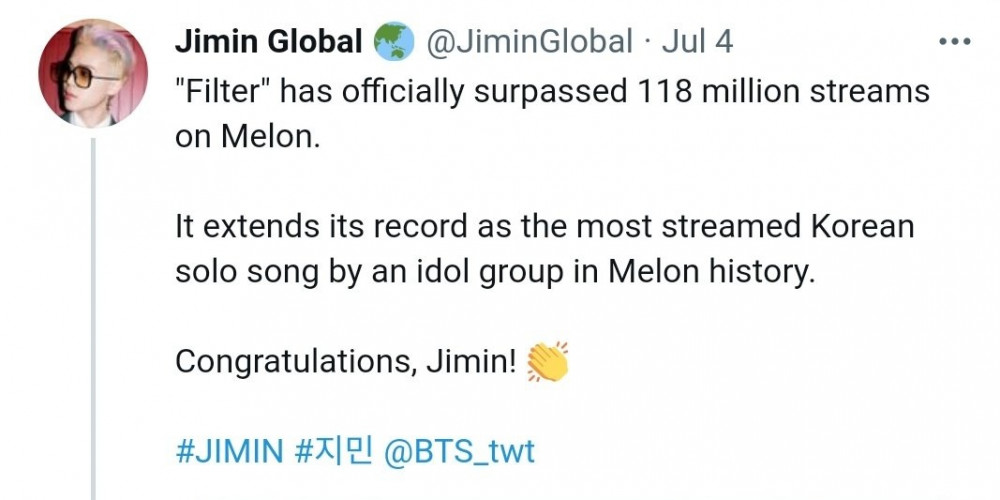 Park Jimin is indeed a record-breaker who shows great promise of success with his own music. Congratulations jimin!