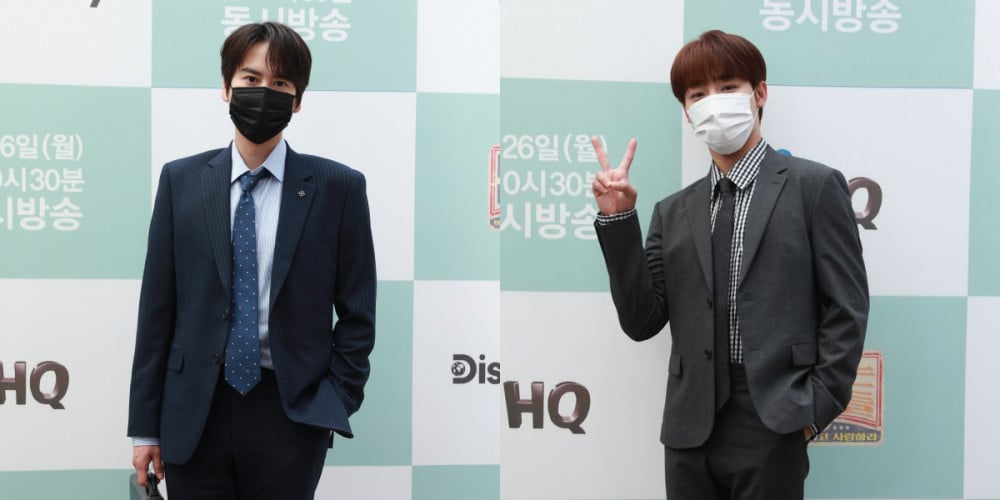 On July 20, Super Junior's Kyuhyun, comedian Jang Dong Min, and Golden Child's Jangjun attended the online press conference for the upcoming iHQ variety series, 'Guys Who Drink'!
Premiering this coming July 26 at 10:30 PM KST via iHQ, Olleh TV, Discovery Channel Korea, and more, 'Guys Who Drink' follows the cast members each week as they explore the best food dishes to pair with various types of alcohol. The program stars Kyuhyun, Jang Dong Min, Jangjun, as well as actor Lee Jong Hyuk.
During the online press conference on this day, the cast members in attendance were asked how often they drink alcohol alone, and how strong they were at holding their alcohol. Jang Dong Min revealed that he does not enjoy drinking alone, and "couldn't even finish one can of beer by myself." However, when drinking out with friends, the comedian stated that he does not care how many bottles he drinks.
Kyuhyun, on the other hand, commented, "I didn't enjoy drinking alone before, but because of COVID-19 I got into it. Some time ago, I decided to go on a vacation by myself. I drank about 3 bottles [of soju]."
The group's maknae cast member, Jangjun, honestly confessed on this day, "This is my first time ever since debut on a variety program where we drink alcohol. Because I was afraid, I went and had some hangover cure medicine made from a Korean medicine clinic." Jangjun also added on, "I have no opportunities to drink on my own, because I live in a dorm. But I thought that I would put up well with the older cast members, because my liver is the healthiest after all. It turned out, it's the liver of a baby still. My limit is about 1 bottle [of soju]."

What do you think of the interesting program format of 'Guys Who Drink'?