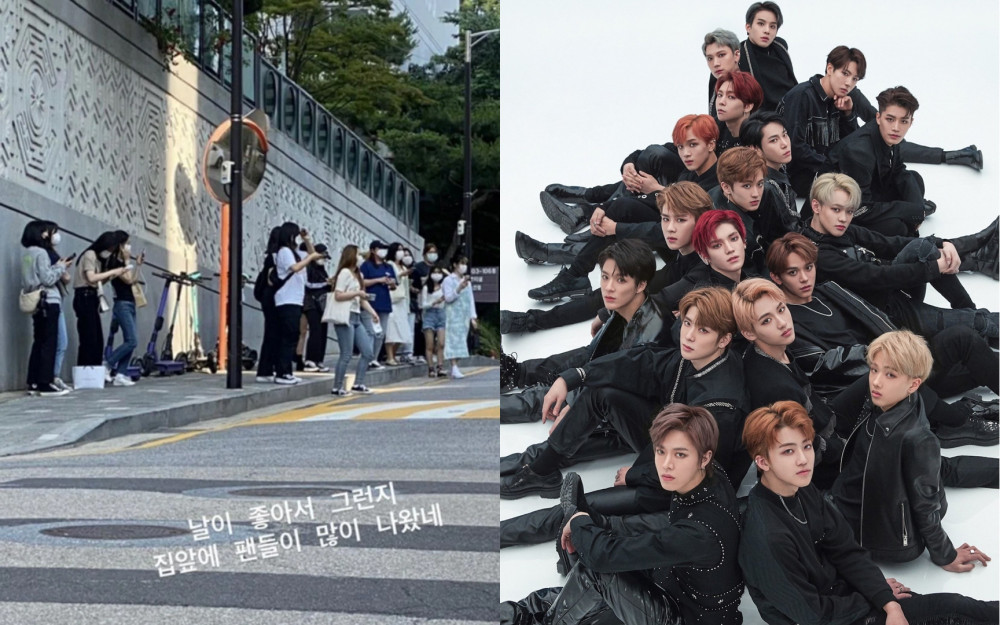 With the K-pop industry booming over the last few years, there has also been a growing issue of 'Sasaeng' fans - Obsessive fans who stalk or commit other behaviors constituting an invasion of privacy of these K-pop idols.
There have been unbelievable stories about these Sasaeng fans who have crossed the line and have made these idol group members feel more than just uncomfortable. With the growing issue, there have been more and more agencies that are taking legal action against these kinds of fans. SM Entertainment recently released a statement saying the company would no longer tolerate these actions and stated they would seek strict legal action and punishment.
Nevertheless, the issue is not easily resolved as one netizen shared a photo they took in front of the apartment complex known to be NCT's dorms.
In the photo, there was a quite large group of fans gathered in front of the group's dorms. The netizen who took the photo wrote, "It seems there are a lot of fans in front of their home because the weather is nice."
The netizens who created the online community post explained that there were some Sasaeng fans who were following the group on kickboards.
After seeing this photo, there were numerous netizens who were angered as they criticized these unreasonable actions. They commented, "I can't believe they still do that these days," "I really wish they are all put into jail, lol," "Wow they are so crazy," "I haven't seen a fandom that stands outside the idol group's dorms like that in a while," "Wow, so many people are gathered in front of their home," "Even the idol members asked them to stop stalking them, geez," "They need to stop," "I really don't know what they get out of standing out there," "They give a bad reputation to regular fans, ugh," "Please don't slander fans, these fans are Sasaengs and we agree they need to disappear," and "These people are pathetic."