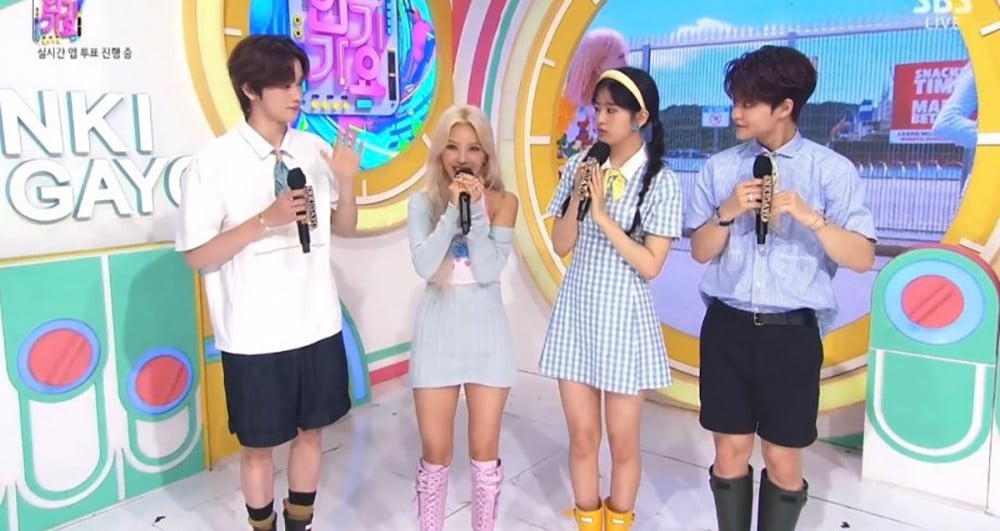 Fans found (G)I-DLE leader Soyeon's cute solo comeback interview on the July 11 broadcast of SBS's 'Inkigayo' too cute to handle!
During her 'Inkigayo' comeback interview, the (G)I-DLE leader found herself surrounded by a trio of very tall MCs: IZ*ONE's Ahn Yu Jin (170 cm), TREASURE's Jihoon (178 cm), and NCT's Sungchan (185 cm)!
As many of you know, (G)I-DLE's adorable "tiny" leader Soyeon is known by fans for her short height, at 157 cm. She's also the shortest in her own team!
What fans found even cuter was that Soyeon was also the most sunbae idol present during the interview, as well as the oldest. Some commented, "Sigh... so cute...", "Somehow I thought Soyeon was tall... but she wasn't!", "She's so close to the ground kekekekeke", "And the only other girl there is Yu Jin, she's basically as tall as most male idols kekekeke", "Soyeon is so cute and small and those hoobae idols are so big and cute kekekeke", and more.

Catch a recap of Soyeon's solo comeback interview from this weekend's 'Inkigayo', below!