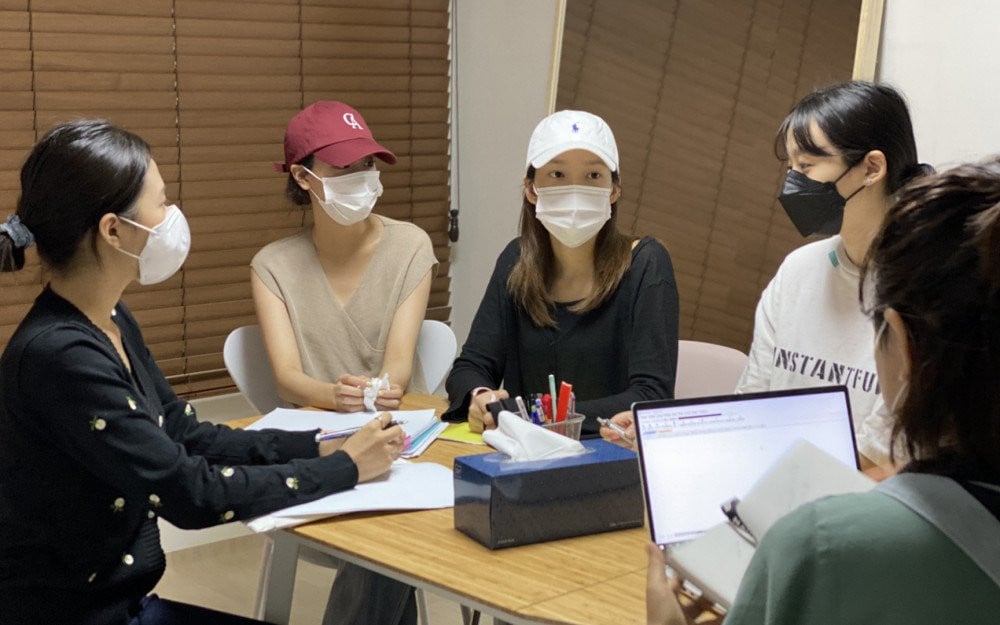 April continued their tell-all interview responding to former member Hyunjoo's bullying allegations.

On June 21, Naeun, Chaewon, Yena, and Jinsol sat down for an interview with Sports Kyunghyang News, and they denied the bullying allegations and revealed they were undergoing therapy for psychological pain. After their interview, netizens found inconsistencies in their statements, and Hyunjoo also posted her own response. Now, part 2 of April's interview has been released.

The April members' diary entries and psychological treatment sessions were released as follows:


Naeun's diary, February 25 - "Unnie is sick again. All the members and I are tired recently. I want to know. What the problem is. Is it too large of a thing for me to understand... does she really want to carry out her dream?"
Naeun's diary, February 27 - "Unnie is sick again. My heart feels hot. She likes gifts and practice, but putting in the effort, anything difficult, she doesn't like. If she does things like this, will the things she wants end up being achieved? Is there a right way? Today was such a pathetic and difficult day."
Naeun's treatment records, March 31 - "My condition is getting serious. I think of death a few times in a day. Unnie is trying to wear the crown without a single effort."
Chaewon's treatment records, April 16 - "Isn't it so selfish to be sick one out of the two years she was training? I hate to see her now, and I hate how the others are having it hard... Those who practice hard only become fools... I think this is my limit. I'm barely scraping through each day. I don't cry often, but recently I cry every day. I've been wanting to die recently."
Yena's diary, May 13, 2016 - "We went through the music programs as four of us for the first time. We only made changes as a four since two days ago so we're still really confused and made mistakes in our performance. I was so worried. As soon as we got down from the stage, the members let out all the tears they had been holding back. Today was so depressing."
-The reporter asked what occurred before Hyunjoo left the group:
"The agency was considerate of Hyunjoo who found dorm life difficult and allowed her to use her cell phone. They also let her promote while going back and forth from her own home. However, we had it hard as Hyunjoo cornered us as criminals. During the preparations for 'Tinkerbell' around February to April 2016, Hyunjoo made us out to be perpetrators, and things got serious. We were tortured about it, and we thought about making extreme choices every day.

Hyunjoo always claimed we stole something. However, looking at CCTV footage, we hadn't even been at the location. One day, Hyunjoo suddenly said that she lost 100,000 Won. She accused the maknae Jinsol of it as she used the same room as her, and she claimed that Jinsol would have it in her pockets or something and went through Jinsol's back pockets, resulting in her sitting on the floor crying out of shame. She asked us to check all our bags as well so we did. It felt as if we were being stripped naked. We didn't have human rights. We couldn't take it. Checking the dorm CCTV and the CCTV outside the dorm, we couldn't find anything like it."

The April members claimed Hyunjoo consistently accused the members of bad acts, but there was never any evidence on CCTV. Hyunjoo had allegedly claimed Yena and Jinsol tripped her and hit her in practice rooms, but none of it was found on CCTV. When she changed her statement to say she was actually bullied in front of the restrooms, the CCTV footage didn't show anything out of the ordinary.

-April elaborated on the issue of Hyunjoo's alleged accusations about stealing:
"There were sweats that were sold in basement shops for about 5000 Won. It was navy, and we all bought the same ones so we couldn't tell whose was whose. I had worn the ones my mom put in my drawer for me, but Lee Hyunjoo had said that it was hers. I thought that she was joking so I asked her why and she said that according to the length, it was hers. I had become someone that stole other people's belongings again, and everyone cornered me. I can't express how I felt then. I thought that as long as this person exists, I would become a criminal. However, things like that happened frequently, and later on, the members began to write numbers or initials on their personal belongings or underwear. Perhaps everyone was traumatized. Whenever we said, 'let's go eat', she would say she didn't want to, then tell the agency that we left her behind again. As this happened so often, we were scolded by the agency. Later on, we got paranoid and wanted to buy a recording machine."

The April members further alleged Hyunjoo never discussed issues with them, but always went straight to the agency, which would put the members in a bad light.

-As for the reason behind the bullying allegations, the members said:
"We were scared because Lee Hyunjoo was always sick and skipped practice. She was like a time bomb that could explode at any time. It's true that we were cautious with every word we said. As members, we tried to understand and take care of her and get along because we wanted to protect both April and Lee Hyunjoo. We held a birthday party for Lee Hyunjoo in February of 2016 before she left the group. This video was not filmed for the purpose of a broadcast and was actually just a birthday party video. We turned off all the lights and held a surprise party, and Lee Hyunjoo looked so happy as she blew out the candles. If she had been bullied and we were the bullies, we could not have had such a fun birthday party. At that time, we didn't have money, and I was receiving 50,000 Won allowance from my mom. I went to the underground shopping center at Gangnam station to buy her shoes as a birthday gift and put in a letter that said, 'I hope unnie is happy' and put it in her locker. Later, Lee Hyunjoo wore those shoes when she appeared on 'The Unit'. I felt so happy then. If I were the perpetrator who showed violence against her, would she have worn those shoes on the show?"

-The April members sent a final message to Hyunjoo:
"Why are you forgetting the good memories with the members and only remembering the distorted memories... it's so sad. Our 7 years of hard work have just disappeared and even our families are being criticized and in great pain. April received the title of 'a group that inflicts bullying' and even as time passed, our members are still living with the title of 'bullying perpetrator.' I want to receive an apology from Lee Hyunjoo for making this situation, and I want her to make things right again with her own hands."

What are your thoughts on this second part of April's interview?