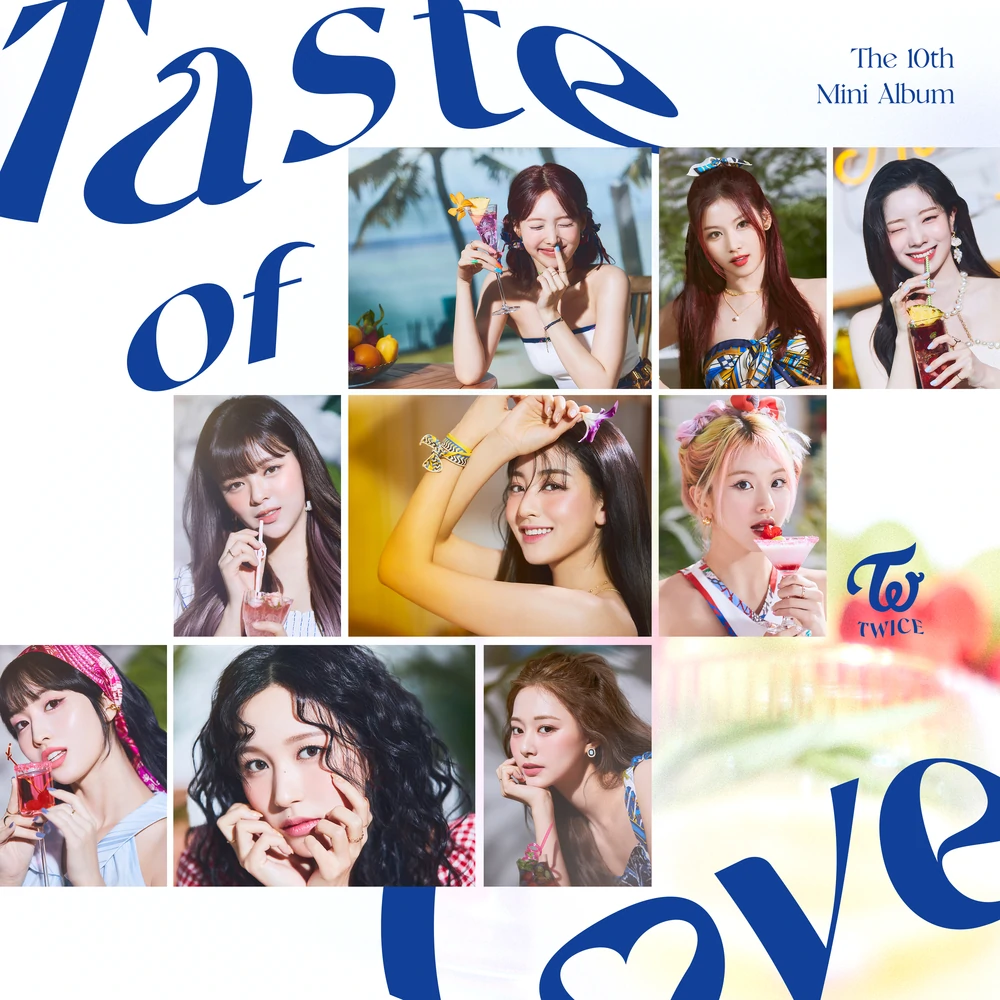 [This review reflects the opinions of the author and not necessarily those of allkpop.]
Track List:
1. Alcohol-Free
2. First Time
3. Scandal
4. Conversation
5. Baby Blue Love
6. SOS
7. Cry for Me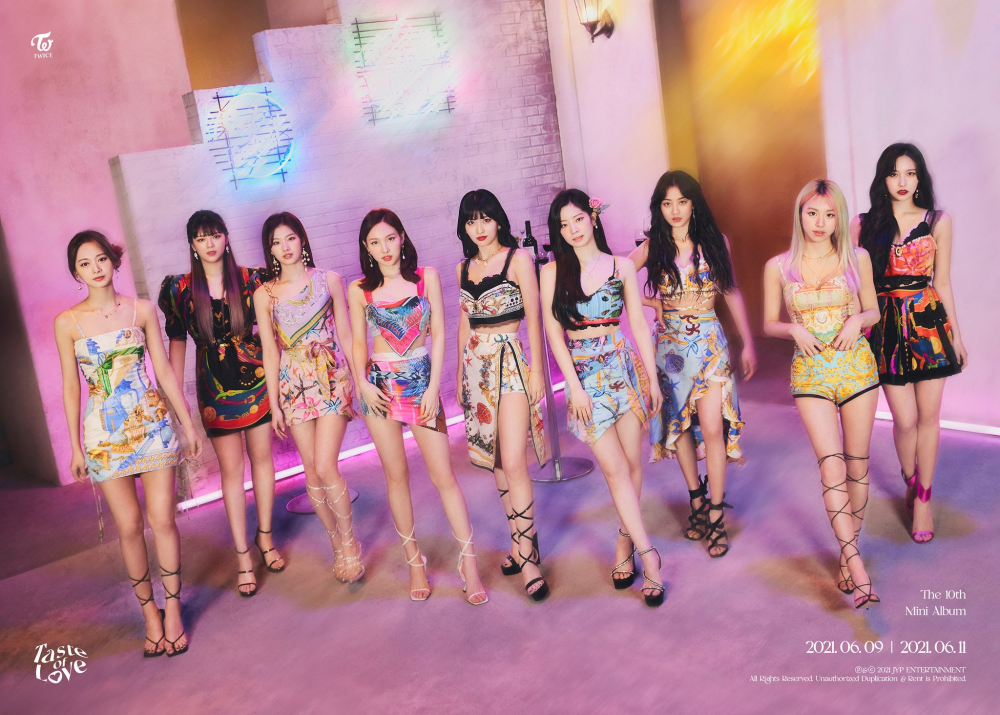 TWICE has returned to save the summer with their 10th mini-album, Taste of Love. The group's 10th release features 6 brand new releases for ONCE to enjoy. As the group's title, they've selected the first song on the album, "Alcohol-Free," an upbeat island-inspired pop track detailing the drunken effect love can have on one who is smitten. "Alcohol-Free" balances summertime lightheartedness and guitar-instrumental waviness effortlessly- one of the best displays of cheerful songs we've seen this year.
"First Time" is a bit more demure in nature and opts for a mid-tempo bounce that features sky-high falsetto from the group's power vocalists. Mixed with a guitar twang and ultra-mild house beat, "First Time" is sugary sweet, but in a significantly less bubblegum way than we're used to TWICE doing. This track is a phenomenal maturation of the group's signature sound.
The funk trend that we've been seeing in K-Pop as of late last year hasn't petered out just yet! TWICE's third track, "Scandal," is a bass and synth-heavy groove pop song that has a refined sultriness that I've yet to see the group go for. Good thing it paid off! "Scandal" features an infectious hook and melody that's so singsong-y it sticks after just a single lesson.
"Conversation" is the album's shortest track, coming in at only 2 minutes and 27 seconds. Offering for a more classic Top 40s pop style, this song is simple in concept and vocal progression and borrows some influence from electropop to give an ultra springy feel.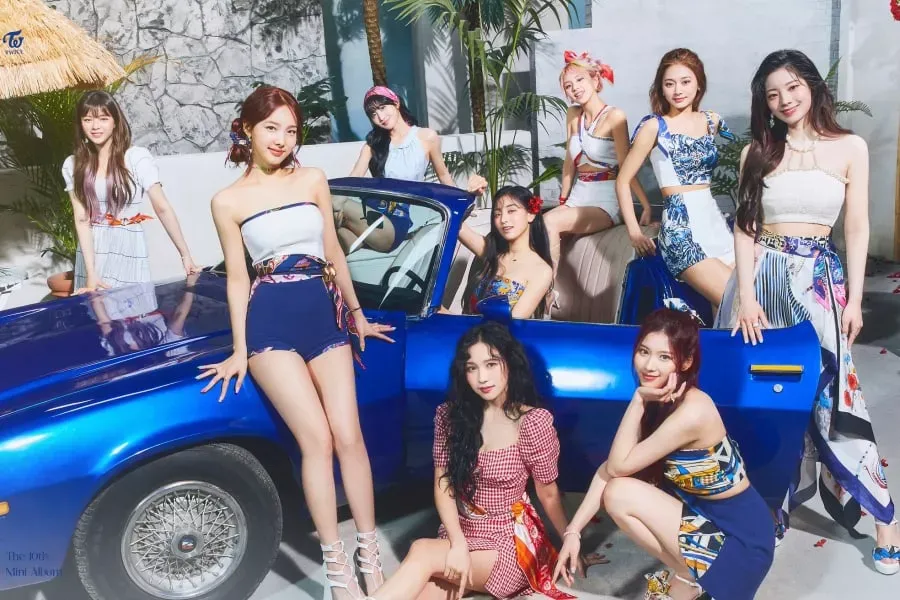 Again, we are reminded that disco and funk are very much alive in current K-Pop releases. "Baby Blue Love" has a similar feel to "Scandal" but has a more classic pop progression on the chorus. With sky-high vocals and super infectious raps, this song is feel-good through and through.
Synth-driven "SOS" completes TWICE's newest mini-album. The song's melody feels a little generic compared to the maturation of sound they had on the rest of the album. Mainly, "SOS" doesn't feel quite as impactful as songs that are typically the conclusion to a dynamic release. I would have preferred "SOS" earlier in the tracklist. Even then, the song doesn't warrant any harsh criticisms.
MV REVIEW
Did we just find our go-to driving song? "Alcohol-Free" showcases an energetic and refreshing TWICE filled with adoration and bubbliness. Short-shorts, florals, and a delightful tropical beach setting give this MV a stunning and warm feel. Though the concept itself isn't exactly the most original (especially for K-Pop girl groups around this time of year), I do feel that TWICE's song has a very island-inspired sound that makes them distinct from most purely bubblegum pop tracks that employ this concept. Overall, the video isn't insanely impactful but gives us what it needs to give us for the season!
MV SCORE:
MV Relevance…..8
MV Production…..8
MV Concept……..7
MV Score: 7.67
ALBUM SCORE:
Album Production…...9
Album Concept……...9
Tracklisting…………...9
Album Score: 9
Overall: 8.33